If there's one thing the art world has agreed upon this fall, it's that we're all friggin' pumped to see new work by painter Dana Schutz.
Ms. Schutz, who's about to open a one-woman show at Petzel Gallery, scored a perfect 10 out of 10 in our roundup of fall gallery show roundups, ending up on every fall preview list we could get our grubby hands on; a list that included New York Magazine's Vulture, the Village Voice, Time Out New York, Artnet.com, Artinfo.com, Artspace.com, Artsy.net, Hyperallergic.com, The Art Newspaper and Observer.com.
Warning: This is not an exact science. Each list is different. Some are for fall while some are just for September, some are only New York-centric and others are international, some included museums, but most didn't. The one common thread seemed to be a wholehearted admiration and giddy excitement for Ms. Schutz's lively compositions.
Christian Marclay, at Paula Cooper, came in a distant second with a total of 5 mentions. Rachel Whiteread and Mike Kelley tied for the bronze medal, each garnering 4 different lists. After that, things got a little dicey.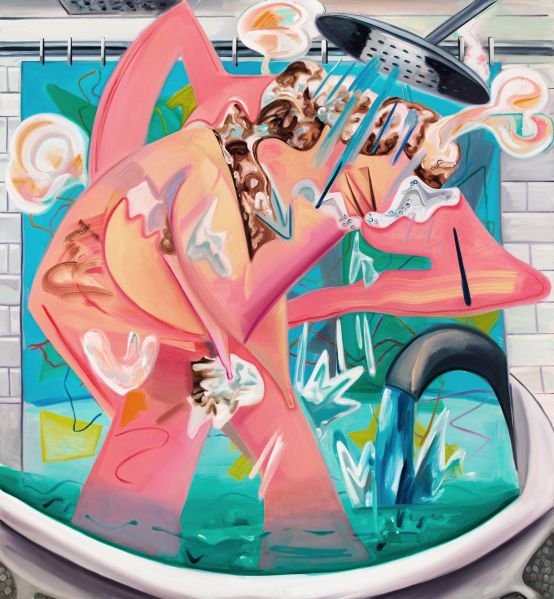 Almost more interesting than the winners were the notable omissions on these lists, including Pace's Chuck Close show and Sperone Westwater's Richard Long show. Andrea Rosen's Josiah McElheny show was completely shut out, and what is sure to be a wonderful Ron Nagle show at the Matthew Marks Gallery was also curiously absent.
David Zwirner got his share of love for his upcoming Isa Genzken, Wolfgang Tillmans, and Bridget Riley shows, but nary a word for his Dan Flavin and Gordon Matta-Clark shows… Can't win 'em all, right?
Single-vote "curveballs" that were thrown by reviewers included a November/December solo show of works from legendary underground performer Vaginal Davis at Invisible-Exports, an upcoming Gabriele Evertz show at Brooklyn's underrated Minus Space and a show of tripped-out glyph-like paintings by Los Angeles-based graphic designer Geoff McFetridge at the Joshua Liner Gallery.
So what can we glean from this tally? Only that on one hand, our gnat-sized art-world attention spans would lead us to ignore even Jesus Christ's delicate paint handling if we'd seen his previous three shows (hopefully Dana won't fall victim to the public's ennui), while on the other hand, most critics also seem to have their own private underdogs they're rooting for, despite the swaths of big-ticket shows being pitched at them daily by PR specialists.
But when it's all said and done, we should commend each of these artists for 1. surviving (or even thriving) in a hostile and competitive New York City environment, and 2. mustering up the confidence to give zero darns about what reviewers or patrons think about their work while mounting show after show after show. They somehow make the world a more beautiful and valuable place with their narcissistic and unreasonable projects.
Okay, that's enough talk, art lovers. Let's get ready…to…RUMBLE.