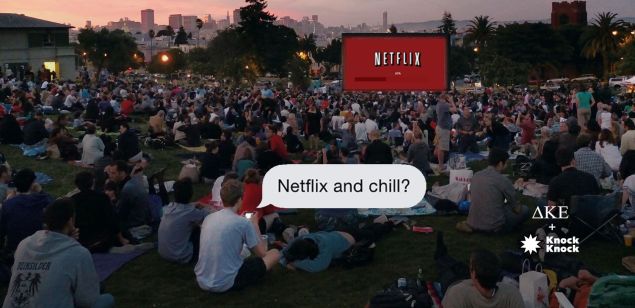 "Netflix (NFLX) and chill" is the phenomenon phrase that swept the summer of 2015. More people than ever are doing it, and it's become so popular that it's officially about to go beyond the bedroom and reach festival form.
Tonight, the social app Knock Knock is hosting the first ever "Netflix and Chill Festival" at the University of Pennsylvania in Philadelphia. It's a highly anticipated event, since what was intended to be the first festival of the sort at UC Berkeley last week was shut down by authorities two hours before it was set to begin. The reason? The festival was in such high demand and too many attendees were expected.
This time around, the exact location has been kept secret and hopeful attendees must request an invite. One special hopeful guest, however, will definitely be able to gain entry if he so chooses. The event coordinators have officially asked Pope Francis to come chill via video invite:
You're probably wondering what will happen at this so-called "Netflix and Chill Festival." Well, the event is taking the most literal sense of the phrase and inviting attendees to join them for a screening of Knocked Up and complimentary drinks and popcorn. This hasn't, however, stopped people from making the typical "Netflix and chill" jokes.



Will "Netflix and Chill Festival" be the next Ezoo? Probably not.