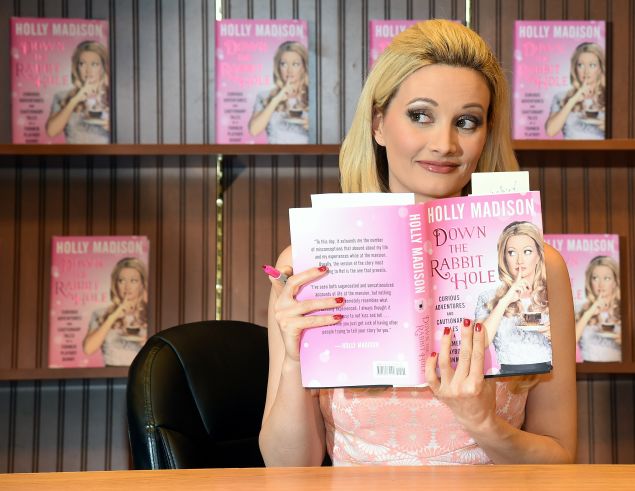 Holly Madison is a star but in some ways she is from another galaxy. At times, she seems like a twentieth-century gold digger—a word I kept thinking of while reading Down the Rabbit Hole, her best-selling exposé of her years at the Playboy Mansion. But she also channels feminist tell-alls, especially that of Gloria Steinem, whose rousing 1963 article about her life undercover as a bunny launched her career.
Rabbit Hole has stayed on the best-seller list for eight weeks because it mixes these opposing elements with a more modern and primal malaise—women's rage against men in a world in which sexual mores are shifting more quickly than you can say affirmative consent. Think of Hannah Bouveng, who won $18 million from a jury in an ugly sexual harassment suit against her stalk-y boss. Or Emma Sulkowicz, who carried a mattress around Columbia's campus to protest an alleged rape.
The strange success of Rabbit Hole (strange because it reveals little new about the Mansion or Hef) thrives on the tension between nostalgia for a pre-sexual revolution world (men and women knew what their roles were) and many women's ferocious disdain for gender relations right now. At one recent event, Ms. Madison wore a long braid and a tight white skater's dress, like an R-rated Disney princess. At another, she used the word feminist to describe herself and her book.
Of course, like most twenty-first century feminism, Ms. Madison's encompasses spending your twenties as chief of the harem for Hef (the man who founded the most iconic girlie magazine in the world) and your thirties calling that same man "emotionally abusive."
But to me, what is most surprising is that no media critics have taken on Ms. Madison. The journalism I've read either dismisses her as a troll or slings reports of cat-fight-y pushback from the Mansion. (Kendra ((which one?)) says she should "appreciate" her time there.)
This is missing the point. Ms. Madison is an Occupy style heroine whose working-class story did not begin in the coastal worlds of Girls or Broad City. She lacked the financial safety net of most creatives and still dared to want something better— even if that something was the retro goal of being a Playboy Centerfold. Holly Madison is Kimmy Schmidt with a boob job.
Ms. Madison burst on TV in 2005, in a very different media universe. It was a year after Sex and the City ended, in The Girls Next Door, an E! channel reality show purporting to tell the behind-the-scenes story of the Mansion from the point of view of Hef's Girlfriend #1. Ms. Madison was the anti-Carrie Bradshaw. She was devoted to and often miffed by her paramour, who despite his age and celebrity was, like other guys, preoccupied with work, forgetful of birthdays, and indifferent to his beloveds' needs. She played the perky ringleader. Her job was aspirational, unfeminist, and pseudo-hedonistic –giggling, shopping, shouting "yay," playing dress-up in skimpy lingerie, redecorating, partying, pet caring, traveling, acting in Playboy-condoned shills, and finding new girls.
If Ms. Madison's endless protestations of love for Hef were unbelievable as realism, that's because they were better viewed as a cartoon version of The Rules. "I love all the opportunities that have come my way but at the end of the day I love being snuggled up with my puffin," was a typical simpering remark, using her pet name for the mogul.
But as GND rolled on, Ms. Madison also grew more aggressive about her career. In Season 3, she apprenticed herself to the art director. She assisted in searches for new Playmates, and when Hef thwarted her, she got mad.
In fact, Madison has thrived since leaving The Mansion. She had her own reality show, appeared on Dancing with the Stars, became a millionaire, got married, and had a child. None of her success stops her from Mansion-bashing and Hef-bashing. Now she is describing the grandpa predator offering girlfriends Quaaludes, aka "thigh openers," and staging sex shows "for his own personal pleasure" (as opposed to…?). Now he is enforcing a 9 pm curfew for the girlfriends.
Down the Rabbit Hole's splashiest revelations may be about the freak show disclosures about the peccadillos of Playmates, centerfolds, and hangers on. But its most penetrating ones are about the torqueing of twentieth century gender conventions to our century.
To Ms. Madison's readers, it doesn't matter that because Hef is now in his 80s, her attacks seem more like elder abuse than the righteous indignation of a victim of a sexual predator. The important thing is that Ms. Madison's indignation can be fixed onto the social media-escalated wrong that women feel now.
Even as I write this list, I hear some skeptics protesting that the would-be centerfolds were living rent free—what did they think the deal was? Am I siding with the predator? Not quite.
Ms. Madison's most credible moments occur when she writes about how the Mansion was her shot at getting out of civilian life. "I refused to go back to Oregon," she writes. I found myself nodding in approval as Ms. Madison morphed a bad situation into empowerment, like some character in an Alice Walker novel. She redirected the clothing allowance Hef gave her to pay off her debt. She took French, acting, and real estate investment courses. She shook off Hef's ossified and creepy expectations.
Ultimately, the enormous success of Ms. Madison's book rests on her understanding of the appetite for the titillating ritual of shaming a powerful man, especially if the shamer is a woman. That's a guilty pleasure we cleave to—even if the man is halfway into the grave.