Before Brett Heyman decided to launch a range of lucite handbags, under the label Edie Parker, the state of evening bags was a sad and drab affair. Luckily, Ms. Heyman has a healthy sense of humor and decided that cheeky-yet-luxurious clutches were, well, clutch. Since 2010, when the brand first launched, retro styles from the collection have been widely carried to black tie dinner galas to front row seats at Fashion Week. Obviously the bespoke styles, which allows the wearer to have any word or name emblazoned on one of these bags, has been widely shared on Instagram, Twitter and beyond.
Stylish New Yorkers aren't the only ones who have a penchant for these smart clutches; over the past weekend, a slew of top actresses opted for these lucite clutches to carry on the red carpet for a variety of Emmy-related events. Mindy Kaling held a gold-flecked version that had her first named scrawled in script, while Amy Poehler held onto a bag with a swirled tortoiseshell design. Other starlets spotted with one of the brand's clutches over the past weekend included Uzo Aduba, Christina Hendricks and Kate Walsh.
So what is this designer (who is undoubtedly creating one of the most sought-after accessory for the red carpet) wearing throughout the fall season? We'll let her explain.
For Fall, what have you purchased so far? I've ordered a bunch of Sonia Rykiel stuff from Moda [Operandi], but I haven't received it yet. I will buy anything with stripes from that collection, but I also got some of the high-waisted jeans and the stripey sweaters. I got some leopard low-heel pumps from Gianvito Rossi. Balmain did that floral miniskirt with the zipper up the front, which I feel like is going to be great with sneakers and heels and really take me everywhere.

What's on your to-buy list? A Gucci coat. I love all of the embroidery that Alessandro [Michele] did, so maybe the one with the bird. It looks like it was procured from your grandma's closet.
From your own collection, what will you be carrying this fall? I really love the Soft Lara's that we did, like a really beautiful suede cognac color with bright ends, like bright yellow or orange.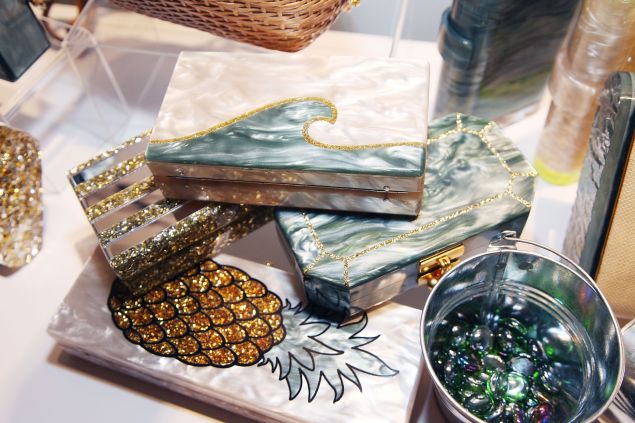 Do you ever go shopping in the name of research, but actually keep the purchase for yourself? Yes and no. I buy so much vintage, although the only boutique I really go to is New York Vintage. It is inspiring and I'm able to look at different fabrics and different ways to wear a handbag.

Do you ever work with a stylist?

I have a friend who is also a stylist, Silvia Gaitan. In an emergency I email her to say, "What should I wear?" If I have to go somewhere where Anna Wintour is, then I'll be like, "What can I wear that's fashionable and not inappropriate?"
Who are your style icons? It's the worst answer, because it's so cliché, but Kate Moss always gets it right. She doesn't look like she ever puts effort into getting dressed, which is how you want to look.