It's not easy to pin down exactly what makes LoftOpera so unlike the myriad other small opera companies that dot New York, but whatever that disparity might be, it makes all the difference.
Maybe it's just sheer chutzpah. The company's most recent show, for instance, would seem a box office nightmare. Who in the world would want to attend a brief program of vocal music by Berlioz and Mahler staged at a circus school located in an old warehouse wedged between a cemetery and a dollar store on a rundown block in Bushwick? And during the last week of August?
And yet, when I cautiously stepped out of a taxi about 15 minutes before the official start time ("You are going to some kind of party?" the driver wondered) and ventured into industrial-looking venue The Muse, I was dumbfounded to find the towering space crammed with a crowd of nearly 500. Of that number, the vast majority were young, hip, artsy types you'd expect to see at an avant-garde gallery or an off-off-Broadway show, but never, ever (in New York, anyway) at an opera.
The cheers in the Brooklyn warehouse were as thunderous as for an Anna Netrebko opening at the Met.
Now, I've been following LoftOpera for a couple of years, including most recently a staging of Donizetti's Lucrezia Borgia set among a Sopranos-style mob family. But this was by far the best-attended—and best-performed—offering so far. You wouldn't think that a loft full of 20-somethings swigging artisanal beer would sit still for a couple of 19th-century song cycles, but they did. And at the end of the hour-long program, their cheers were as thunderous as those for an Anna Netrebko opening night at the Met.
The show, entitled The Rose and the Knife, mashed up two song cycles about love and loss, Hector Berlioz's Les Nuits d'Été ("Summer Nights") and Gustav Mahler's Lieder Eines Fahrenden Gesellen ("Songs of a Wandering Journeyman"). The numbers, in French and German, respectively, were arranged to tell a slight but troubling story of an ill-fated love affair.
The action played out on a raised platform set midway through the space, with an abstract setting of burnished gold sculptural pieces suggesting alternately a bedroom and an outdoor area, perhaps a park.
Each set of songs was assigned to a single singer: the Berlioz to the mezzo-soprano Rebecca Ringle and the Mahler to baritone Joel Herold. They played ex-lovers coping in contrasting ways with their breakup: she has a date with a sexy, ripped hunk, while he, far away, broods. But as soon as her new lover has fallen asleep, she sneaks away to her laptop where she wistfully IMs her ex. After a failed attempt to rekindle their romance, she spirals into depression and he marries another woman. Finally, she is left alone and homeless, singing her ecstatic final number,  "L'île inconnue" ('The Undiscovered Island') as a deluded fantasy.
This sort of concoction could easily turn coy, even silly, but it stayed firmly grounded by the sincerity and vocal security of the two soloists. Ms. Ringle's rich, plummy voice sustained a firm line in the sustained numbers like the lament "Au cimetière," and even the girlish opening "Villanelle" hinted at a darkness underlying the joy.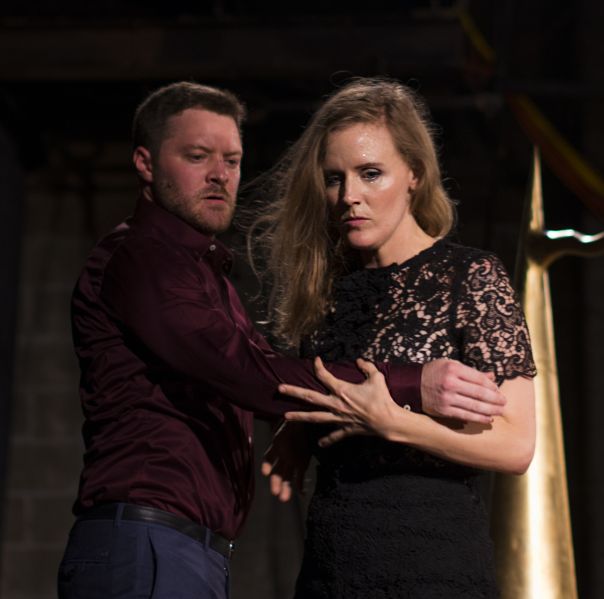 Mr. Herold's airy baritone is an ideal Lieder instrument, flexible and seemingly effortless throughout his range. His crisp timbre contrasted bracingly with Ms. Ringle's dusky tones, and he put over Mahler's lyrics in clear and idiomatic German. If Ms. Ringle's French remained more occluded, that was perhaps an issue of tessitura, as the Berlioz songs often settle into a low register difficult to project.
Both artists moved with economical purpose, particularly in Ms. Ringles' song "Absence," staged by director John de los Santos as a tense reunion that threatened to tip over into violence. The production wisely didn't try to relate much plot, but instead concentrated on highlighting the emotional high points of the delicately tragic tale.
The superb quality of LoftOpera's orchestra is so consistent that it's hardly a surprise any more. Every now and then, though, I found myself luxuriating in a muted horn solo or a subtle shimmer of strings and suddenly recalling that, after all, this was a pickup group wedged into the corner of a warehouse. Conductor Dean Buck kept the 26-piece ensemble subdued in volume without dimming the radiance of the sound. Even better, he maintained a constant, flexible rapport with the singers.
A more mainstream company, dell'Arte Opera, has in recent summer seasons presented imaginative, well-prepared productions of such thorny works as Ariadne auf Naxos, Macbeth and Les Dialogues des Carmélites. With Thursday's revival of Le Nozze di Figaro, though, this usually reliable troupe looked and sounded downright amateurish.
Only a few members of the large ensemble cast seemed ready for prime time. Most attractive was soprano Elizabeth Tredent as the Countess, her creamy soprano lending passion to the character's elegant arias. Alexa Smith (Susanna) and Natasha Nelson (Cherubino) both parlayed small voices into intriguing performances with style and wit.
Of the men, baritone Seung-Hyeon Baek boasted a full, dark tone as the Count, but he, like just about everyone else in the cast, mouthed the many pages of recitative like a sight-reading exercise. That made for an interminable evening (over three hours even with quite a few cuts) of staring at supertitles to glean any meaning from all that gabbled Italian.
Once past a scratchy overture, the Metamorphosis Chamber Orchestra played solidly enough under the direction of John Spencer, but the dry acoustic of the Rose Nagelberg Theater deep in the bowels of the Baruch Performing Arts Center quashed any Mozartian bubbles. Eve Summer's direction seemed to allow a lot of meandering from the performers, and the modern dress adaptation made nonsense of the class structure embedded in the plot and theme of this 18th century work.
When LoftOpera returns to The Muse on September 25 for an all-Verdi program, dell'Arte—and the city's other small companies—should drop in and take notes. Those kids in Bushwick have this opera thing figured out.