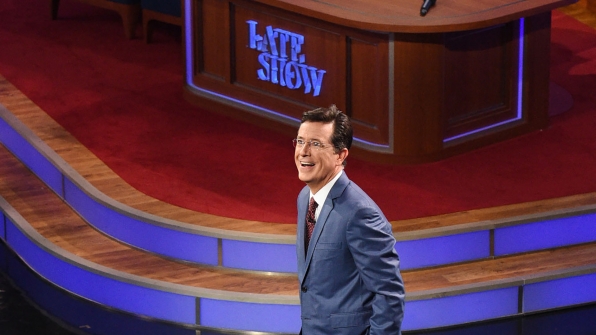 It is strange that after the nine months of mystery, buzz, and anticipation to see Stephen Colbert take the Late Show stage for the first time, the premiere was stolen by a demonic amulet and a monkey's paw.
Really, though, that isn't true. Because no other late night host in recent memory could have sold that bit as well or as effectively as Stephen Colbert. Jimmy Fallon would have giggled through it. Jimmy Kimmel would have sneered at it. Conan O'Brien would have overplayed it. It probably would have just pissed David Letterman off halfway through. But Colbert, a trained actor and (nearly) always-successful master of the straight face, navigated the absurdity of a demon forcing him to shill Sabra hummus perfectly until it was the most memorable segment of the premiere.
There is the problem with the Colbert incarnation of Late Show. Its finest, and by far its funniest bits were also the strangest. The kind of bits where viewers aren't sure if the funny part has come yet, and the realization it already has is the punchline. This is where the immensely likable nature of Stephen Colbert works best. The comedy of The Colbert Report came from the hyper-energetic right-wing character of "Stephen Colbert," but that makes it sound like any actor could have handled the character. The show was funny, but people fell in love with The Colbert Report because of the moments when the facade broke, and you realized holy shit this is actually an incredibly talented, incredibly intelligent, and incredibly weird man, and he is nailing this. He can act, he can do comedy, and he is one hell of an interview.
Which is exactly why maybe, just maybe, Stephen Colbert just doesn't fit into the classic late-night TV mold. Late night TV is in a strange place right now, where shows like The Tonight Show and Conan basically exist to fill Youtube videos the following morning. Thanks to DVR, streaming, and the internet, there isn't much incentive to actually stay up late to watch Late Night. It has transformed from must-see TV to must-go-viral TV. Again, though, any part of Late Show with Stephen Colbert I found myself actively enjoying always seemed like the least likely to be shared on Twitter.
At times, you could almost see the giant hand of CBS  guiding Colbert into viral territory, pointing him not towards absurdity but towards easily edited "segments." The interview with George Clooney was frustrating, because I actually did just want them to talk. Stephen Colbert, character or not, has proven he can converse with just about anyone. George Clooney is, well, he's George Clooney. Eight to ten minutes or so of these two shooting the breeze would have not only been interesting, but given Colbert and the entire production a chance to settle down after a first 40 minutes that was simply trying to do too much.
Instead, we got bits — The "We Don't Know Each Other" wedding present, pretending to run out of things to say, the pre-filmed clips from fake film Decision Strike. You could actually see Colbert struggling to fit into that late night pattern when he asked about Clooney's work in Darfur and then, thanks to editing and time constraints, moved almost instantaneously onto Clooney's marriage. It's understandable, but still awkward to see Mr. Colbert jump from subject to subject, offering substance to none.
Awkward, too, was the following interview with Jeb Bush. A lot was crammed into the premiere, and it seemed the largest victim of the editing was Mr. Bush's interview. Still, though, we saw the great moment when Mr. Colbert asked Mr. Bush how he differs from his brother George, and didn't let him get out of a joke answer. An promising example of interviews to come, for sure. But in the obviously sped up, highly edited world of late night TV, one has to wonder — what did we miss?
Perhaps the best part of the show was the closing musical performance from new house band Jon Baptiste and Stay Human (not just because the band themselves were fantastic all night and Mr. Baptiste himself is a veritable ball of charisma). It was advertised all night as Jon Baptise and Stay Human AND "friends." On any other late night show, where Viral is King, you'd expect these friends to be the most recognizable faces in the pop music industry. Instead, Colbert welcomed Brittany Howard from Alabama Shakes, Paul Janeway from St. Paul and the Broken Bones, Ben Folds, Buddy Guy, Derek Trucks, Aloe Blacc, and gospel legend Mavis Staples herself.
These musicians all have two things in common — they're all massively talented, and they all elicited at least one "wait, who is that?" from the audience at home. It was perfect. It was peak Colbert, and not peak Late Show. It was a performance where viewers weren't quite sure what was happening, or what they were seeing, but they knew holy shit it was enjoyable.
In the middle of the musical finale was Mr. Colbert himself showing off his impressive pipes. In that moment, everything in the new Late Show finally felt comfortable. It's that image that gives me hope that after this erratic, shaky start The Late Show with Stephen Colbert will come into its own. It was the image of Stephen Colbert, not "Stephen Colbert," realizing he is hosting this party now. And it's a new party, but it can still be weird, and it can still be unexpected. Most importantly, just because Stephen Colbert is now hosting The Late Show, it does not mean he has to be a late-night host.