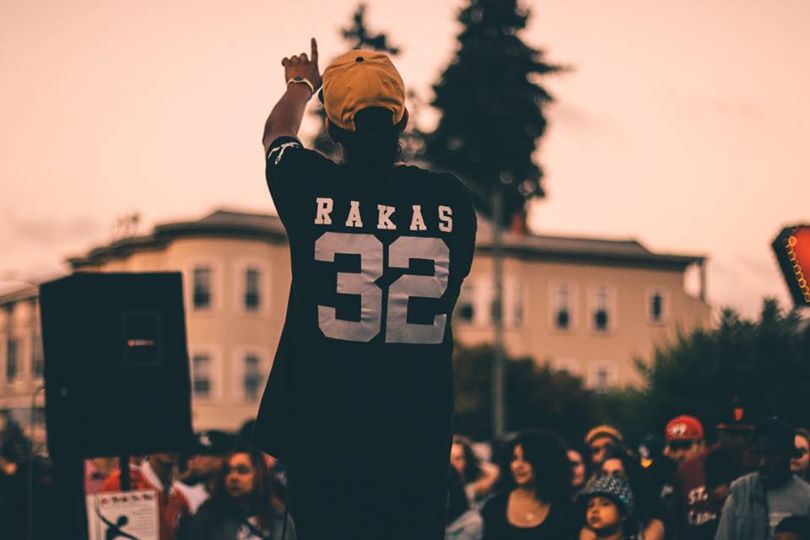 "You know, before I came to the United States, I thought the United States was going to be the solution for everything. I was going to move over here and save money and send it back to my mom. But then you come over here and you realize it's a struggle," says Raka Dun. "If anything, it's more of a struggle because you don't have your papers and that limits you."
The most accurate word that comes to mind when trying to describe hip-hop may not be inclusive, but it is when it comes to the Panamanian, Oakland duo Los Rakas. Raka Rich and Raka Dun, the two cousins behind the politically conscious, Spanish-speaking hip-hop group, evoke a familial, welcoming vibe; when they're together, the two finish each other's sentences, riffing and playing off each other, a sensibility that's anything but hard.
'Before I came here, I thought the United States was going to be the solution for everything … then you come here and you realize it's a struggle.'
"It's like we're twins. You know, we've been around each other for so long, we do everything together," Raka Rich says.
At a recent First Friday show in Oakland's art district, Los Rakas performed a set that was the definition of diversity. A group of young Latina girls wearing their finest danced front row, babies swayed to the music, granddaughters held their grandmas, couples sang along to crowd favorites like "Abrázame", "Enamorado de Ti", and "Africana" in Spanish. Los Rakas invited members of the audience onstage, children break-danced in front of a cheering audience, and anyone who wanted to party was welcome to the Raka party.
"When you come to our show, you're going to see that it's a different atmosphere every time. It's a party atmosphere, it's a good vibe," says Raka Rich. "We have heard people say that 'I fell in love with my girl when I heard 'Abrázame', we were at your show on Valentine's Day, and after that we've been together."
[youtube https://www.youtube.com/watch?v=oLfNTztmSXU&w=560&h=315]
At the Bay Area Latino Festival, Los Rakas opened up for industry veterans Ozomatli, Los Angeles Azules, and Los Tigres del Norte. The crowd went from sitting and talking to each other one minute to head-banging, dancing and screaming along to every word the next. Los Rakas literally brought the party with them. But they broke up party anthems in their set with songs that directly addressed the experience of what it is like to be marginalized as an "illegal alien" with their recent song, "Sueño Americano."
Raka Dun originally hails from Panama, and moved undocumented to Oakland as a child. The song and music video for "Sueño Americano" highlights the many ways that immigrants are left out of the American Dream and become a part of our prison industrial complex, working for low wages under the table, or earning their money on the streets. The song voices the gap between an immigrant's dreams and harsh reality.
'You should be proud of who you are and where you come from—your culture—no matter what color you are.'
Los Rakas have a tendency to play against type. Latino male sexuality is often portrayed by the media as rooted in machismo and misogynistic themes. But Los Rakas refuse to conform to the stereotype, writing songs dedicated to their mothers, and celebrating black women ("Africana").
"I was in Panama around 2008 and I really got the deal that a lot of the black people from Panama didn't feel like they were happy to be African descendants," Raka Rich explained to the Observer of the the inspiration for "Africana". "So, being in Oakland, it's like, it makes you proud to be black, you know, they teach you that over here. So, for Panamanians, the people in Panama should feel the same way. It's like yo, you're black and you're beautiful. And it goes for everybody, you should be proud of who you are and where you come from—your culture, no matter what color you are."
Los Rakas have just wrapped up a Latin American tour, as well as shooting a music video for their soon-to-be released single "Déjame Bailar" in Colombia. When speaking about the direction of the next album, which will be released early next year, Raka Dun says, it's "really Latin and Caribbean. This next album is like a trip. We go to Mexico, we go to República Dominicana, Colombia…"
"Panama, Puerto Rico, California, we're bringing it back to Cali though, let's not forget," says Raka Rich. "We have a song, a mambo track from the Dominican Republic with a big artist from over there. So we're bringing you that Latin, Caribbean, tropical flavor."
When describing how they've landed so many festivals and gigs playing with premier talent from all over Latin America, Raka Rich, imitating a promoter says, "Yeah, the party is boring, what're you going to do?"
Raka Rich and Raka Dun say, in unison: "CALL LOS RAKAS."
Meet Los Rakas, the Ghostbusters of Latino American-hip hop.
[youtube https://www.youtube.com/watch?v=oZFwXpRP_T8&w=560&h=315]