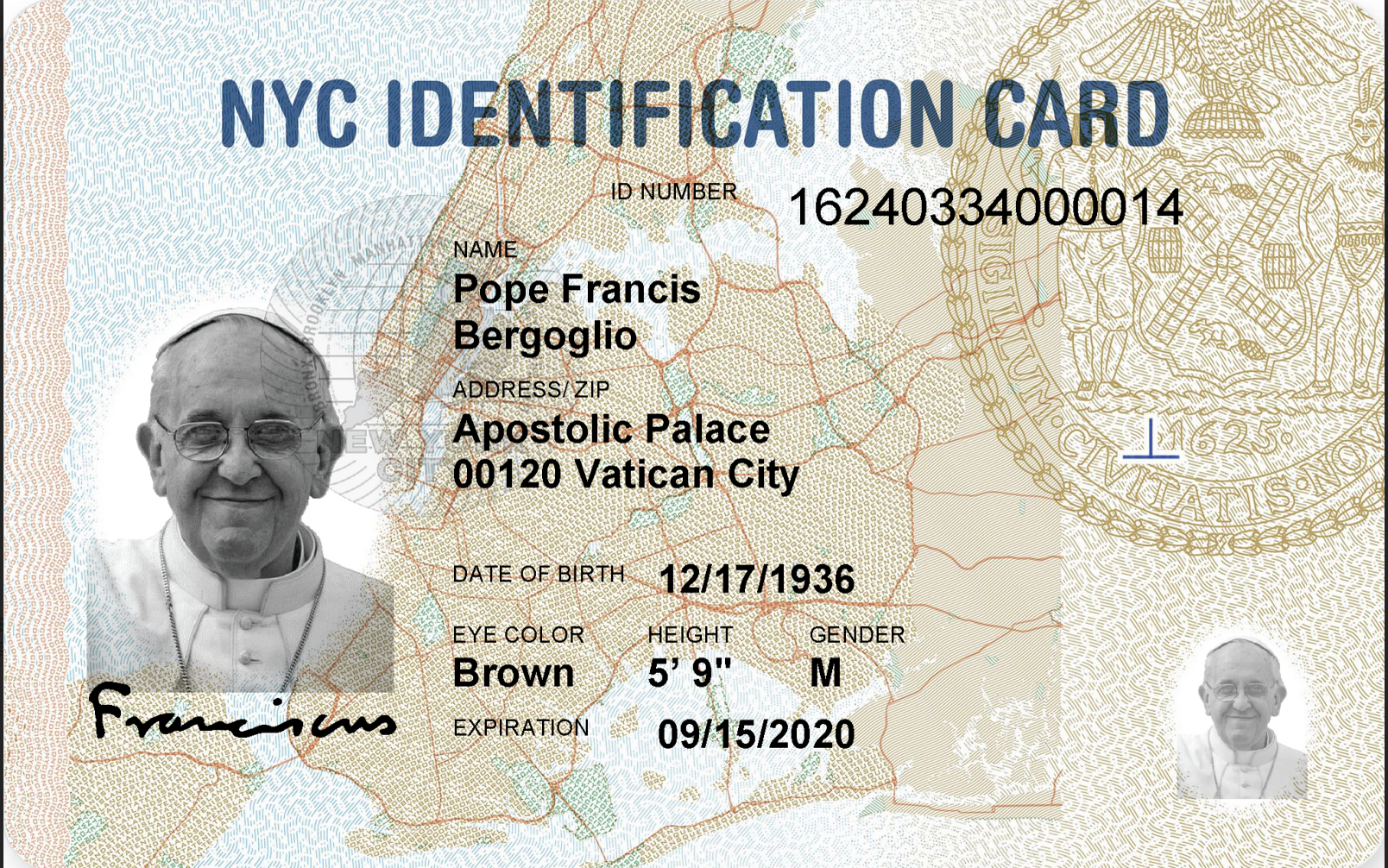 Consider him an honorary, card-carrying New Yorker.
Mayor Bill de Blasio presented Pope Francis with a municipal identification card through the IDNYC program, created in part to provide a form of ID for undocumented immigrants who call New York City home.
Mr. de Blasio presented the pope with the ID card at Our Lady Queen of Angels School in East Harlem, where Francis met with immigrant children and their families and teachers, as well as elected officials including the mayor, Council Speaker Melissa Mark-Viverito, and Gov. Andrew Cuomo.
"IDNYC is about creating inclusion, compassion and unity for our city. Few have spoken more clearly and eloquently on the importance of these values and the rights of all humanity to be treated with dignity and respect than Pope Francis," Mr. de Blasio said in a statement.
Ms. Mark-Viverito, who has emerged as a national voice calling for immigration reform, also heaped praise on the pontiff's message of inclusion and drew comparisons to the ID program, for which more than 540,000 New Yorkers have signed up.
"The Pope's message of equality and unity resonates across the world and especially in New York City, home to people of all colors, faiths, and backgrounds," the speaker said in a statement. "IDNYC is a resource for all New Yorkers, inclusive of the vibrant diversity that makes our city so unique – and it embodies the Pope's call to uplift, empower, and respect those whom society so often marginalizes."
Francis has spoken at length about immigration during his visit. In Harlem, the pope—who has noted he comes from a family of immigrants—commiserated with young immigrant students.
"They tell me that one of the nice things about this school is that some of its students come from other places, even from other countries. That is nice," Francis said, according to remarks provided by the Conference of Bishops. "Even though I know that it is not easy to have to move and find a new home, new neighbors and new friends. It is not easy. At the beginning it can be hard, right? Often you have to learn a new language, adjust to a new culture, even a new climate. There is so much to learn! And not just at school."
"The good thing is that we also make new friends, we meet people who open doors for us, who are kind to us," Francis continued. "They offer us friendship and understanding, and they try to help us not to feel like strangers. To feel at home. How nice it is to feel that school is a second home."
Perhaps unsurprisingly, Pope Francis is getting some special treatment when it comes to the ID. The card is typically reserved only for those who can prove they live in New York City—though the New York Post recently alleged that people with flimsy evidence were scamming the system.
While Francis doesn't have much time left in New York City, if he comes back he'll find that the ID card is a gift that keeps on giving—it gives him and others who have it access to a slew of New York City cultural institutions, like museums and zoos, though it's probably unlikely any of them would charge the leader of the Catholic Church cover even without the ID.
It's not the only gift he's gotten from a New York official. Mr. Cuomo gave the pope a cross made from steel at the World Trade Center. It, too, contained a nod to the pope's immigration views: the box was inscribed with the final lines, in English and in Francis' native Spanish, of the Emma Lazarus sonnet, "The New Colossus," which is also mounted on the Statue of Liberty's pedestal.
"Give me your tired, your poor, your huddled masses yearning to breathe free," the poem reads. "The wretched refuse of your teeming shore. Send these, the homeless, tempest-tost to me, I lift my lamp beside the golden door!"