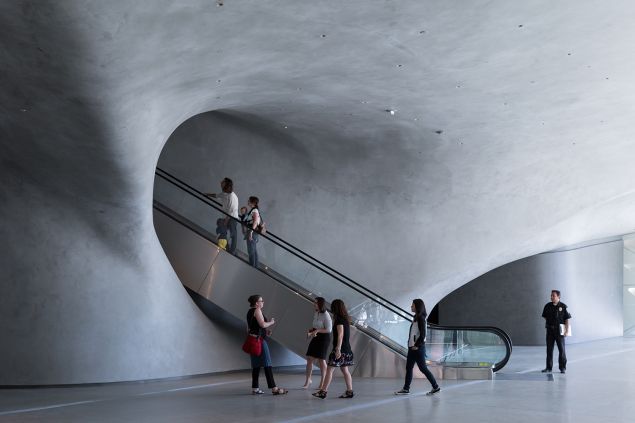 In a city all about cars, it was striking that the streets were closed around Grand Avenue in downtown Los Angeles last weekend. It was all for the opening of America's newest major art museum, the Broad Museum. Bill Clinton, who was the keynote speaker at the opening party, might've had something to do with the street closures, or perhaps his Secret Service detail did. But the bottom line is that a slice of one of the nation's largest cities was cleared to make it easier for guests to cross the street from a museum to a glamorous dinner held under giant globes of golden light and scored by an orchestra of musicians in white tuxedos.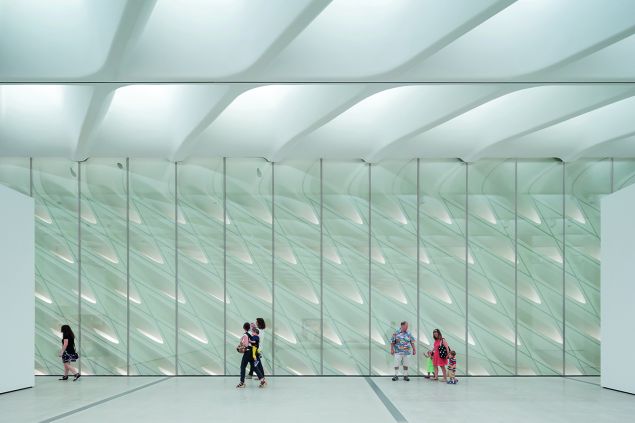 At that dinner, one of two held over two nights to handle the hundreds on the guest list, from Reese Witherspoon to Chrissie Hynde to Takashi Murakami, Bill Clinton gave museum founder and art collector Eli Broad a hearty hug and raved about his philanthropy. The former president dubbed the museum project "phenomenal," and talked about knowing the Broads, Eli and wife Edythe, for 30 years. And he joked—to raucous laughter from a crowd of some of the more famous or well-connected people in the country—that both men had married up.
And there you have it: Much of the discussion and coverage, prior and post-September 20 opening of the new West Coast Contemporary arts institution, has centered around the issues of power and the influence of its founder, billionaire Eli Broad. Mr. Broad's yellow-traffic-cone-wielding power in Los Angeles. Mr. Broad's wallet power in the art market. Mr. Broad's power in politics.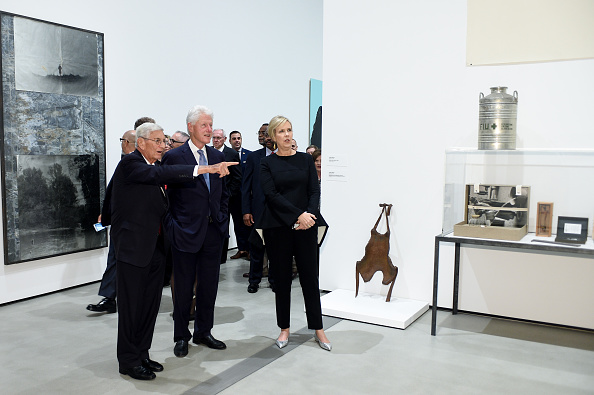 Yes, Mr. Broad, a Forbes 500-er who made his billions in the home-building and financial services industries, is indeed a powerful man. But the focus is misplaced: art always trumps. So, whatever the back story of how his $140 million eponymous museum came to be, if nothing else giving it entirely free of charge, and free of admission, to the people of Los Angeles buys him the right to have it looked at on its own merits.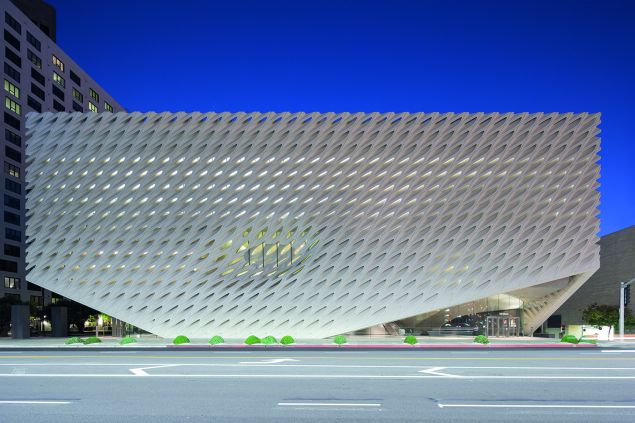 Which, it turns out, are considerable.
On Grand Avenue, the Diller Scofidio and Renfro-designed white rectangle of honeycombed lattice looks like an Apple store with better products, which doesn't sound like a compliment but is. There's a lightness and technological modernity to it. The design is a savvy solution to the almost insurmountable problem that it is adjacent to Walt Disney Hall, a Frank Gehry masterpiece, which was always going to have it for lunch no matter what it tried to do, architecturally speaking.
Some critics have, ironically, accused the Broads of following art trends that frankly they themselves might've started. It's like blaming the Pied Piper for the rats.
Inside, its lobby is a beautiful surprise: a deep slate gray with caverns and a very steep long escalator that disappears into the ceiling, or heaven—for a minute when you enter you are not sure which. In the stairwell there are rare and nifty glimpses into storage of the hundreds of works not on view, a feature unique to this art institution. Light streams in unexpected spots through a transparent webbing. In the Broad's main third floor gallery, it has a few too many of the big white walls we've come to expect, and be utterly bored by, in Contemporary art museums, but perhaps that will evolve.
The museum will showcase, on a rotating basis, highlights from Eli and Edythe Broad's over 2,000-artwork collection, virtually all of the works on display dating from the 1960s or later. These include some jaw-droppers from Joseph Beuys, Sam Francis, Jasper Johns, Robert Rauschenberg, and Roy Lichtenstein (a roomful), all the way up to recent art from Kara Walker and Neo Rauch. The Broads collect artists in depth, so there's a real immersion here, not just a fast flip through an art history text, one of the things that really sets it apart. (That depth showcases the work of Mr. Murakami to particularly fine effect.) And there is a Jasper Johns flag that is particularly moving and beautiful.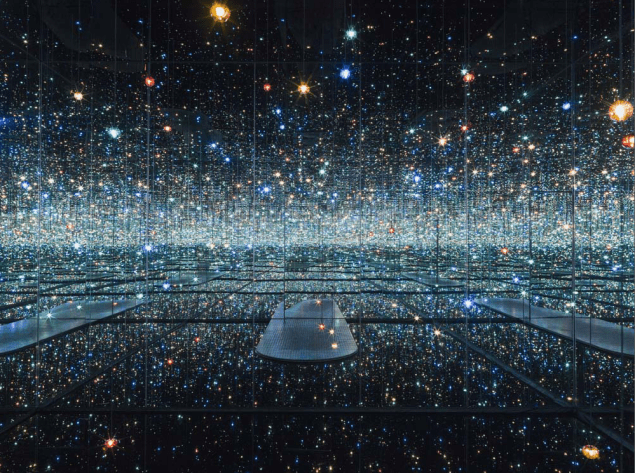 In the Broad Museum, two must-see pieces are given their own spaces, deservedly so: Yayoi Kusama's Infinity Mirror Room (the Souls of Millions of Light Years Away) and The Visitors, a nine-screen video art installation by Iceland artist Ragnar Kjartansson, which features nine musicians playing a piece of music simultaneously, but scattered in various rooms of a decaying mansion.
The mega-collectors' considerable trove had been expected to go to the Los Angeles County Museum of Art, and there are those still smarting that it did not. Certainly that emblematic Johns flag may have belonged in a national, public collection. And curators always grouse loudly that every wealthy collector thinks he can run a museum. That cliché may be true, but it's also sour grapes.
At least the Broad Museum's location, next to Disney Hall and across from the Dorothy Chandler Pavilion and the city's existing Museum of Contemporary Art (currently showing a fine Matthew Barney film and sculpture exhibition, River of Fundament) creates something of a needed critical mass of culture in the very spread-out city.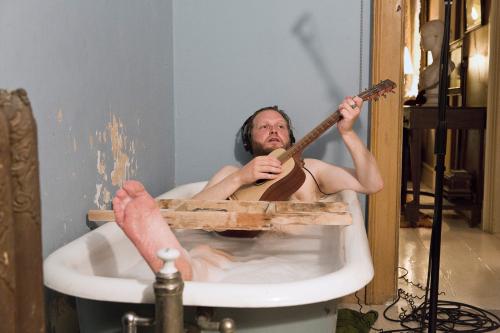 Some of the criticism of the museum has centered on the fact that it is a snapshot of much of the art market right now, that it codifies, even anoints, a list of exactly who you would have expected to see. That, for a personal museum, it isn't personal or idiosyncratic enough. It's true: You will find these artists in a lot of collections and, more to the point, in a lot of auction catalogs. But that ironically accuses the Broads of following trends that frankly they themselves might've started. It's like blaming the Pied Piper for the rats.
Consider Jeff Koons. They bought his work really early, in-depth and courageously, given the amount of eye rolling their fanaticism was met with. Love him or hate him, Mr. Koons is in those art history books now. And there's a moment in the new Broad where you can look from an iconic 1970s felt suit by Joseph Beuys to see Mr. Koons' famous stainless steel bunny and suddenly see each of them in new ways.
Mission accomplished, Mr. Broad.