When asked to explain the spring collection from Creatures of the Wind, Christopher Peters had a lot to say. But what it boiled down to was: "It was sort of like a collage of everything we think is cool and that we like. We just want everyone to feel cool."
The "we" Mr. Peters is referring to includes himself and Shane Gabier; the duo are the founders and designers of the New York-based label. The two had just finished presenting their runway collection and had a patient line of reporters waiting backstage to ask them questions about this decidedly "cool" collection.
To break it down further, the designers were inspired by '70s punk rockers and the '90s in London. So yes, coolness was a factor, but so was "the cyclical nature of taste and beauty."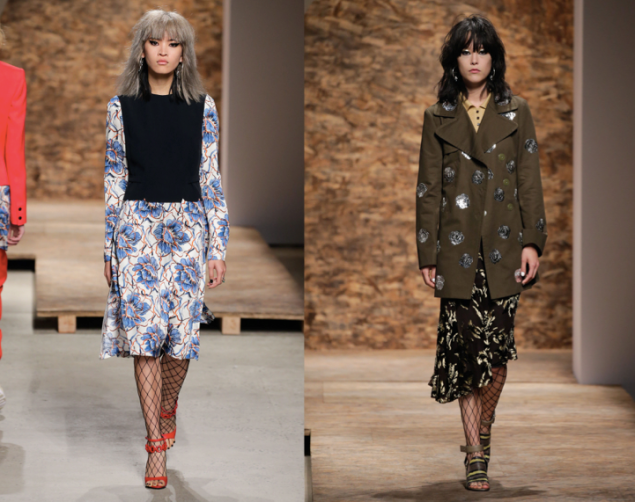 In that vein, there were in fact fishnet stockings, smudged black cat eyes and ruby red lips, but the runway also featured faded florals, plenty of leather pants, spaghetti straps and off-the-shoulder silhouettes. The designs were a careful integration of old and new, as well as feminine and masculine.
Layering played a big role as well, whether that was a sheer but sparkly tulle top under a dress, a dress over pants, or even a sequin-embellished trench coat covering an entire outfit. And speaking of coats, mark our words, the colorful cropped jackets with patches of Swarovski sparkles will become must-have items as soon as they hit the shelves.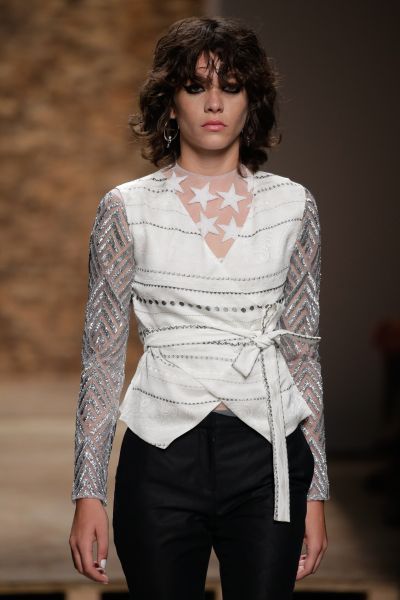 However, the coolest thing at this show must have been the shoes. Mostly made up of strappy standals with a chain detail, other higher sandals were made of painted snakeskin. They also unveiled a sneaker collaboration with APL. As Mr. Peters put it, "It was really nice to have a juxtaposition. [Our collections] don't have a tendency to be sporty. And that kind of helped add another dimension to the language." 
Whether sporty or strappy, it is clear that these two designers have a strong grasp on footwear and have a rather successful category to build on.