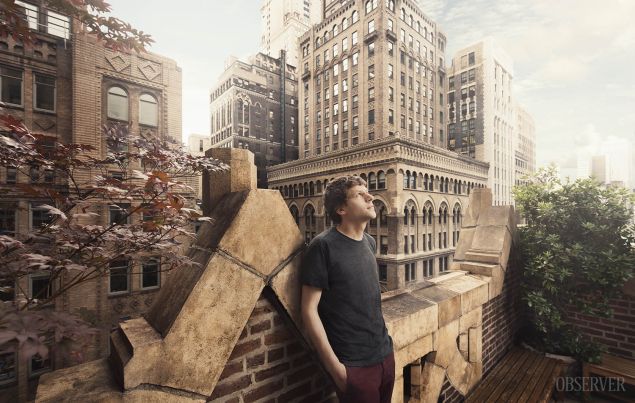 For Jesse Eisenberg, the intersection of high and low culture, mass market and indie, outspoken short story writer and emotionally sensitive actor, can lead to some serious speed bumps. Nothing exposed that more than the kerfuffle at this year's San Diego Comic-Con, when the over-stimulated actor, overwhelmed by the screaming fan frenzy for his 2016 comic book movie Batman v Superman: Dawn of Justice, described the fanboy mecca as "some kind of genocide."
Oops.
Weeks later, over breakfast in the rainy West Village, Mr. Eisenberg is all repentance, although the subsequent fan reaction and Twitter uproar now seems, like Superman's pecs, overinflated. "Listen," said Mr. Eisenberg, "the responsibility is on me to keep my guard up when discussing something that is going to be parsed. I'm not new to it but I should be savvier. The truth of the matter is I had a wonderful experience at Comic-Con because people loved the movie that I was in. In my attempt to make a dumb, self-deprecating joke I maybe hurt people's feelings and that's wrong." He added, ruefully: "Whether or not people had a sense of humor is another story."
Intense scrutiny accompanies the territory of stardom that Jesse Eisenberg, 31, is now living in. The mega-fame associated with a tentpole film franchise only intensifies that. "There's this two-pronged pressure that I feel. You do so many interviews and there's this tacit request to be honest and open and yet then there's this simultaneous flogging of a person who says things, says things that are only 1 percent off center. That said, I'm not excusing myself. I'm a smart enough person to be aware that certain comments are taken in different ways." Smart enough, indeed. Talk long enough to Mr. Eisenberg, and his angst is only matched by his ambition and self-awareness.
At 5 foot 7 inches, with a modest Jewfro, wearing a maroon T-shirt, jeans and wire-rimmed glasses, the only thing that's a movie star tell during this early-afternoon breakfast is his bright-white, even teeth. The Queens/New Jersey native barely looks his years. Yet he's been in show business professionally for over half his life. In 1999, he debuted in the TV series Get Real and booked a U.K. Dr Pepper commercial. His younger sister Hallie Kate was the famous one in the family for years—she was "The Pepsi Girl" in a series of soda pop ads.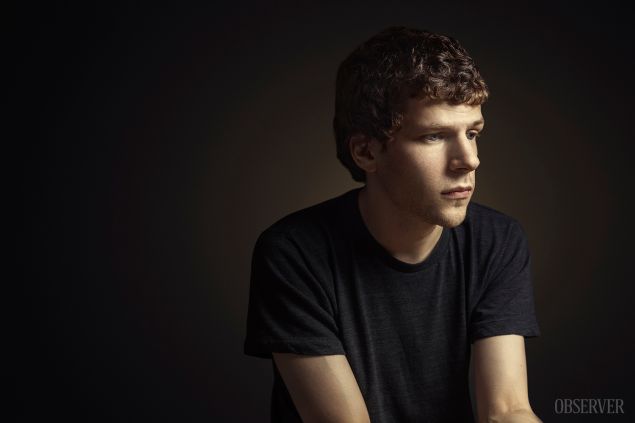 Perhaps for that reason, Mr. Eisenberg is unimpressed, even unsurprised, by his own success. "Movies are a young person's medium," he said, decapitating a soft-boiled egg at Café Cluny. "Young people go to the movies more than other demographics. So that's not very unusual to be a successful movie actor as a young person. It's unusual to be successful at almost anything else as a young person. But not in movies—that's who goes. If that wasn't the case then Vanessa Redgrave would be in every movie because she's the best actress."
Young people go to the movies more than other demographics. So that's not very unusual to be a successful movie actor as a young person. It's unusual to be successful at almost anything else.
Nothing says "young person's medium" like comic book movies. Certainly, nobody would accuse Mr. Eisenberg of being typecast as uber-villain Lex Luthor, a role once chewed by no less than Kevin Spacey and Gene Hackman, the latter wearing an ascot and toupee. (In the film trailer, already viewed by over 47 million people, Mr. Eisenberg plays Luthor as a sweet-cheeked, longhaired smarty pants, quipping snidely, "The red capes are coming. (Pause.) The red capes are coming.") Mr. Eisenberg joins Ben Affleck and Henry Cavill in Zack Snyder's reboot out in October 2016.
"A lot of great actors are doing comic book adaptations," he said, spreading jam, a touch defensively. (Jeremy Irons, Holly Hunter and Laurence Fishburne are in Batman v Superman). "But that's because those movies have become so good."
Though the film is top-secret, apparently Mr. Eisenberg feels safe enough to disclose a few things about his debut: "In a lot of ways Luthor is more of a stretch than any character you would do in an independent movie, which is normally the place you stretch. So in that way it was not at all compromised. If anything it was the best, most advantageous role I've ever been given."
This from the actor nominated for an Oscar for portraying Facebook founder Mark Zuckerberg as a nebbish genius in The Social Network? The actor explained, "It's because the opportunity to do an interesting character on a movie of that scale is incredibly rare… The character is written by the phenomenal writer [and Argo Oscar winner] Chris Terrio. His background is not in comic books so he was coming at it from emotion and story and created this really wonderful character, as enigmatic as he is emotionally honest."
With no disrespect meant to Mr. Hackman or Christopher Reeve, what attracted Mr. Eisenberg to this particular comic book film is how the genre has evolved and the parts have evolved with them, he said. "Now people expect the tone to be more realistic just because we live in a world where the average audience member has a sense of psychological motivations… [It raises the question] how can one man—Superman—have so much power? These are the kind of things that we talk about when we think about authoritarian states, when we talk about Vladimir Putin having a strong foothold in Eastern Europe. They're addressing geopolitics in this movie and not in a way that's pretentious or esoteric."
What I like to do with my writing is to have these very sophisticated, philosophical debates happen on very basic levels.
Mr. Eisenberg continued: "Terrio cleverly ties in these really exciting superhero elements with these really sophisticated, philosophical themes in a much smarter, different way. That's what I like to do with my writing: To have these very sophisticated, philosophical debates happen on very basic levels." 
My writing? Mr. Eisenberg has a fairly complicated, even multi-tentacled, career: He is expanding as a playwright and author—Grove Press published his short story collection Bream Gives Me Hiccups on September 8—he's writing a web series for Amazon and mixing studio films and a slew of indies (a leading role in the upcoming Woody Allen project, opposite Jason Segel in the acclaimed The End of the Tour and Kristen Stewart in American Ultra, and in the Cannes film Louder Than Bombs).
The title story in Bream and a number of related pieces are narrated by a painfully self-aware, prissy, intensely acute 9-year-old food critic. The boy enters awkward situations—an ashram, a vegetarian Thanksgiving, a snobby Japanese restaurant with repulsively esoteric entrees, chaperoned by his desperately divorced mother. For those seeking hidden clues into the real Mr. Eisenberg by reading his fiction, there is no simple transparency. It would be easy to project the writer onto the kid. But that would be misleading. "My parents are together. They occupy that nice middle ground. They lead independent lives—I mean independent of me and quite supportive."
Mr. Eisenberg plays Lex Luthor as a sweet-cheeked, longhaired smarty-pants, quipping snidely, 'The red capes are coming. (Pause.) The red capes are coming.'
Mr. Eisenberg is also not a food critic, commenting that the eggs are "nice" but not delving deeper. As for his fiction, "I would say everything is emotionally autobiographical but no one would know it's about them. The only time my mother ever complains, she will tell me, 'my friends called and asked me, why would Jesse write this about me? I told them it's not me.' My mom was a birthday party clown my entire childhood so she's on my side of the fiction. She understands the kind of long tradition of especially Jewish writers using the overbearing mother archetype as a fun juxtaposition between the young adult on the path to self-actualization in the face of an overbearing mother."
Kirkus Review praised the title fiction, writing: "The story transcends this premise as the narrator's personal life comes into view… his most powerful insights are those aimed at his own life." But Mr. Eisenberg said he is most partial to the forlorn and prickly college freshman, Harper Jablonski in the epistolary story "My Roommate Stole My Ramen." A fish out of water, a New Yorker in St. Louis, far beyond her safety schools, Harper writes wails of despair to her high school guidance counselor, Miss Rita. 
"I love Hunter and relate to her but she is a person that my mom, for example, when she read it was kind of turned off to. So different people have different reactions but for me she's my favorite character. I love her. She's honest and intensely critical. It's people like that that need love more than people who are explicitly affectionate. It's people that have trouble expressing affection that are deeply longing for it, that need the affection."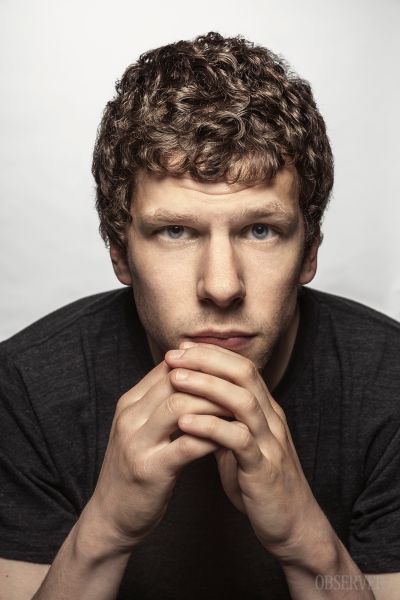 Mr. Eisenberg includes himself in that alienated, change-fearing tribe: "Yes, absolutely. She is a person that has difficulty transitioning to college. Every time I had to make any kind of minor transition in my life I lamented it.
"I missed sixth grade because we had to go to change schools in sixth grade from elementary to middle school," Mr. Eisenberg explains, with an unconscious touching of utensil placement and chest. "I was so scared and depressed that I ended up home schooling for a few months because I couldn't adjust to that transition. And in Harper's case, in the book, it comes out with this kind of vitriolic rage. For me it came out with this kind of sadness and separation anxiety. But I can relate to her."
Which sends Mr. Eisenberg on a psychological tangent that is neither book, nor movie, nor play related. "I'm friends with a psychologist for adolescents. He tells me that [laughs] he sees kids that come from the worst situations, the worst families and are the most self-actualized, poised and mature. I said, 'how is that possible?' " 
"He said, 'well these kids have their choice. They have to step up to the situation.' I thought, 'oh, that's so interesting.' So, you know, you expect a kid from a broken home to be broken. But he says oftentimes these kids are the most mature. They live the healthiest lives. They're sober. They are caretakers and it's oftentimes the kids who come from like, you know, kind of the doting parents [that have the most trouble adjusting]."
This fascination with psychology, neurosis and a mash-up of high and low culture often inspires comparisons with Woody Allen. In the Publisher's Weekly review of his short story collection, the critic wrote: "Eisenberg's brand of comedy is frequently compared to Woody Allen's and it's easy to see why—the stories are populated with neuroses, highly difficult people, anxious mothers and therapists: all seem to function in the same self-contained New York universe."
This affinity makes Mr. Eisenberg the perfect younger actor to step into the Allen oeuvre as the star of the auteur's next, as yet untitled, feature. "What Allen is able to do," said Mr. Eisenberg, "is take philosophy, religion, politics, and then use them in humorous ways to comment on modern life. And what he does so well that few people do in humor is not compromise his intellect in order to appease those who don't know the things he knows."
Overall, Mr. Eisenberg prefers to be a creator rather than a consumer of culture. "I don't go to the movies. I don't really watch television." He doesn't watch his own movies—he hates seeing his own face on screens big or small. He has not watched the film about David Foster Wallace, The End of the Tour. 
"Did my character seem Machiavellian?" he asked of his portrayal of the Rolling Stone journalist David Lipsky. He seems pleased when the response is affirmative.