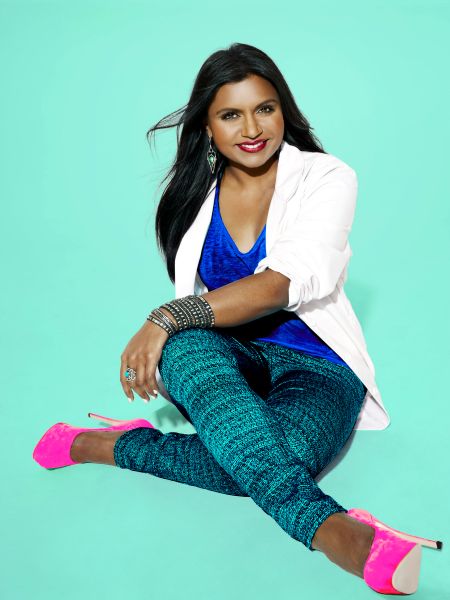 Last spring, after its third season on Fox, The Mindy Project, co-written and produced by Mindy Kaling—who became famous as the chatty, hilarious narcissist Kelly Kapoor of The Office—was cancelled. Nothing too out of the ordinary in the world of TV. But then Hulu saved it, picking up the modern rom-com for a fourth season, with Ms. Kaling's ob-gyn character now in love, single and pregnant. (Hulu starts rolling out the fourth season's episodes September 15).
Upon speaking with Ms. Kaling, one thing surprises: as many interviews as she does, she remains pensive when it comes to her responses—making sure that her answers are meaningful and are taken seriously. There's a confidence and an ease to her. And with two books, a production company and a TV show, she could be one of the hardest-working women in show biz. 
As her new book, Why Not Me? is published, the Observer had a chat with the Hulu star.
After your success as a writer and actor on The Office, you probably could have done anything, but you chose to develop a sitcom. Why?
Do you really think I could have done anything? That's such a nice compliment. That's what my training was, so I appreciate that you think I could have done anything. I've always loved sitcoms—I worked on one for 8 years so creating one was the next logical step and also it fulfilled a childhood dream.
Is there anything you've learned writing or playing the character of Dr. Mindy Lahiri?
I've learned so much. My character wears great clothes, makes a lot of money, lives in Manhattan and has a handsome boyfriend. That person is so hateable. She has needs to have tons of obstacles and challenges constantly or else you wouldn't want to watch that show. Finding the underdog in a lead character all the time has been such a fun challenge. Luckily, the world isn't necessarily the easiest on a non-traditionally attractive woman in her mid-thirties who isn't married [laughs].
You play an obstetrician and you're pregnant this season. In real life, you're in your mid-thirties. Thoughts?
Definitely. I wanted to do a show that reflected on what me and my close female friends were going through in terms of dating. … I did want to have a job that was something a little more relatable and more altruistic than being a comedy writer, in addition to my mom being one, which is why I chose the character [of Mindy] to be a doctor. The dating stories are so fun and the characters that come in as my boyfriends are so funny. I've noticed that fans of the show really respond to that and get attached to the characters, more than I thought they would, which has been nice.
Is it groundbreaking that you are an Indian woman on a mainstream show?
I have trouble evaluating my impact on culture. I sometimes think it's not the smartest thing for me to try to do because I think I'll get it wrong any-which-way.
If we hung out in The Mindy Project writers room, what would surprise us? How is it different?
My staff is really small. We have 26 episodes this season, and we've always had at least 21 episodes. We have 7 writers on my staff, and I think that's a lot smaller than most shows with our number of episodes….You can't hide on your cell phone or get distracted. [And] we're really picky about the people we have in that environment. You spend more time with them than you do with your family.
'It's been really fun to see what [my] selfish, funny, delusional character does as a mom….She has to care about all these other people.'
What was your worst writers room experience? 
I think when I was at The Office, Greg Daniels who is a wonderful boss, great friend and mentor to me—he kicked me out of the writers room for putting up too much resistance to the flow of where the story breaking was going.
Do you think you were fighting for the right reasons?
No, no. I was completely wrong. I absolutely deserved to get kicked out.
Did it feel like getting kicked out of class?
A little bit. I don't envy his job of having to manage me on a TV sitcom!
What are some of your favorite shows? How do they fuel your comedy ideas?
Right now, I love Silicon Valley. I think its just a funny show. It couldn't be more different than my show. I love VEEP. In history, I loved Cheers. I was a comedy nerd growing up—I loved Kids in the Hall and Saturday Night Live. One of my favorite shows when I was very young was Fawlty Towers. I liked the show because even as a kid I knew that John Cleese had written and was starring in his own show. I loved that as the lead you both commiserated with him and also cringed at things he did.
What can fans expect from Mindy this season? Is it going to be smooth-sailing for her and Dr. Danny Castellano (Chris Messina)? Or will there be a ton of hiccups?
The latter for sure. Mindy is 8 months pregnant, so a lot of the season will be the challenges of giving birth: someone who likes the idea of having kids, but I don't think anyone can picture her with kids. So, it's been really fun to see what a selfish, funny, delusional character does as a mom and serious girlfriend. She has to care about all these other people and have two jobs. It's opened so many fertile areas for comedy.
At this point in your life, do you consider yourself a role model for girls and women?
I don't know if I consider myself a role model, but I know that people look to me as a role model. I really like that and I find it challenging and intimidating. It's definitely changed the way that I behave and act in public, which has in turn made me a slightly better person. So, I like that a lot.
What has surprised you most in your career —what were the unexpected pleasures or problems you encountered? What's been the secret to your success?
The thing that's most unexpected to me is how much I would enjoy waking up at 5 AM every, single day. That's pretty unexpected. I didn't know I would have a job where I got to work in the dark and left work when it was dark. I never thought I would have fun in a subterranean life like that. If you asked me when I was 14, if I was in my mid-thirties and not married without kids that I would be as happy as I am—and I'm one of the happiest people out of my friends—I think that would surprise me as well.