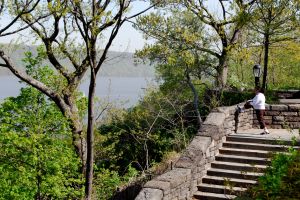 Reasonable prices, river views and Dr. Ruth Westheimer—such are the charms of Washington Heights.
A longtime resident of the area, the famously diminutive sex therapist is something of a local celebrity, said DJK Residential broker Zachary Elias, who moved to the neighborhood with his wife and young daughter in April.
And while the good doctor isn't necessarily known for her real estate advice, current trends make her decades-ago decision to plant roots uptown look rather prescient.
As New York housing prices continue to soar, Manhattan's northernmost reaches have emerged as one of the island's last economical redoubts, drawing the space-hungry and budget-conscious. And one particularly well-trod migratory path is that recently taken by Mr. Elias and his family—the trek from the Upper West Side to, well, call it the Upper Upper West Side.
"I was born and raised on the Upper West Side," Mr. Elias told the Observer. "I lived on 86th Street and West End my entire life."
In fact, when he and his wife moved in together, they purchased a unit in the very building where he grew up. With the birth of their daughter, though, the couple needed to expand beyond the confines of their 700-square-foot one-bedroom, and so they sallied forth into the Hunger Games that is the Gotham real estate market.
"My wife sort of wanted the suburbs, but I couldn't commit to that," Mr. Elias said. "We looked at Brooklyn for a minute, too, but I couldn't do that, either."
Instead, the couple decided to stay close to home, buying a 1,400-square-foot two-bedroom in Hudson Heights, a small pocket of Washington Heights just above the George Washington Bridge. Since settling in this spring, Mr. Elias said he's come to realize they aren't alone.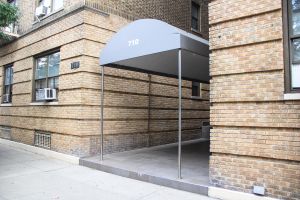 "When my dad came up to look at the apartment he couldn't believe how many strollers and dogs there were," he recalled. "Every apartment in our building has kids. It used to be that everyone [in the neighborhood] was a Jewish grandmother. And as they are sort of naturally vacating these apartments, the young families are all moving in."
This influx of young families has led to booming demand for area two-bedrooms, Mr. Elias said, estimating that prices for such units have gone up around 20 percent since he closed on his apartment last November.
Even so, the Upper Upper West Side is still a bargain by Manhattan standards. According to numbers from appraiser Miller Samuel, in the second quarter of 2015 prices in Inwood, Washington Heights, and Hamilton and Morningside Heights were, respectively, $526, $611, and $655 per square foot. By way of comparison, the Upper West Side clocked in at $1,281 per square foot with Manhattan overall coming in at $1,340.
Lisbeth Cassaday and her husband recently moved from a 450-square-foot one-bedroom at 106th Street and Manhattan Avenue to a 1,050-square-foot one-bedroom with den at 139th Street and Frederick Douglass Boulevard.
The couple didn't immediately turn their eyes uptown upon finding themselves priced out of their old neighborhood, but, after a search that carried them all across the city ("I saw so many apartments it was ridiculous," Ms. Cassaday said), they ultimately settled a few subway stops north of their former abode.
'I love all the mom-and-pop shops. There isn't a Starbucks or a Duane Reade on every corner.'—Hamilton Heights resident Lisbeth Cassaday
"We'd always explored up here and we'd always really liked it," she said, citing the area's "neighborhoody" feel as key to its appeal.
"I love all the mom-and-pop shops," she said. "There isn't a Starbucks or a Duane Reade on every corner."
Then again, there's perhaps something to be said for—if not Starbucks and Duane Reade specifically—at least the notion of high retail density in general.
"It's still very spotty up there," said Bond New York agent Carole Cusani who this spring tried, unsuccessfully, to convince several clients interested in the Upper West Side to take a look farther uptown. "Some areas have more street life and amenities, but some still don't."
Another issue Ms. Cusani has run into when trying to interest buyers in the area? The hills! So many hills!
Most of Manhattan was smoothed over in the course of its development, but the topography at the top of the island has been left largely untouched. That makes for some of the city's most spectacular scenery—winding avenues and high schist cliffs and dramatic river views—but, Ms. Cusani noted, some steep climbs to the subway, as well.
"In some cases you're near the A [train] or the 1 or the 2, but in other cases it's a hike," she said. "Or you happen to be in an area where it's really hilly, and you have to take flights of steps to get from one station to another. In terms of the topography up there, it is hilly."
That's probably not going to change. On the question of the area's amenities, though, there are signs of improvement, suggested Marla Siegel, director of property administration and associate general counsel at New Holland Residences, which manages several buildings in the area including 561 West 144th and 1616 Amsterdam Avenue in Hamilton Heights.
"Just last week I was up on Broadway between 140th and 150th and I went past at least four or five new bars and restaurants that did not exist a year ago," she said.
And while Upper West Siders once had a monopoly on beloved grocery spots like Zabar's and Fairway, new entrants and expansions have somewhat diminished that neighborhood's bragging rights, said Corcoran broker Linda Feder.
"It used to be a food mecca over there," she said. "You'd move to the Upper West Side and people would say, 'My God, you're going to be near Fairway!' Well, now there's a Fairway at 125th, so the one on 74th—who cares?"
Whole Foods broke ground this spring on a store at 100 West 125th, which, though not exactly central to the area, adds another near-ish option for UUWS residents. And, if Mr. Elias and his wife have any say in the matter, Trader Joe's will eventually make its way up to Hudson Heights; the couple recently joined a Facebook group aimed at bringing a store to their neighborhood, he said.
And even if the shopping is a bit sparser, there's perhaps something to be said for putting a little distance between yourself and the city's sturm und drang.
Feder's client Edith Pattou began her Manhattan apartment search with her sights on the Upper West Side. An author of young adult fiction, Ms. Pattou and her husband, a professor at Ohio State University, were looking for a pied-à-terre to use during the portions of the year they spend in the city.
As part-time New Yorkers "we wanted to be in the heart of things, the hustle and bustle of the city," Ms. Pattou said. "I have three very close friends who live on the Upper West Side, and I got to know [the neighborhood] through them. I love all the shops and the restaurants."
After being outbid on an apartment near Lincoln Center, though, the couple decided to look farther uptown. While Ms. Pattou said she was initially resistant to the idea, she's since come to see the advantages of a more tranquil setting.
"The reason I wanted to be in New York was to be where all the action was, but as we looked farther north and saw you could get more for your money, we began to appreciate that feeling of being a little bit away from it all," she said. "You have access to the hustle and bustle of the city, but you can also get away from it at the end of the day."
It also doesn't hurt that the couple's daughter, a grad student at Fordham, lives in Inwood.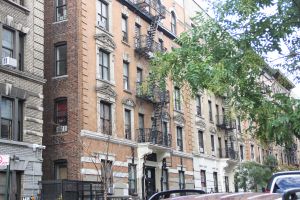 Of course, even in the relatively placid precincts of the Upper Upper West, Manhattan house hunting remains something of a bloodsport. Ms. Pattou and her husband made a bid for an apartment in Hamilton Heights at Riverside and 152nd but lost out to another buyer who'd beaten them to it.
"We were amazed," she said. "You really have to act fast. I do think the market in New York is always challenging, and I do think people are discovering these further north neighborhoods."
"If you have something that is nice and priced reasonably well—not even that well—it is going to go into a bidding war," said Jeffrey Hannon, an agent with Mirador Real Estate.
Mr. Hannon noted an influx of landlords and management companies investing in the area. "A lot of buildings are changing hands and [owners] are just putting a ton of money in these buildings to get higher prices," he said.
Recent examples include Tahl Propp Equities' condo conversion 710 Riverside Drive and Arlington Capital's Hamilton Park at 479 West 152nd Street.
"I tell my buyers to give me a budget of what they absolutely cannot go over, and then we'll start looking $40,000 below that and always bid at asking or over," Mr. Hannon said. "You are dealing these days with a lot of cash buyers who are coming in and offering $15,000, $20,000 above asking, so you have to really be prepared."