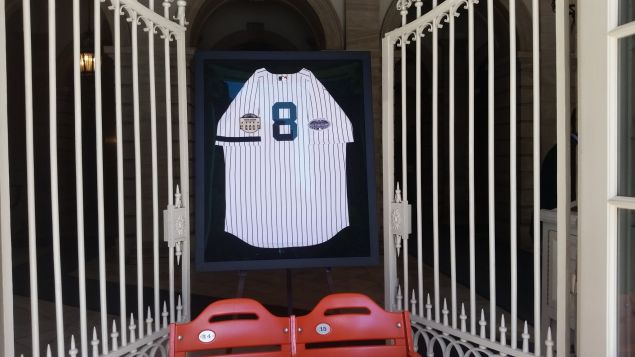 When you come to a shrine in the road, take it.
A jersey Yogi Berra once wore is now on display at City Hall to honor the legendary New York Yankees catcher, who died on Tuesday at 90.
The jersey, which Berra wore at the 2008 All-Star Game at Yankee Stadium, is on loan from the Yogi Berra Museum in Montclair, New Jersey, a spokesman for Mayor Bill de Blasio said. 2008 was the last season played at the old Yankee Stadium before a new stadium with the same name replaced it a year later.
Visitors walking up the steps to City Hall can view the jersey and a row of seats from the old Yankee Stadium and Shea Stadium, where the New York Mets used to play. Shea Stadium was also demolished in 2008. The seats are usually on display in City Hall's west wing.
In addition to winning 10 World Series rings as a Yankee, Berra played for the Mets and managed the squad to a pennant in 1973. Beyond his prowess on the baseball diamond, Berra was also known for his wit and iconic malapropisms.
Mr. de Blasio, an ardent baseball fan, paid tribute to Berra yesterday.
"[He was] one of the people who defined life in this city and we all looked up to Yogi and we all felt a personal sense of connection," Mr. de Blasio said. "I think what was so enduring about him was the warmth and the wit and the humanity and yes, the foibles."