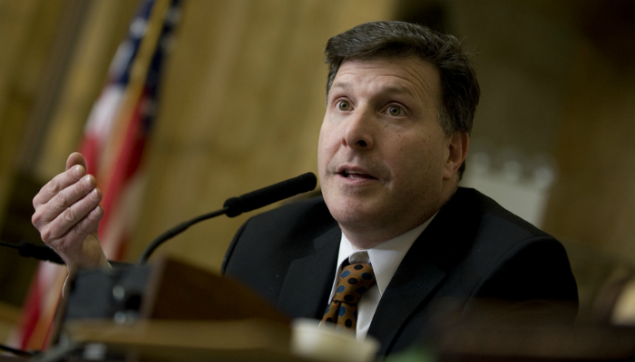 Today is Election Day. Yes, it's Thursday, and you usually go to vote on Tuesdays. Blame a State Legislature that didn't want to hold an election one day after Labor Day and Jewish holidays coming up next week.
The main attraction on an otherwise very quiet day is the open Democratic primary for the 23rd City Council District in eastern Queens. The race features six candidates and the outcome will be very hard to predict, given the extremely low voter turnout and lack of public polling.
Mark Weprin, the previous city councilman, made this race possible when he resigned several months ago to take a position in the Cuomo administration. The Democrats trying to replace him are: former Assemblyman Barry Grodenchik, who has Mr. Weprin's endorsement, Rebecca Lynch, an ex-City Hall staffer, Ali Najmi, an attorney, Bob Friedrich, a prominent civic leader, Celia Dosamantes, a former Weprin staffer, and Satnam Singh Parhar, an activist and local businessman.
The district is suburban in character and unreachable by subway. It includes the neighborhoods of Bayside, Fresh Meadows, Oakland Gardens, Bellerose, Floral Park, Glen Oaks and Douglaston. Democrats, like in most parts of the city, have a tremendous enrollment advantage, though the area's politics are more moderate. The district is also one of the most diverse in New York City; there are significant white, black, Latino and Asian populations in the neighborhoods.
There are several major questions hanging over this race.
1. Can the liberal Working Families Party plant a flag in such a moderate area? 
The party, a hybrid of labor unions and progressive organizations, endorsed Ms. Lynch. She is one crucial cog in their plan to tilt the City Council as left as possible. Ms. Lynch is about tied with Mr. Najmi, who has the backing of Gov. Andrew Cuomo's 2014 primary challenger Zephyr Teachout, for biggest progressive in the race, but political insiders and labor unions see Ms. Lynch as more electable. The City Council's Progressive Caucus is supporting her. Were she to prevail today and defeat Republican Joseph Concannon in November, the WFP would be in tremendous position to play a deciding role in the race to replace Council Speaker Melissa Mark-Viverito in 2017. The WFP, as well as other labor unions, pushed hard for Ms. Mark-Viverito two years ago and will be looking to cultivate as many loyalists as possible for a repeat performance. Ms. Lynch will be in their corner.
Ms. Lynch will also find out how toxic Mayor Bill de Blasio is in the district. Mr. de Blasio has not endorsed his old aide (or anyone), but Ms. Lynch has not exactly disavowed him, either. A PAC tied to Mr. de Blasio already spent big on behalf of her candidacy. If she doesn't come close to winning, some blame could be laid on Mr. de Blasio's deteriorating reputation in eastern Queens.
2. What kind of juice does the Queens Democratic Party still have? 
Led by Congressman Joseph Crowley, a top House Democrat, the Queens Democratic Party has always been known as one of the most cohesive and effective county organizations in the city. But like party organizations elsewhere, the Queens Democrats are beatable, and some have even called the party establishment a paper tiger. Mr. Crowley is pushing a loyalist, Mr. Grodenchik, who also has the backing of several labor unions, including the United Federation of Teachers. After progressives were able to outfox Mr. Crowley in the 2013 City Council speaker's race–he supported Ms. Mark-Viverito's top opponent–he needs as many county-tied Democrats as possible to redeem himself. Local races are important for the Queens machine's self-esteem and reputation. A loss here would really burn.
3. Will outsider Bob Friedrich end up in the City Council as Bill de Blasio's worst nightmare?
Mr. Friedrich is an accountant who doubles as a fiery civic leader, and is well known to the local press in Queens. He is the president of the large Glen Oaks Village housing cooperative and has run for office before. Though Mr. Friedrich lacks the endorsements and campaign infrastructure of Mr. Grodenchik and Ms. Lynch, he has a strong following in the worlds of co-ops and civic organizations, where active voters reside. He is proudly critical of Mr. de Blasio and reviles political establishments of all stripes. Were Mr. Friedrich to triumph today and roll to victory in November, he would be a true gadfly in a City Council that lacks one. Ms. Mark-Viverito and Mr. de Blasio should watch out.
4. Can a South Asian finally make history?
Asians are badly underrepresented in the City Council. There are only two Asian lawmakers in the 51-member body and a South Asian has never been elected. Mr. Najmi, who is of Pakistani descent, is hoping to change that, as is Mr. Parhar, who is Sikh. The South Asian population continues to boom in the district and elsewhere, but it's not clear yet that they are regular voters. Mr. Najmi, the founder of the Muslim Democratic Club, has aggressively tried to register new voters and acclimate immigrants to the democratic process. Today may answer how far the South Asians have come.
5. Does a Republican have a snowball's chance in you know where?
Retired police detective Joseph Concannon has run for City Council and State Senate and never come close to winning. The 23rd Council District is solidly Democratic. But Mr. Concannon is no token opposition, staging raucous pro-police rallies and trying to turn dissatisfaction with Mr. de Blasio into votes.
Mr. Concannon's best chance at winning may come with facing minority opposition. In 2009, Republican Dan Halloran scored an upset victory in a neighboring City Council district when he faced Democrat Kevin Kim, a Korean-American. Some conservative Democrats in the area resent the growth of the Asian population and could jump to Mr. Concannon's side if the Democrat isn't white and Christian or Jewish.
But the odds for Mr. Concannon are still very long, regardless. Despite running unopposed in the Republican primary, the former detective's campaign is in debt.
Okay, is there anything else interesting happening in New York City?
Yes! Via Jillian Jorgensen:
For an election very few people are likely to vote in—there are just 4,218 registered Conservative voters on Staten Island, according to the Advance—the small party's primary in the race to replace former District Attorney Daniel Donovan, now in Congress, has a long and convoluted back story.
The Conservatives backed former Congressman Michael McMahon, a Democrat who also has the Independence Party line, in June. That didn't sit well with the Republican candidate, Joan Illuzzi, a longtime prosecutor in the Manhattan DA's office, so she launched an opportunity-to-ballot campaign—and collected enough signatures to force the Conservative Party to hold today's primary.
For those wondering why the Conservative Party, typically more aligned with Republicans, might back a Democrat, look no further than former Conservative Party chairman James Molinaro—who is also co-chair of Mr. McMahon's campaign. Mr. Molinaro, a former borough president, is no stranger to endorsing Democrats—he supported former Council Speaker Christine Quinn's mayoral bid. But, this being Staten Island politics, there's also an intra-party feud that may have come into play here: Ms. Illuzzi is endorsed by Mr. Donovan, with whom Mr. Molinaro was once close but stopped speaking to after the DA refused to recuse himself from a criminal case involving Mr. Molinaro's grandson.
While the Conservative line might not seem like much, conventional wisdom in Staten Island politics is that it can often be enough to sway a general election, especially one with low turnout. And for Ms. Illuzzi, who raised significantly less money than Mr. McMahon and has less name recognition, the line could be make-or-break for her bid.
If all that wasn't complicated enough, there's also the matter of why the district attorney's seat is vacant in the first place: Mr. Donovan left it when he was elected to Congress, to fill the seat vacated by former Congressman Michael Grimm, who resigned after pleading guilty to tax fraud just months after cruising to re-election, spurring a special election. Mr. Grimm is the reason Mr. McMahon is available for the DA's job in the first place—he unseated the Democrat in the 2010 congressional race.