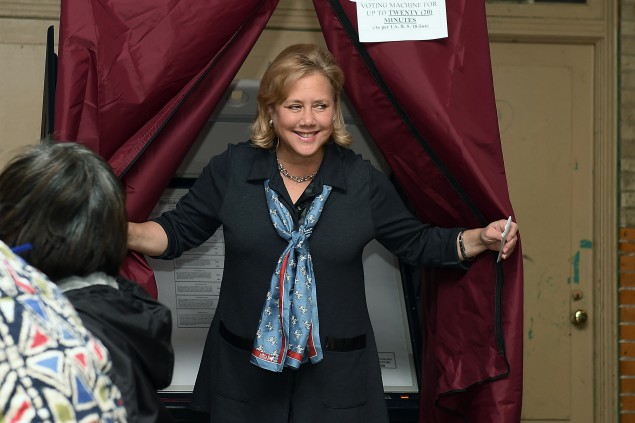 In his landmark 1974 self-help book Winning Through Intimidation, author Robert J. Ringer wrote that "crossing the goal line becomes a bore if you don't get credit when you score." The Democratic Party may understand Mr. Ringer's words only too well.
A recent poll is the latest manifestation of a problem that has bedeviled Democrats for years: they are winning handily among Americans who don't vote. Unfortunately for Team Blue, Democrats are not performing nearly as well among those who are considered likely to vote, or those who are registered to vote.
An ABC News/Washington Post poll taken Sept. 7-10 found that in a matchup between the current Democratic and Republican frontrunners, former Senator and Secretary of State Hillary Clinton (D) holds a slim lead among registered voters—46 to 43 percent—over businessman Donald Trump (R). The poll, which surveyed 821 registered voters and 1,003 total adults, had a margin of error of 4 percent, which means that Secretary Clinton could, in fact, have a lead as large as 7 percentage points—or that Mr. Trump could have a small lead of up to 1 percent.
However, when the poll expands to the larger universe of all adults, Ms. Clinton's lead balloons to 12 points over Mr. Trump—51 to 39 percent. The margin of error for the larger sample, 3.5 percentage points, means that Mr. Trump, at best, would trail Ms. Clinton by 8.5 percent.
While it is always dangerous for those who excel primarily with the written word to delve into matters involving mathematical proficiency, a little basic arithmetic produces an astonishing result. Among the 182 adults sampled who were not registered voters, Ms. Clinton would defeat Mr. Trump by 53 points—74 to 21 percent.
There are numerous examples of this phenomenon, and they all point in the same direction: nonvoters consistently indicate a strong preference for Democrats over Republicans. An October 2014 survey conducted by the Pew Research Center found that adult nonvoters—that is to say, adults who were not registered or were considered unlikely to vote in the November 2014 midterm elections—favored Democrats over Republicans by a 51-30 margin when pressed to choose one or the other. A Wall Street Journal/NBC News poll taken after the midterm elections found that 50 percent of non-voters would have voted Democratic, had they voted, compared to 40 percent who would have voted Republican.
In a similar Pew survey released five days before the November 2012 presidential election, adult nonvoters preferred President Barack Obama (D) over Gov. Mitt Romney (R) 59-24. While this earlier survey did not press independent voters to pick one party or the other, it did show a 29-17 edge for Democrats over Republicans—nearly identical to the 29-18 spread found in the 2014 survey before independent-identifying nonvoters were pushed to pick one party or the other. Additionally, a poll conducted immediately after the 2012 election by Ipsos Public Affairs and Ms. Ellen Shearer, a professor at Northwestern University's Medill School of Journalism, found that nearly half of the 1,170 nonvoters it surveyed would have voted for Mr. Obama had they voted, as compared to 26 percent who would have voted for Mr. Romney.
In all these results, we see numerous examples of the same phenomenon: Democrats are doing spectacularly well among Americans who, for whatever reason, are not voting. On one hand, it is tempting to say this fact represents a failure of the Democratic Party, an inability to identify and motivate a group of Americans who would markedly improve their prospects if even a portion of them could be convinced to register and vote. However, on the other hand, this phenomenon also points to an area of opportunity for Team Blue.
According to the United States Elections Project, only 35.9 percent of Americans eligible to vote in the 2014 midterms did so, the lowest percentage recorded in a midterm election since 1942. The voting rate in the 2012 presidential election, per the USEP's website, was 58.2 percent.
We know from U.S. Census Bureau statistics that, as of 2014, there were approximately 245 million U.S. residents aged 18 years or older. According to statistics available at the Henry J. Kaiser Family Foundation website, approximately 93 percent of U.S. residents are citizens. Again, doing some basic math, this means approximately there are roughly 228 million Americans who are qualified to vote. In presidential elections, that means about 100 million potential voters do not vote, and in midterm elections, upwards of 140 million potential voters or more do not vote.
Now let's look at the polling in recent years showing Democrats outperforming Republicans by anywhere from 50-40 to 59-24 among nonvoters. If we shoot for the median of that range, we would find nearly a 2-to-1 edge for Democrats over Republicans among nonvoters. If just 10 percent of all current nonvoters could be convinced to register and vote in a presidential election, and using that median ratio from the recent polling data, that could mean net Democratic gains of more than 3 million votes. An additional 3 million-plus votes for Democrats in 2000 would have made Al Gore president, and the same number of additional Democratic votes in 2004 would have turned that election into a photo finish reminiscent of what we saw in 2000, with Ohio standing in for Florida.
Applying the same parameters to midterm elections, we could be looking at net Democratic gains of 4 million votes or more. When Democrats outperformed Republicans by approximately 1 million votes in the 2012 Congressional races, those results netted them a gain of eight U.S. House seats. Multiply those gains by a factor of four, and the Democrats regain the House, where they are currently 30 seats short of a majority.
In short, if the polling data is any useful guide, Team Blue's road to victory could well be paved with the votes that the Democrats are currently leaving on the table in every election. Identifying even a fraction of these nonvoters and turning them into voters could be a game-changer, if the Democratic Party can figure out how to do it.
Cliston Brown is a communications executive and political analyst in the San Francisco Bay Area who previously served as director of communications to a longtime Democratic member of the U.S. House of Representatives in Washington, D.C. Follow him on Twitter: @ClistonBrown
Disclosure: Donald Trump is the father-in-law of Jared Kushner, the publisher of Observer Media.