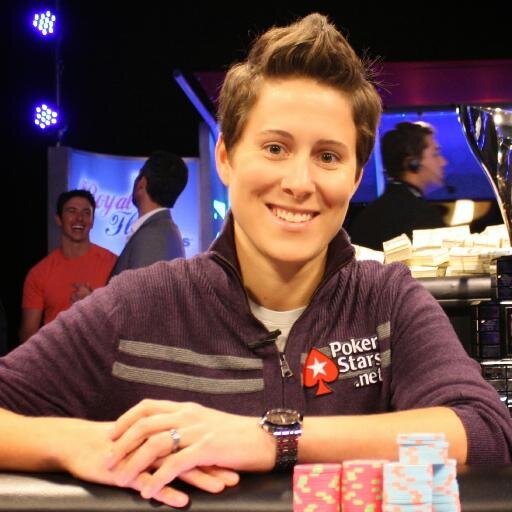 We've become quite acquainted with the triple threat success story—the singer-dancer-actor, the scientist-philosopher-author, the ever-popular writer-director-producer. But professional poker champ-venture capitalist-civil rights warrior? That's one for the books.
Vanessa Selbst is the only female world champion of poker and the highest earning woman in the game, in fact. But she's not just sticking to playing cards—Ms. Selbst, 31, is also a venture capitalist using bits of her nearly $12 million in career poker winnings to fund nonprofit startups vying to advance civil rights. And if that wasn't enough, she's also a graduate of Yale Law School and just recently passed the bar.
"I think having options keeps me level-headed and fully engaged in my work since I can switch gears whenever I get too restless," Ms. Selbst told the Observer. "I know it wouldn't work for everyone, but for me, it's the perfect balance."
While attending Yale for undergrad in 2004, Ms. Selbst, originally from Brooklyn, played poker casually with friends and quickly became obsessed. "I would play anywhere between four and 16 tables at once online for several hours each day, and when I wasn't playing, I was on poker forums discussing poker theory and strategy with the best poker minds in the world," she said. "It was an exhilarating experience to immerse myself that deeply into something for quite a few years."
She was soon supplementing her income with some serious poker cash, and by 2010, the winnings were enough to pay her Yale Law tuition and allow her to quit her job as a management consultant at McKinsey & Co. At one point during her second year, Ms. Selbst took a few days off from school to play a big tournament, where she ended up winning $750,000. It was the biggest payday of her career so far and scored her a sponsorship with PokerStars, the world's largest online poker card room in the world. Her professional career was launched.
That same year, Ms. Selbst also founded a personal fund called Venture Justice through which she began angel investing in the nonprofit world.
"I've always had an entrepreneurial spirit, and I was excited by the idea of using my money to help activists realize a grand vision for change, while simultaneously getting to work with the founders on their projects in the beginning stages," she said.
Civil rights issues run deep in Ms. Selbst, who went to law school specifically to fight for them. There she participated in several legal clinics and internships, through which she worked with the New Haven public defender's office, fought police misconduct and worked for the rights of the LGBT community, prisoners and more. Eventually, though, Ms. Selbst was dedicating all her time to poker, and her earnings from it helped her make capital investments in nonprofits like the Promise of Justice Initiative (focused on prisoners' rights) and Teachers Unite (focused on public education in NYC).
Much of Ms. Selbst's capital and energy has also gone to the Urban Justice Center, a NYC organization providing free legal services to marginalized communities, from sex workers to street vendors to Iraqi refugees. She's occupied a seat on its board since last year.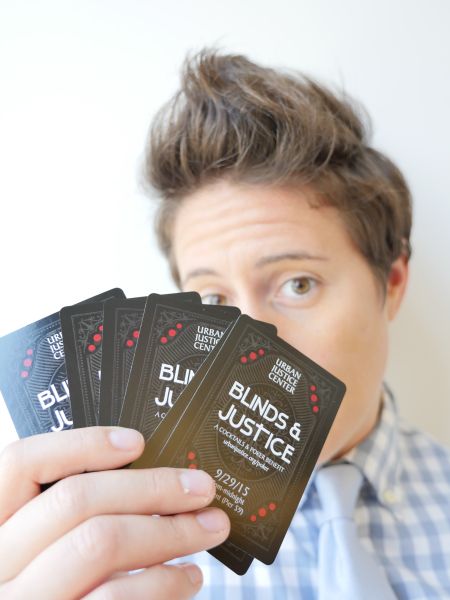 Later this month, the triple threat will come full circle when Ms. Selbst hosts her first charity poker tournament, Blinds and Justice, at Current on the Chelsea piers on September 29. All of the proceeds will be donated with 75 percent benefiting the Urban Justice Center and the remainder going towards Ms. Selbst's new police accountability project.
Although she is a civil rights warrior all around, police accountability is an issue that's been especially close to Ms. Selbst's heart since law school.
"I had two personal experiences where I stood up for my rights with police and they abused their power to illegally humiliate, detain, and arrest me, despite being in the wrong," she said. "I had a strong negative emotional reaction to that, and I just realized that I come from a place of extreme privilege due to my race and economic status, and there are millions of people who live those experiences every single day. From that point on, I knew I needed to work on that issue specifically. I'm happy that the issue has gotten a lot of public attention in the last year and change, but there is still so much more work to be done."
The police accountability project is still deep in the works, and Ms. Selbst is open to letting others' proposals dictate its direction.
"I just know that I want to support a project related to police practices reform somehow," she said.