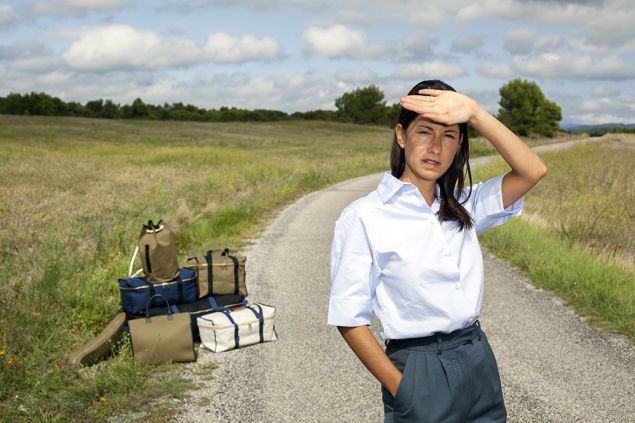 Bag lovers in search of the perfect statement piece—say, a red crocodile purse—should probably bypass the new installation on Dover Street Market's seventh floor.
"I don't want to make a fashion bag," Jeanne Signoles, founder of the luxury French line L/Uniform, confessed to the Observer. Standing in front of her brand's wall-mounted display, she showed us a tool bag laden with pockets, a rectangular backpack, a tall, drawstring duffel bag—all simple canvas creations in solid colors, and with clear, distinct purposes.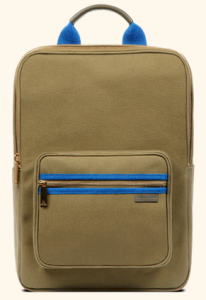 "I want to make a bag for daily use," she went on. "So I'm not a designer, and all the designs of the bag are very basic."
L/Uniform's simple aesthetic is a change from Goyard, the trendy French leather goods line where Ms. Signoles previously worked alongside husband Alex Signoles. But it matches the practical personality of Ms. Signoles, a former investment banker with a master's degree in econometrics, who had always dreamed of starting her own company. L/Uniform launched online in August of 2014, and opened a Paris storefront this past April.
"I'm very proud of my background," Ms. Signoles said. "It's very important with mathematics—how to organize your time, how you need to put more attention to some things, and not other things. I think it's not completely crazy to create a brand after this kind of study."
Ever one for practicality, Ms. Signoles got the idea for L/Uniform while struggling to pack her luggage into her car before a trip—all of the bags were different sizes, and she could not fit them into the trunk. "I said, 'O.K., I need to make something practical,'" Ms. Signoles said. "And I have three children," she added, "so every day I need a new bag to put many things, [like] the toys."
As for Ms. Signoles's design inspiration, each L/Uniform item is based on her own daily needs. She gestured to a carry-all tote bag, perfect for toting fresh farmers market purchases. "This one was [inspired by] my grandmother's bag—she got it in a grocery store," she said. "The volume is very practical. You can buy the same grocery bag in the grocery store, but it's always very bad quality, and made in a foreign country, and it's not nice."
Ms. Signoles also knew she needed to make backpacks—and of a very particular shape. "I wanted to have a square backpack," she said, "because when I was young, I had a round one, and my books bent."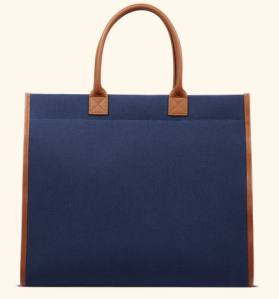 She pointed to the pocket-heavy tool bag. "My friends said I needed to make a bag for babies, but I said, 'No, I want to make a practical bag, not only for babies,'" she said. "I don't think baby bags are very nice. They're very heavy, huge. So I did this one. Anybody could use this."
Talk, of course, eventually turned to Goyard. But when asked her opinion on the brand's growing popularity among U.S. shoppers, Ms. Signoles was hesitant to talk about her previous company. "I created [L/Uniform] to try to emancipate myself, and to try to give a new direction for my life and for the life of my family," she said. "So it's a new book, a new life, and I'm so happy."
Ms. Signoles has plans to continue adding chapters to that book. Three new styles for summer 2016 are already in the works, along with a new limited edition canvas color. She would also like to collaborate with other designers. "The idea is to try to find some people I can work with to make shoes," she said.
"I want to keep an open mind, creatively," Ms. Signoles said. "I didn't want to dynamize an old brand—I wanted to make something completely new."