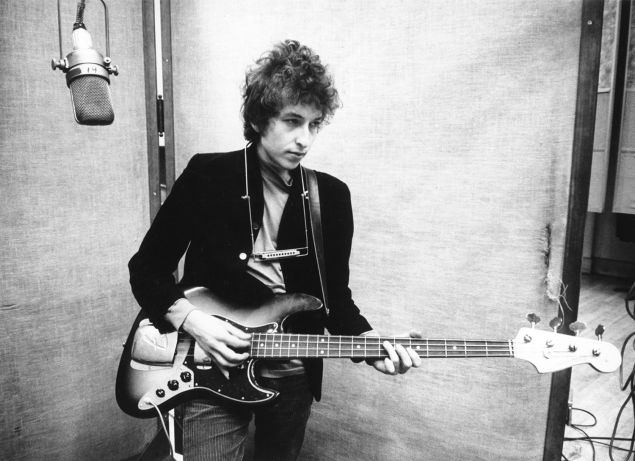 No single garment is as cool. A longtime staple for school professors, folk singing heroes and rock and rollers on a trip to their lawyer's office, the corduroy jacket is fall's gift to men. Talented movie directors Woody Allen and Wes Anderson are seldom seen without theirs. The good news is, the stores have great offerings, corduroy-jacket-wise, now.
There are two schools of thought on this piece. First, the devotees of the classic moss green or buff brown version complete with elbow patches, preferably handed down. Then come the trend hunters, regularly swapping out length, lapel widths and back vents as fashion dictates.
"One of the best things I've ever seen is an indigo two-piece corduroy suit. It was beautiful," said Mark Cho of menswear store The Armoury. "It was somewhere between a dark navy and royal blue, and it was absolutely beautiful. I saw it on a guy in London. He was a dandy-ish, good-looking guy. It was a little unusual, but not flashy. I actually had one made for myself. It's my winter version of a cotton suit." Mr. Cho's shop is one of just a few remaining custom suiting destinations in Manhattan. In the shop's fall/winter 2015 collection, the brand from the Far East has turned out an especially lush interpretation of a corduroy suit for just $1,500.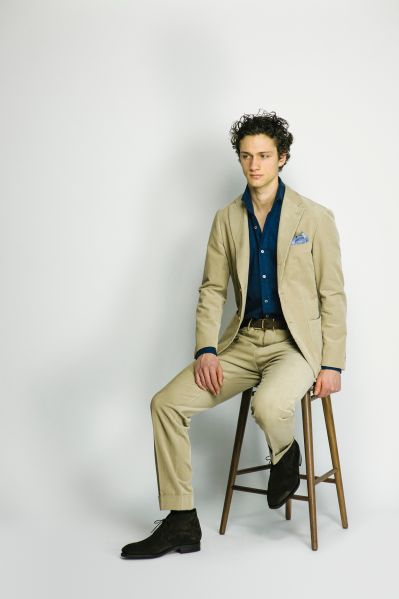 While wool dominated wardrobes last year, corduroy reigns this season on the back, it could be guessed, of the prolific 1970s trend. Some don't see it that way though. Brooks Brothers, the oldest purveyor of clothes in America, sees this popularity surge as the cementing of a classic. "The corduroy jacket has been an Ivy League favorite since the late 1950s," men's fashion director Glen Hoffs told the Observer. "Corduroy is a useful bridge fabric between casual and more dressy options. The jacket comes and goes in the fashion cycles, but we think it's always a great wardrobe addition." For winter galas, which many Ivy League Brooks Brothers customers are sure to attend, Mr. Hoffs went as far as to include a peak lapel tuxedo in a rich black corduroy for AW 2015.
"I love corduroy, we run it every year," English retailer Grahame Fowler says of his West Village shop, which sells his eponymous collection. "It's a classic working man's fabric, and very hard-wearing. I buy it from a mill in Yorskhire where I grew up, so we always have corduroy in stock, whether it's a pant, or a jacket, or a vest. It's a very warm, and homely kind of fabric."
Corduroy has an everyman reputation but there are more luxurious and progressive interpretations for the man who has no need for safe wardrobe staples. This guy is on the hunt for something unique that few others have the privilege of wearing. "The corduroy options we have invested in this season are much more fashion forward and unexpected," said Andrew Powell, Gilt.com's VP of men's merchandising. "Gone are the days of corduroy only appearing on stuffy collegiate professors. Our favorite designers are now cutting the fabric in the slim fits our customers are looking for, injecting color and experimenting with unexpected silhouettes and sizes."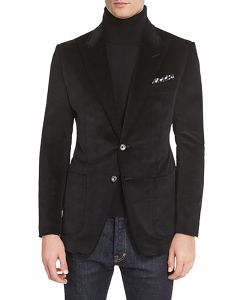 Take Valentino, for instance. The revamped label produced a corduroy blazer printed in the collection's signature butterfly pattern, yours for $2,980. Tom Ford did it, too. Mr. Ford, who often references the 1970s as his heyday, turned out the O'Connor Base Corduroy Sport Jacket. It retails for a cool $3,350 at Neiman Marcus. "It's lush and plush. Corduroy and velvet were the standout blazers of the season," said Neiman Marcus' senior vice president and fashion director Ken Downing. "What's most modern for a man's wardrobe is the melding of that point where sartorial meets sportswear. Tom Ford's corduroy exactly fits the bill for this fall's must-have blazer."