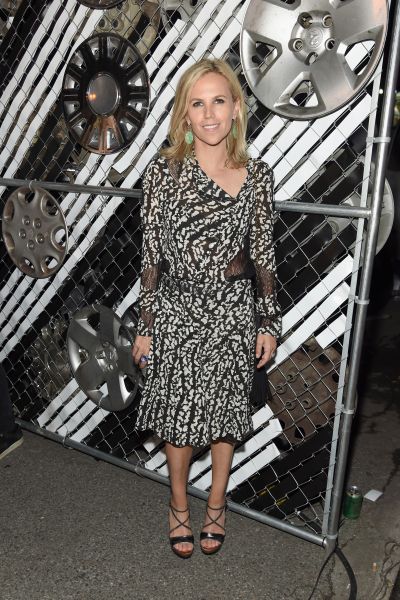 Not surprisingly, New York is absolutely brimming with individuals who are fitness fanatics with impeccable sartorial finesse. For these toned and well-heeled women, a ratty pair of black leggings will not suffice for a trip to the gym. Nor will an average white tennis skirt work for a heated doubles match. Further, outlandish styles like loud leopard prints or garish neons are just as unsettling for this picky crowd.
Which is why Tory Burch's latest concept is rather brilliant. Merging her polished-yet-retro aesthetic with well-researched technical details, Tory Sport is an important new edition to the sportswear market. Including both items that can be worn for sport, like a quirky white tennis dress with bold stripes and a pair of surf shorts with built in SPF, in addition to items to change into post-workout, this collection covers a broad range.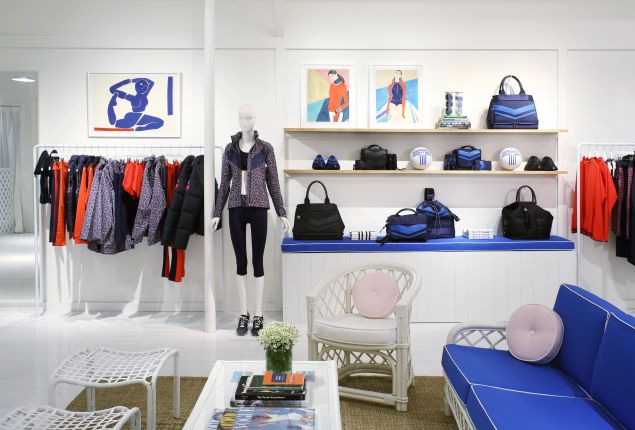 While the line's e-commerce site launched yesterday, New Yorkers can stop by the Tory Sport pop-up store (at 257 Elizabeth Street) to get a full taste of the brand. Formerly a Tory Burch clothing boutique, the space has been reworked into a retro country club dreamland, complete with wicker furniture, vintage books and a few tennis rackets hung on the walls.
But keep in mind, this is not an athletic extension of Tory Burch the label; it's an entirely different entity on it's own. This is a distinction that Ms. Burch (who was dressed in a sleek navy blue sweater and a circle skirt from the collection) made sure to point out while walking us through the shop. Here, she tells the Observer about her favorite sports and how the line came to fruition in the first place.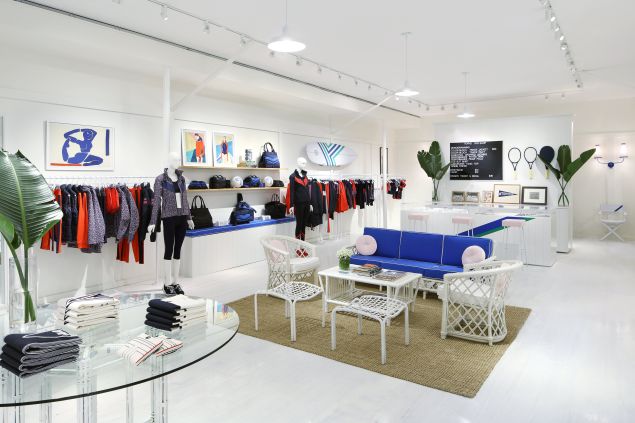 Why did you decide to launch a sporty collection? It's something that I've been thinking about for many years, and I've been working on it for the last several. The way women are dressing is changing and I wanted this line to be real example of function meets style. It's the idea of coming and going; what people are wearing after a yoga class, or when they go get lunch or to an airport. For me, it's something that I'm passionate about.
How is Tory Sport similar to Tory Burch? It's a very separate brand. They are not going to be sold in the same locations or on the same website. Learning the athletic market took us a while; it was really challenging to learn about the new fabrics and concepts. We have a whole new team dedicated to this.
But similar to your main line, there is a very retro feel to this collection. This is retro, but '70s in a different way than our other line. I was thinking about the movie The Royal Tenenbaums.
What are some technical features in the line? There are so many cool things from CoolMax to bonding, wicking qualities, SPF and a lot of stretch.
What sports have you dedicated specific items to? Running, yoga, tennis, some swim and golf. That's in addition to the whole concept of coming and going.
Are there any clothes for horseback riding? Not yet, but I love riding so there might be in the future.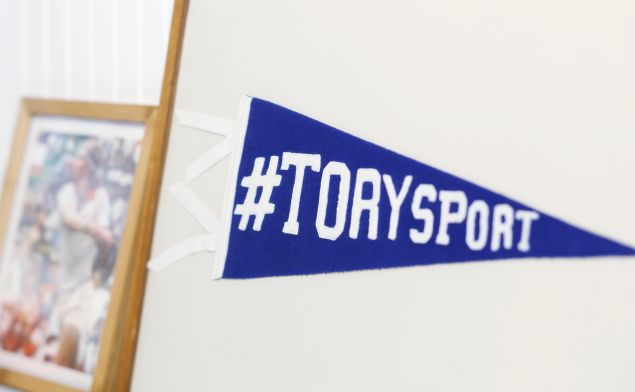 Can you tell us about the décor of this pop-up? We can't believe this is just a temporary space! Yeah it is a pop-up, but I might keep it for longer, we haven't decided yet. I just wanted it to reference old fashioned country clubs [and] thrift shop glamour. We wanted it to feel low-key and easy.
And there's a monogramming station. I think monogramming is so much a part of my youth and people love it. We're monogramming t-shirts, tracksuits and a lot of different things. And we're also doing decals.
What's your favorite sport? Tennis.
When's the last time you played? Sunday. I also went to the U.S. Open finals!
After you're done working out, what do you usually change into? I want an outfit that's chic, so I tend to wear pants that have a great look. I see women in like leggings all the time and they're just so comfortable!
After New York, where do you see Tory Sport expanding to? I think L.A. would be an interesting market, but also the U.K. and Japan. Right now, this brand is very e-commerce driven, but we'll do one flagship in March, and beyond that, we just want to see how it goes.