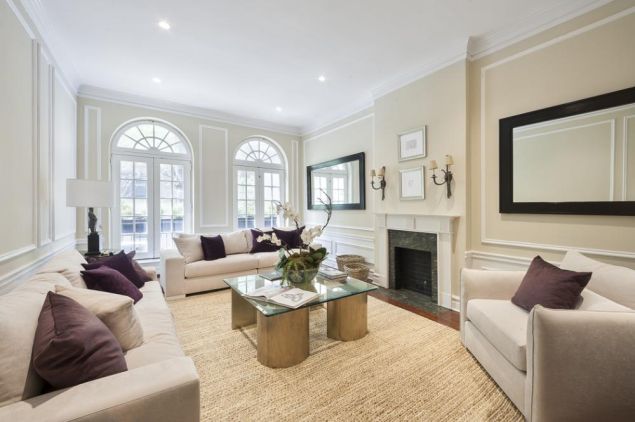 The townhouse specialist has bid adieu to his Carnegie Hill brownstone.
Leslie J. Garfield, founder of the eponymous residential firm which has focused on townhouses since 1972, has sold the five-story townhome at 107 East 91st Street that he bought in 1968. Though he recently told The Real Deal that he hasn't lived in the Upper East Side home for the past few years, renting it out instead.
Mr. Garfield has put the townhouse on the market through his brokerage quite a few times since 2009, with this most recent listing held by Matthew Pravda, Caylyn Sullivan, and his son, Jed Garfield, who currently runs the firm. The most recent try, however, was finally the charm.
Per the listing photos, the six-bedroom, 5.5-bath townhouse is refreshingly light and airy, with French doors in a tasteful beige living room, though the whole neutral theme does make the home just a tad uninspiring given that the few pops of color are pretty much limited to a fuchsia throw in a sitting room and two blue blankets in a bedroom.
The Georgian-style brick façade townhouse has two separate entrances, and is located at 107 East 91st Street, between Park and Lexington–a street that the listing describes as "replete with townhouses."
The new owners, Gerald Bennet Malanga and Teresa Ann Libertino, hail from Los Angeles, and paid $7.5 million for their new home, according to public record—a tad under the $7.75 million asking price.
The brownstone is complete with two wood-burning fireplaces and a skylight on the top floor that is accessible by way of a "beautiful center, semi-circular stairway." There's also a landscaped garden and a south-facing terrace on the fifth floor.