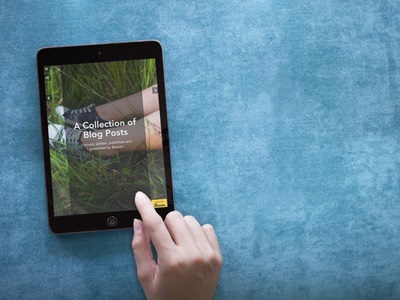 If done right, blogs can be beautiful ways to display text and photos. In fact, many are so presentable that they're only steps from the aesthetics of a professionally bound book. Creating a book out of a blog, however, is a task that has always been tedious.
A new plug-in for WordPress is now changing that. A UK startup called Beacon has developed an extension that can automatically turn an entire blog into a beautifully branded eBook in only 90 seconds.
You simply add the free plug-in to your WordPress account, select the posts you want to include, and the text and images from those posts will then be transformed into an eBook. You can then make customizations like adding a logo to the cover page, adding additional pages, changing the layout of individual pages and manually adding additional text and photos.
"It's a great way to leverage content you already have and revive it to reach new audiences," Danielle Barrios-O'Neill, a spokesperson for the company, told the Observer. 
https://www.youtube.com/watch?v=y2nqkt-fZFk
Anybody craving a new platform for their content can use the Beacon plug-in, but the company sees it as having tremendous opportunities for brands and marketers.
"Ebooks are the most efficient way to leverage existing content for brands and bloggers," Beacon founder Kevin McGrath said. "Marketers are increasingly taking advantage of how easy it is to do. Now you can offer a piece of content with a lot of value and rich visuals for almost zero effort. You don't have to be a designer."
There are some other ways for turning text and images into readable and downloadable units like eBooks and eMagazines, but the lightning speed of the Beacon plug-in is setting it apart. Other services can take weeks.
"The net result of this is a huge time saving for any busy marketing department," Mr. McGrath said. "Instead of going back and forth with a design agency for weeks, they can do this themselves in a couple of minutes."