The newly renovated design for Los Angeles' Peterson Automotive Museum is perhaps best-described as a car wreck you just can't look away from.
Apparently, the reputable New York-based architecture firm Kohn Pederson Fox thought it was appropriate to transform the mid-century American architect Welton Becket's Googie modernist (Southern California style of building influenced by car culture and the 1960s space age) building on the edge of the city's "Museum Row" and Miracle Mile district into a Vegas casino. The loud, red and silver steel-ribboned structure KPF has rendered could easily be mistaken for a splashy tourist trap from the strip, or a nightclub ripped from an episode of Miami Vice. 
Critics thus far have not taken kindly to the new design. Los Angeles Times art writer Carolina Miranda asked whether the building might become the "Edsel of architecture," referring to Ford's infamously panned 1958 Edsel car design. Curbed L.A. dubbed the zebra-striped museum the "Guy Fieri of buildings," after the popularity of the tasteless Diners, Drive-Ins and Dives host.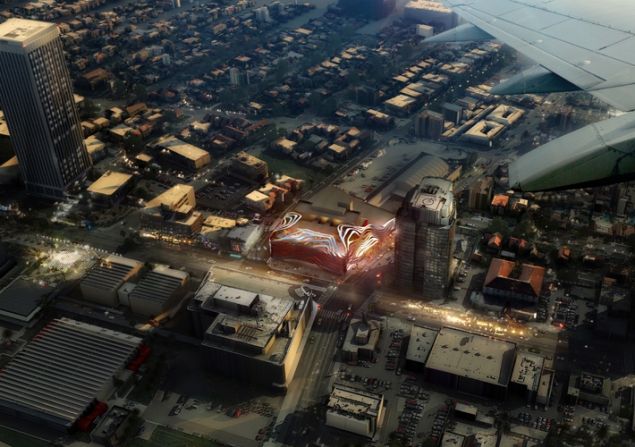 According to the project's description on KPF's website, the museum reno "is a complete exterior transformation and dynamic interior redesign" and "a major step towards the museum's goal of rebranding for a more highbrow image." (Highbrow is debatable if you're putting money on this design to draw in literati crowds.)
KPF also goes on to explain that the design "transforms the Petersen building into one of the most significant and unforgettable structures in Los Angeles."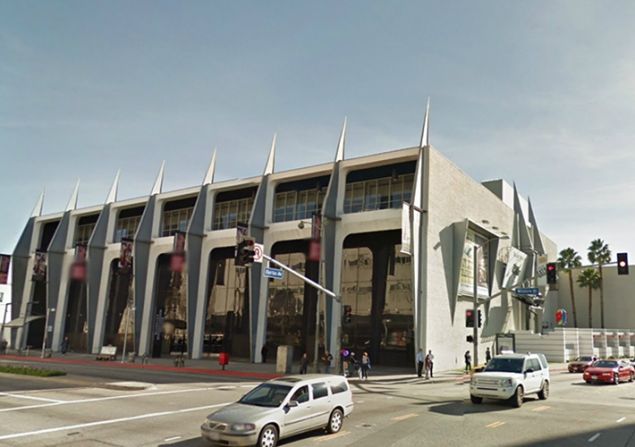 When we look at it, all we see is a place that may or may not be an indoor zoo.
Take a look at KPF's international portfolio of corporate headquarters, commercial centers, cultural hubs and skyscrapers, and there's little evidence to suggest that they could be responsible for such a monstrosity. These are the folks that helped redesign MoMA in 2004, and past projects include London's Covent Gardens, the IBM World Headquarters, the World Bank Headquarters, NYU's Furman Hall, the Shanghai World Financial Center, and the forthcoming Hudson Yards Master Plan.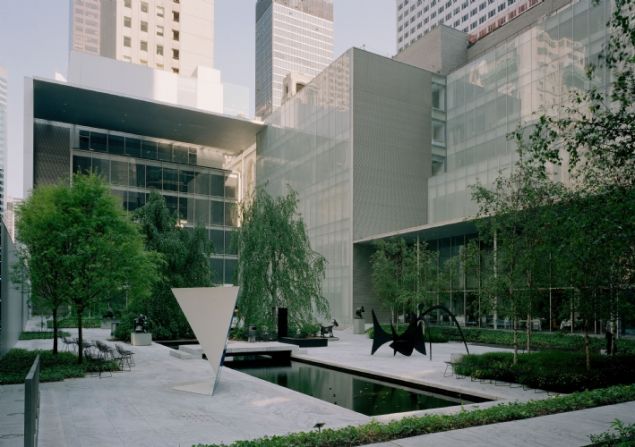 Many of their designs are notably sleek, many are glass towers with minimal, clean interiors and contemporary angular lines, both inside and out. They are, however, responsible for Connecticut's Mohegan Sun casino complex—so there's that.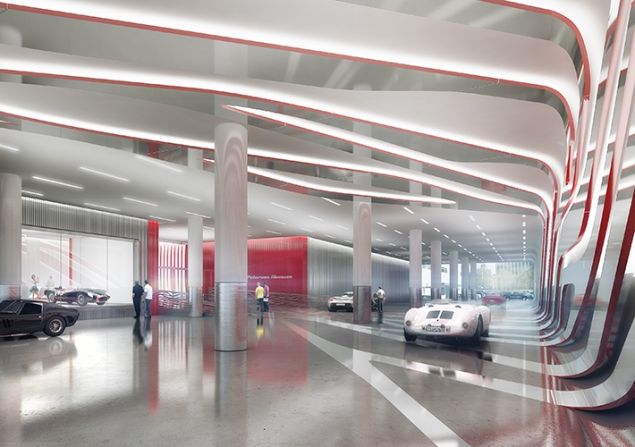 According to a September 2014 release from the museum, the renovation is needed. At the end of that year, it reported triple the events, exhibitions, and educational programs than the previous year, and significant growth in visitors. It's expanded its staff, and prior to closing for renovations, it had just acquired 19 new cars for its collection.
So, when the Peterson Automotive Museum re-opens in December, it's going to make a bold statement. It will include interactive children's exhibition displays and a rooftop party space, and while the "bones of the structure remain," according to KPF, the exterior's backlit steel cage will change the landscape of Miracle Mile for good. Or for worse, depending.