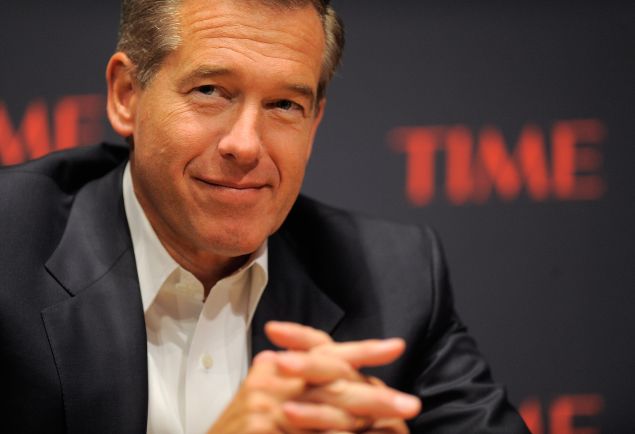 After a two-hour afternoon shift in his first appearance on MSNBC this week, Brian Williams turned the anchor duties over to Kate Snow, one of his colleagues in the re-building of the troubled cable news network.
They were covering the visit of Pope Francis to the United States.
The camera showed a deep shot of the studio. Ms. Snow, on the far left, looked toward Mr. Williams, in the middle. But Mr. Williams was looking in a different direction, toward his primary camera.
"Brian!" Ms. Snow said, waving her hand. "I'm right here. I don't know if you can see me."
Mr. Williams turned his head.
"Oh, hey there, Kate Snow," he said.
"Hi!" she replied.
Forgive Mr. Williams a bit of disorientation as he adjusts to his reduced role at a lower-level network. He lost his anchor chair on the mighty NBC Nightly News in February because he exaggerated some of his reporting adventures, including coming under fire in Iraq.
"I own up to this," Mr. Williams said on NBC back in June. "I told stories that were not true."
His sins were venial—no one was harmed. He confessed and served his penance. His reappearance comes at an opportune moment for him and his network. The Papal visit creates a halo effect for everyone involved and is timed perfectly with MSNBC's pivot from progressive talk to "hard news," at least during the day.
Mr. Williams and his network downplayed his re-emergence. There were no promotions showing his face. Even his schedule varied. On Tuesday, he worked 3 p.m. to 5 p.m. On Wednesday, he worked from 3 p.m. to 5:30 p.m. On Thursday, it was 5 p.m. through 7 p.m.
Who knows what hours Mr. Williams will draw Friday when the Pope visits—among other stops—the United Nations, Ground Zero, Central Park and Madison Square Garden (to say Mass).
Despite technical glitches during live coverage, Mr. Williams seemed very much the old smoothie as he distributed air time generously among the NBC "A" team for his first three days on the junior varsity.
Like an All-Pro quarterback, he passed the ball and handed it off to other "skill position players" like Ms. Snow, Anne Thompson, Chuck Todd and Chris Matthews.
Mr. Matthews, in particular, was most effective. A naturally exuberant personality and a proud Catholic who covers politics, he said the Pope—with his common touch and friendliness—reminded him of "my father's Knights of Columbus buddies." (Mr. Williams kept calling the touchy-feely pontiff "tactile.")
Referring to the traditional relationship between the Church and The New York Times, Matthews recalled that Robert Kennedy once said the ideal headline in the Times would be "More Nuns Leave Convent." And Mr. Matthews put political Catholicism into historical context by recalling Al Smith's bitter Presidential defeat in 1928.
Ms. Snow—who will anchor the 3 p.m.-5 p.m. block in the new MSNBC schedule—seemed ill at ease at times and occasionally misinformed. On Thursday, for instance, she said more than once that the Pope was on his way to St. Patrick's Cathedral to say Mass.
That got corrected when Mr. Williams replaced her at 5 p.m. and said the Pope would preside over a Vespers ceremony, which is not a Mass but an evening prayer service. (If she didn't know the difference, a producer should have clued her in).
But what will become of Mr. Williams when the Pope heads home? His role as breaking news anchor is almost a contradiction in terms. In television, an "anchor" is permanent—regular show, regular time. Will MSNBC bring him out just for mass shootings, major storms and big plane crashes?
If so, it could be a long time between appearances. But if he appears for lesser news—new political polls, routine government stories—it will trivialize his role and cut into air space for other MSNBC anchors.
In illuminating ways, the Pope's tour has revealed the great divide in American media. Francis supports reversal of manmade climate change, decries the abuses of capitalism and encourages nations to take in immigrants and refugees.
These things coincide with the liberal views of MSNBC's progressive commentators in prime time but contradicts the lay theology of right-wing conservatives on air, on cable and in print.
For such things, the Pope has been branded a "Marxist" by Rush Limbaugh and a "false prophet" by George Will. On right-wing Fox News, the Pope's visit was kept at arm's length. While MSNBC and CNN stayed live for most Papal events, Fox switched back and forth to its regular programming.
So when the Pope rode up Fifth Avenue Thursday night—a block from Fox headquarters—Fox was showing canned reports about Hillary Clinton's emails and ISIS terrorists around a commercial for "Recti-Care Wipes."
And if you watched the right-wing shows of Megyn Kelly and Sean Hannity Wednesday night, you might not have known the Pope was around. Neither show did a segment on his visit.
As always with Fox News, their agenda is evident not only by what is covered but also by what is avoided.
But at least we know when Fox shows are on and where they're coming from. With MSNBC, it's hard to know the new agenda, or even the program schedule, especially as it involves Mr. Williams. In his first three days, he showed he hasn't lost any of his chops. How he fits in, however, could become a delicate and difficult issue.