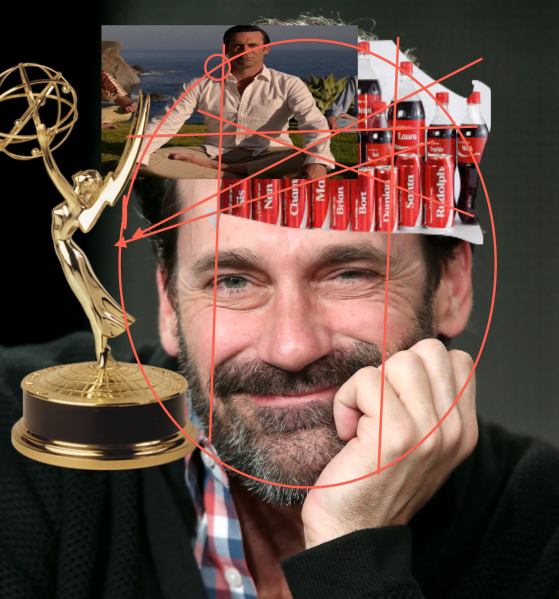 In the week leading up to the 2015 Emmys, tvDownload's Drew Grant and Vinnie Mancuso will discuss their predictions, hopes, dreams and fears. The only rule? There are no rules. And also, no unnecessary Jon Hamm tangents. Think you're bold enough to step? Check out our the horses we'd betted on for the Creative Emmy categories, which aired Saturday night. 
Today, the Limited and Variety categories!
LIMITED SERIES
American Crime
American Horror Story: Freak Show
The Honorable Woman
Olive Kitteridge
Wolf Hall
Drew: Anything is better than Freak Show. Literally: anything. Give it to American Crime…same thing, right?
Vinnie: Pssssssssst. American Crime is not Ryan Murphy's American Crime Story: The People vs. OJ Simpson. I know this, because I am counting the days until American Crime Story: The People vs OJ Simpson. American Crime is just a show on ABC that no one watched nor cared about, and I'm 98 percent sure was cancelled.
Which really says a lot about the heavyweights we're dealing with in the limited series category, huh? The best part about Freak Show was Twisty the clown. Then they killed Twisty the clown in like episode three to make more room for Jessica Lange's all-over-the-top-all-the-time routine that everyone, including her, got sick of by season two.
Um, so, Olive Kitteridge wins?
Drew: Olive Kitteridge definitely wins, but by default. I don't think anybody saw it. But we all saw the trailers for it, and knew just enough—it's got a pharmacist in it? Stars Six Feet Under dad and the lady from Fargo (the movie) and…Bill Murray??—that we mumble-lied about how much we liked it, so now it wins. I'm not saying it's not great, by the way. I'm just saying that it's by HBO, the same people who brought us Show Me a Hero, another program that we all lie to ourselves about getting to, eventually.
Was it surprising to anyone else that the Black Mirror Christmas Special wasn't nominated? I mean…right? The one with "cookies" and the two guys alone in an isolated cabin?? Remember? Gosh, someone should give one half of that two-hander an Emmy for how good he was as "We'll Fix it In Post" Virtually Blocked Man.
That guy they brought to star in it was really phenomenal. Good looking, too I guess. I heard he is single now. One time, I heard he touched my butt at a party and winked at me, and I've never washed that butt again.
But guys, let's leave the gossip mill about this regular human man behind and turn towards:
VARIETY TALK SERIES
The Colbert Report
The Daily Show With Jon Stewart
Jimmy Kimmel Live
[youtube https://www.youtube.com/watch?v=tL3sXT3jl3o]
Late Show With David Letterman
[youtube https://www.youtube.com/watch?v=3knUYNLoZjM]
The Tonight Show Starring Jimmy Fallon
[youtube https://www.youtube.com/watch?v=TcKT0vbMhkU]
Last Week Tonight With John Oliver
….*crickets*
Drew: John Oliver. Blam. Done.
Vinnie: Oh man, but you have three pop culture favorites—Letterman, Stewart, Colbert—coming to a close with one of them being a "legend." For the record, I'm with you on Oliver, but Letterman might just get it. Stewart doesn't need it, he's gloriously happy hitting dudes with chairs. And Jimmy Fallon is the real winner, because he'll turn his loss into some game that involves spraying Salma Hayek and Ed Sheeran in the face with whipped cream or something. It'll get 1 billion views on YouTube.
Drew: Look, they might give it to Stewart, Letterman or Colbert as a swan-song. But if we're looking to who really had a breakout season, it was definitely Last Week Tonight. I remember when they were first running promos and nobody was sure exactly how this would get pulled off as a weekly show. And then immediately: the Indian election coverage, a viral net neutrality campaign that led to fans crashing the FCC's website, the death penalty rant. They've cleaned up at the WGA, Peabody, GLAAD and TCA Awards. They've already won an Emmy for Interactive Content! (Which…we so called, last week.) Give Variety Talk to Hamm, I mean Stewart, I mean The Daily Show! They are very good at making me laugh with all the variety of Minions jokes.
Even if it doesn't get the Outstanding Variety award, I still think Last Week Tonight will win fo Outstanding Writing for a Variety Series. But in an optimistic world, they'd get the Variety awards for being the future of topical comedy. And the past: John Oliver is now the longest running news satirist still on television, if you start counting from his Daily Show years.
VARIETY SKETCH SERIES 
Drunk History
Inside Amy Schumer
Key & Peele
Portlandia
Saturday Night Live
Drew: Let's just note that this is the first year that the Outstanding Variety category got split into Sketch and Talk Show, which is great and all because you can't compare Schumer to like, Colbert. (Note: Unless you are talking about Oustanding Writing For a Variety Series where they are definitely up against each other!) But it does go to a little bit of that Emmy Parsing nonsense that you KNOW I hate.
But to the task at hand: Hmmm…Key & Peele vs. Schumer?? That's offensively hard…and not because you're making me pick between a show that gets all the credit for its brilliant commentary of race-relate issues, and one that does the same thing for gender politics. But while Key & Peele can do jokes where they dress up in drag or act like flamboyant homosexuals, Schumer's taken a lot of heat for her racial bits.
But I'm not sure that even the best Key & Peele sketch equals the commitment of an entire episode dedicated to a 12 ANGRY MEN PARODY.
That's right. Schumer wins. Because she went with episode-long parody of a film that most of her audience hasn't seen in its entirety since that drama sub came in for a month sophomore year of high school and played us old movies instead of helping with space work. Also, because of her "Clear Eyes, Full Hearts, No Rape!" chant in her own personal Friday Night Lights. Or "The Last Fuckable Day" picnic with Julie Louis-Dreyfus, Tina Fey and Patricia Arquette.
[youtube https://www.youtube.com/watch?v=XPpsI8mWKmg]
Vinnie: I almost want Drunk History to pull off the major upset, because I always think it's so ballsy when people just take shit they'd do in their living room anyway and turn it into a genuinely successful show.
But no, no no no. Inside Amy Schumer is taking this in a landslide.
Drew: Pudding Pops for all! The defense rests!
[youtube https://www.youtube.com/watch?v=1sq4gVZ4cBc]
Tomorrow: We'll be blasting through the rest of the Writers categories, as well as Best Supporting Actress. (They've got to give it to Peggy Olsen, right?)