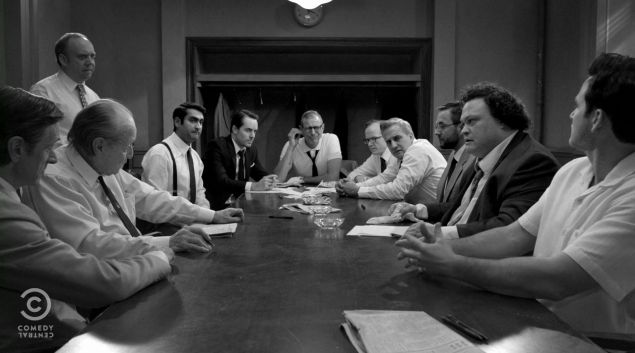 In the week leading up to the 2015 Emmys, tvDownload's Drew Grant and Vinnie Mancuso will discuss their predictions, hopes, dreams and fears. The only rule? There are no rules. And also, no unnecessary Jon Hamm tangents. Think you're bold enough to step? Check out our the horses we'd betted on for the Creative Emmy categories, which aired Saturday night. 
Today's discussion: Variety, Limited, Comedy and Drama: Who will win for Writing? Who will win for Directing? Are we sure we know the difference between the two when it comes to television? Let's find out!
Outstanding Writing for a Comedy Series
Episodes ("Episodes 409") Written by David Crane and Jeffrey Klarik
Louie ("Bobby's House") Written by Louis CK
Silicon Valley ("Two Days of the Condor") Written by Alec Berg
The Last Man on Earth ("Alive in Tuscon [pilot]) Written by Will Forte
Transparent ("Pilot") Written by Jill Solloway
Veep ("Election Night") Story by Armando Iannucci, Teleplay and Story by Simon Blackwell and Tony Roche
Vinnie: So I know Transparent is going to win, because Transparent is going to win everything…not that it doesn't deserve it, but if it's one thing I hate more than the Emmy ceremony itself, it's a predictable Emmy ceremony. I mean, look at this category. It's so booooooring. Veep is funny, yes, but I feel like everything including the writing is at the exact same level it was when it started. Does anyone get surprised anymore when Louis CK writes an episode where he does something unlikeable? Does anyone, AND THIS IS A SERIOUS QUESTION THAT NEEDS AN ANSWER, actually watch Episodes?
Drew: I mean, that's the fundamental problem with this year's Emmy's, at least in the Comedy field. Transparent is going to sweep because if it didn't, we would all become horrible monsters. There'd be rioting in the streets (of Williamsburg, and like, West Hollywood). Transparent has to win because it's literally in a class all by itself. Except since it's a half hour, I guess we lump it into the same class as Veep and Louie. Which are fucking phenomenal shows with exceptional writing (Veep is probably the funniest show on television, and has a joke-per-minute ratio that's unbeatable.) But they don't have the same aching heart as Transparent, which, as a person's almost singular vision, is hard to distinguish in its writing v. directing accomplishments.
I'm not saying the pilot script of Transparent isn't as good as the election night episode of Veep. But it's not as funny. Let's not pretend that it is.
Vinnie: I'm not mad Transparent is going to win, but I wish it was The Last Man on Earth. No show was more daring in this category than Transparent, but Last Man was both daring and so weird. In the age where viewers' attention spans vary by how many screens they can carry at once, imagine not having dialogue in a pilot episode for, like, twenty minutes. That was so cool.
Drew: Hey Vinnie…if I made a show of 30 minutes of silence, John Cage-style, would you give it a best writing award? Also, wasn't that show AN HOUR?
Vinnie: Yeah but the no-talking part was only like 20 minutes! Then Kristin Schaal showed up and…I started to like it less. I don't know. It's just really not fair that Transparent is so…good?
Plus, we can comfortably rule out Silicon Valley for anything because I'm pretty sure technology frightens the TV Academy members.
Drew: They are still communicating via smoke signals. "House…of…something," one TV Academy guy translates, squinting into the distance. "I think they want us to give the award to the Don Cheadle show."
"Better include Episodes," he adds, before licking his finger and putting it up his ass to see what direction the wind was blowing.
Outstanding Writing for a Drama Series
Better Call Saul ("Five-O") Written by Gordon Smith
Game of Thrones ("Mother's Mercy") Written by David Benioff and DB Weiss
Mad Men ("Lost Horizon") Written by Matthew Weiner and Semi Chellas
Mad Men ("Person to Person") Written by Matthew Weiner
The Americans ("Do Mail Robots Dream of Electric Sheep?") Written by Joshua Brand
Vinnie: "Sophomore year of high school Vinnie" would like to cast his vote for Mad Men's "Lost Horizon," so two dudes named Weiner and Semi can win (high five!) Adult Vinnie, however, is not so sure.
I know the writing on Mad Men is like the Bible to most people, but did we really need two slots here? Were both these episodes better written than one episode of, just to spitball, House of Cards, Bloodline, Boardwalk Empire, The Knick, or Orange is the New Black (Which is a drama now. Hooray!)? Fuck it, let's add in Empire and Daredevil, two shows that good heavens would never win this category, but could have at least been nominated.
Drew: I'mma gonna let you finish, but Hannibal had the best writing on any drama. At least in terms of lending itself to hysterical GIFs.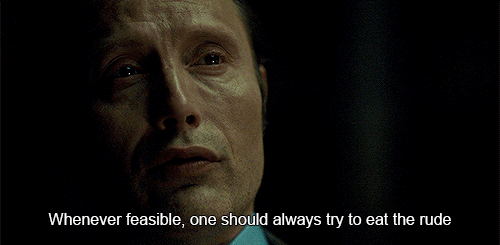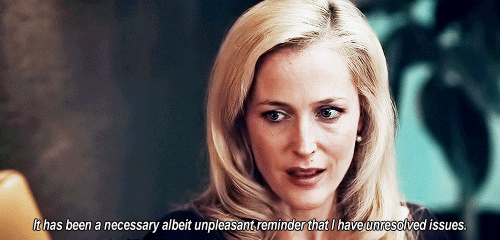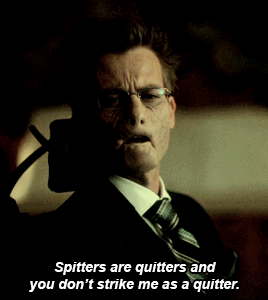 Vinnie: Alas, there is no point in dwelling on what could have been. Give this one to Mad Men's finale (high five!) for the swan song factor, or to The Americans because, you know, the writing was well done.
Drew: Wait, did you actually WATCH The Americans this season? I thought we agreed we'd just give Best Guest Actress Award to Hollywoo star and celebrity Margo Martindale because Bojack Horseman told us to.
Outstanding Writing For A Limited Series, Movie Or A Dramatic Special
American Crime ("Episode One") Written by John Ridley
Bessie, Written by Christopher Cleveland, Bettina Gilois, and Horton Foote, Story by Dee Rees
Hello Ladies, The Movie, Written by Stephen Merchant, Gene Stupnitsky, and Lee Eisenberg
Olive Kitteridge, Written by Jane Anderson
The Honorable Woman, Written by Hugo Blick
Wolf Hall, Written by Peter Straughanojinhi
Vinnie: Um, dude, I don't know. Look, even I think the "there is too much good TV!" thing is annoying, but when the fuck was I supposed to watch Bessie?
Drew: Sometimes when I am at home I see it on TV, and definitely think about DVR'ing it. So you know…I watch things.
Vinnie: Poor John Ridley had so many Important Things to Say About Issues in American Crime that it all jumbled together and ended up not really saying anything other than everyone sucks, even you. Wolf Hall, The Honorable Woman, and Olive Kitteridge have already been nominated in every award show ever because they're the only TV movies that aren't terrible, and this category's got slots to fill.
Drew: Wait, did American Crimes end up saying anything different from 12 Years a Slave? Like: racism is terrible. There are different ways to be racist. I get it. *Goes back to not DVR-ing anything; lives in a bubble*
Vinnie: Let's give this to Hello Ladies, The Movie for not sucking as bad as everyone thought it would.
Drew: Deal.
Edit: Wait, was Hello Ladies really nominated? LOLOLOLOL.
Outstanding Writing For A Variety Series
Inside Amy Schumer, Written by Head Writer Jesse Klein, Hallie Cantor, Kim Caramele, Kyle Dunnigan, Jon Glaser, Christine Nangle, Kurt Metzger, Daniel Powell, Tami Sagher, Amy Schumer
Key & Peele, Written by Jay Martel, Ian Roberts, Keegan-Michael Key, Jordan Peele, Rebecca Drysdale, Colton Dunn, Alex Rubens, Charlie Sanders, Rich Talarico, Phil Augusta Jackson
Last Week Tonight with John Oliver, Written by Kevin Avery, Tim Carvell, Dan Gurewitch, Geoff Haggerty, Jeff Maurer, John Oliver, Scott Sherman, Will Tracy, Jill Twiss, Juli Weiner, Josh Gondelman
The Colbert Report, Written by head writer Opus Moreschi, Stephen Colbert, Tom Purcell, Barry Julien, Paul Dinello, Matt Lappin, Jay Katsir, Michael Brumm, Robb Dubbin, Glenn Eichler, Max Werner, Eric Drysdale, Nate Charny, Aaron Cohen, Gabe Gronli, Ariel Dumas
The Daily Show with Jon Stewart, Written by head writer Elliott Kalan, Adam Lowitt, Steve Bodow, Jon Stewart, Dan Amira, Travon Free, Hallie Haglund, Matt Koff, dan McCoy, Jo Miller, Zhubin Parang, Daniel Radosh, Lauren Sarver, Owen Parsons, Delaney Yeager
Vinnie: Is there a reason that all the other writing categories nominate a single episode, and Variety Series lumps together the entire season? Episodes' "Episode 409" was better written than Episodes' "Episode 408,"  but on the whole every episode of The Colbert Report was just about equal? Cool, cool. Whatever!
Drew: I can't even with this Variety stuff anymore. I've said my piece about the inane micro-parsing of this category. Next question.
Vinnie: Let's just eliminate Colbert and Stewart right off the bat, because both are quality but miles beneath what Key & Peele, Schumer, and John Oliver were doing this year. Let's just boil it down to three videos:
Key and Peele's Gremlin's 2 pitch: 
[youtube https://www.youtube.com/watch?v=x01l_jMhjVM]
12 Angry Men Inside Amy Schumer: 
[youtube https://www.youtube.com/watch?v=96LgRmOF9_o]
And John Oliver absolutely tearing FIFA to shreds: 
[youtube https://www.youtube.com/watch?v=DlJEt2KU33I]
Drew: Incorrect though, since Colbert and Stewart ended this year! They might pull one of those "Lifetime Achievement" thingies where they give it to a show that just ended because of its sum total greatness. You know…like Mad Men!
Vinnie: You know what's funny? We could probably give the Emmy to all three shows and the Television Academy would be too busy furiously masturbating to old Big Bang Theory Blu-Rays to even notice. Let's do that!
Drew: We aren't in control here, Vinnie. We never were. That being said, I'd give it to Key and Peele because they JUST ended AND were one of the best Variety-Comma-Sketch shows ever written.
Outstanding Directing for a Comedy Series
Louie ("Sleepover") Directed by Louis CK
Silicon Valley ("Sand Hill Shuffle") Directed by Mike Judge
The Last Man on Earth ("Alive in Tuscon") Directed by Phil Lord and Christopher Miller
Transparent ("Best New Girl) Directed by Jill Solloway
Veep ("Testimony") Directed by Armando Iannucci
Vinnie: I want Phil Lord and Christopher Miller to win. Do you want me to sit here and lie and say it isn't because of the Lego Movie? Because I won't do that. It is totally because of the Lego Movie. If I could, I'd nominate the Lego Movie for every award show there is, including a couple that don't exist except for in an idea notebook I keep at all times.
Not that The Last Man on Earth pilot wasn't good, I actually loved it. So I wouldn't hate the win. Realistically though, Transparent wins. "Best New Girl" is basically a Feelings Factory that resides in Emotions Town, and so much of that is from the mind of Jill Solloway.
Drew: See, I was gonna give you your precious Last Man win on directing, because I'll buy that holding an audience with silence is a very difficult feat that is usually only reserved for Doug Stamper scenes on House of Cards. But this is where Transparent could benefit from an overall win more than a specific episode. I didn't notice the directing being spectacular in that episode, at least, compared to the penultimate episode or the finale or even the pilot. Especially the pilot, which relied more on what was left unsaid. Consider that claustrophobic dinner scene in the premiere: the circular camera sweep of the table like we're watching a Jewish family's reenactment of Reservoir Dogs: the increasing disgust verging on panic that you literally FEEL alongside Mort's (and at that time, he's still identifying as Mort), even if you don't know why he is feeling it. That rotating camera is also used to great effect in "Best New Girl" to signify the dizzying and out-of-control giddiness Mort feels while dancing with Connie (the always amazing Michaela Watkins), but what makes that episode powerful is mostly verbal: Bradley Whitford's escalating machismo and transphobia coupled with Mort's increasing alienation from his only ally.
I mean, Transparent should win. But this almost feels like it's winning with the wrong horse. A horse that's still better than the other horses, because it's eaten a Mario star and now has super powers and can literally fly (it also ate the racoon feather). But not the one I would have picked to show exemplariness in this particular field.
Outstanding Directing for a Drama Series
Boardwalk Empire ("El Dorado") Directed by Tim Van Patten
Game of Thrones ("Unbowed, Unbent, Unbroken") Directed by Jeremy Podeswa
Game of Thrones ("Mother's Mercy") Directed by David Nutter
Homeland ("From A to B and Back Again") Directed by Lesli Linka Glatter
The Knick ("Method and Madness") Directed by Steven Soderbergh
Vinnie: Wait just one minute…two episodes of Game of Thrones were nominated and neither is the one with the big climactic ice zombie battle? Look, I understand why someone wouldn't like Game of Thrones. Trust me, I GET IT. But there's no way you look at the last ten minutes of 'Hardhome' — not just the technical and logistical aspects but the mood of it, how it built from "oh, shit" to "ohh shit" to "OOOOH…shit" so organically — and come away like "meh."
Drew: So, from your standpoint, "great direction" involves "most believable CGI?" BOOOO. *Adds another MSPaint "explosion" at True Detective's meth warehouse.*
Vinnie: Haha wait! Just, like wait one more minute. One of the other GOT episodes that was nominated was the one with that awful fight scene with Jaime, Bronn and the Sand Snakes? The one where everyone is just sort of prom night dancing around each other, and the stupid Sand Snake with the whip is on the outskirts of everything just like "yah, yah!" and Jaime's flailing because it's hard to fight with one arm and a head scarf? What a wonderful world. I hope that wins. I hope that Sand Snake snatches the Emmy out of the presenter's hand with a whip and her acceptance speech is some awful, disgusting line about bad pussy or something.
Drew: Yes, that Sandsnake part SUCKED. But you know what didn't? THE FUCKING RAMSAY SNOW/ SANSA WEDDING. I know people had shit to say about it, but I still think the direction of it was a magnificent response to critiques over last season's unnecessary rape scene. (Unnecessary = did nothing for character development; had no purpose except to titillate and enrage.) So I'll give it to "Unbowed." Good job, everyone. (Except Mad Men I guess?)
Vinnie: But seriously, over on Starz Steve Soderbergh is pulling a Fukanaga and no one is talking about it for some reason. The Knick isn't the greatest show, but man do you feel it, like some surgeon is actually sitting next you watching it while hacking off a patient's foot with a bow saw. My vote is for Soderbergh. Liquid cocaine for everyone!
Drew: Can one pull a Fukanaga without a Pizzolato? Soderbergh is an amazing director, but who DOESN'T know that?
In addition, I have not seen The Knick, so I can't speak for it. But you know how I feel about Ramsay. Ask yourself if maybe you shouldn't just let me have this one.
Outstanding Directing for a Limited Series, Movie, or Dramatic Special
American Horror Story: Freak Show ("Monsters Among Us") Directed by Ryan Murphy
Bessie, Directed by Dee Rees
Houdini, Directed by Uli Edel
Olive Kitteridge, Directed by Lisa Cholodenko
The Honorable Woman, Directed by Hugo Blick
The Missing, Directed by Tom Shankland
Wolf Hall, Directed by Peter Kosminksky
Vinnie: Okay, so writing-wise, Freak Show was an unadulterated mess. It might as well have been American Horror Story: Throwing Shit At The Wall And Seeing What Sticks. But as far as visuals and tone go…is any other candidate half as interesting as Freak Show? Yeah, I think Ryan Murphy takes this one, which is unfortunate, because I'm sure the six other candidates without the added benefit of four previous seasons are just swell.
Drew: Vinnie, we've already pretty much admitted that we haven't watched any of these EXCEPT for Freak Show. So let's leave this to the experts, some of whom actually saw Bessie and Olive Kitteridge: About a Pharmacist, Right?
Meanwhile, I'll be over here complaining about how there's no Outstanding Direction for Variety Series Sketch/Talk.
[protected-iframe id="4409d62968dca03b692e166e7e8393bb-35584880-35147716″ info="http://media.mtvnservices.com/embed/mgid:arc:video:comedycentral.com:a80bcc74-304d-4b63-aa34-0051009452cc" width="512″ height="288″ frameborder="0″]
Get More: Comedy Central,Funny Videos,Funny TV Shows