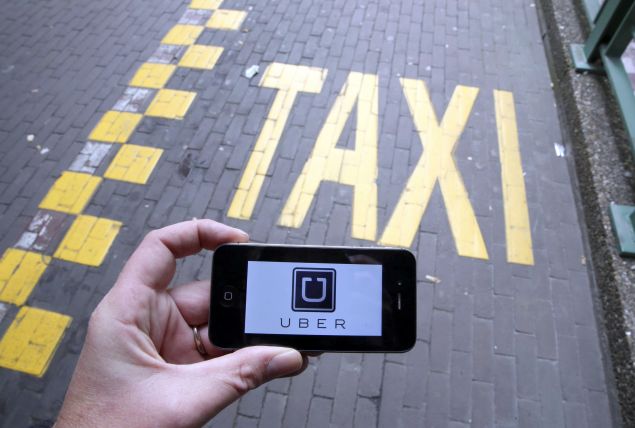 Whether you see Uber as a source of convenience, complaint or controversy, it's impossible to ignore the impact the ride-sharing app has had on an increasingly global scale. And with the launch of uberCOMMUTE, now everyone has the chance to join the team.
In a blog post announcing their latest venture, Uber promotes the service as "carpooling at the press of a button." Commuters traveling long distances have the option of picking up fellow passengers as a means to cut both transportation costs and street congestion. On the passenger's end, it's "Uber as usual," with UberCOMMUTE functioning just like UberPOOL. Meanwhile, drivers have the chance to accept or decline requests based on their own needs, offering more autonomy and flexibility to the men and women behind the wheel. Uber's position in short: fewer cars on the street will point to faster travel time, less pollution and (with the money they save through the app) happier drivers.
UberCOMMUTE will roll out in Chengdu, China—a first for the company, which has thus far never launched a new service outside the U.S. Still, this comes as little surprise, with Uber already aggressively engaged in expanding its overseas presence. Just weeks ago CEO Travis Kalanick announced plans to move Uber into 100 Chinese cities over the next year. And by adding uberCOMMUTE to the one million rides per day already taken in the country, Uber's Chinese ridership could soon outpace that of the States.
If Uber's commuting concept proves successful, it will only be a short while before we see its effects back home. As per the blog post:
"But that is just the start. In many cities, such as San Francisco, New York, Chengdu or Paris, so many people now use Uber that there are a ton of duplicate rides—passengers wanting to get to the exact same place at the exact same time. With services like uberCOMMUTE and uberPOOL we're making it possible for them to share the ride."
But would uberCOMMUTE be successful, or even feasible, in New York or California? This summer proved tough for Uber in those states, with Mayor de Blasio threatening a cap on the number of cars operating, and one California judge ruling that Uber drivers were employees, not contractors. With uberCOMMUTE, any car or driver could act through the app, making it even more difficult to limit the size or scope of the company—a plus for Uber, a set back for both government regulation and an already suffering yellow cab industry.
Were Uber able to go forward with uberCOMMUTE in NYC, they could have a potential ally through the Regional Plan Association, whose Feburary 2015 report "Overlooked Boroughs: Where New York City's Transit Falls Short and How to Fix It" takes issue with the city's current "Manhattan-centric" subway system. The RPA's solution lies in the building of a new railway, the Triboro Rx line (or X line), which would connect all but three subway lines and provide stronger between borough access, becoming the first line to link Brooklyn, Queens and the Bronx.
Unfortunately for its over 100,000 potential weekday riders, it could be years (or perhaps an eternity) before any real developments are made on the X line. Still, at little outright cost to the city in terms of roll-out and planning, uberCOMMUTE has the potential to benefit the 61 percent of New Yorkers who both live and work outside of Manhattan, and who are currently suffering at the hands of the city's strained outer-borough bus system. With Uber's "Don't Let Mayor de Blasio Strand New Yorkers" summer ad campaign focusing heavily on public transit strapped areas like Sunset Park, Brooklyn and Jamaica, Queens, their carpool app would provide a suitable alternative to that same demographic.
A brief phone call with an Uber rep confirmed that the feature, with some tweaks, will be available to New Yorkers eventually, although the rep was not able to give us an exact timeline, nor any details on how the app might have to adjust to fit the needs of (or circumvent the issues around) the city's market. Meanwhile, an email from a New York City D.O.T spokesperson told the Observer, "The administration is currently engaging with for-hire-vehicle companies and other stakeholders as part of a broader review, to ensure we have common sense rules that match our policy priorities and support new innovations in the field."
Still, with Comptroller Scott Stringer ranking his own city as the absolute worst place to live when it comes to commuting times, an improvement of any kind might just be welcome.