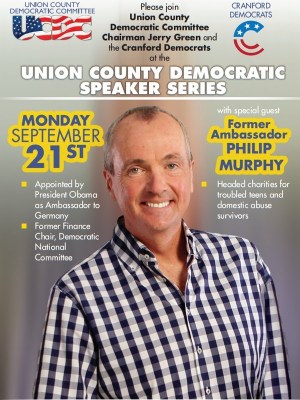 Phil Murphy, the former U.S. Ambassador to Germany who wants to be governor in 2017, is diving into that brutal hornet's nest of Democratic Party politics otherwise known as Union County.
For those keeping track of gubernatorial politics in New Jersey's youngest county (it broke away from Essex at one point to create a total 21 counties in the state), Union features native son state Senator Ray Lesniak (D-20) in the Drumthwacket mix. As first reported by PolitickerNJ, Lesniak is committed to running for governor in 2017 not reelection as senator.
Then there's powerful Union County Sheriff Joe Cryan (the former party chairman and former assemblyman), who is said to be inclined to back Jersey City Mayor Steven Fulop for governor.
it's still early, so things could change, but right now Fulop most perceptively sports that gubernatorial gleam for Cryan.
Now Murphy is making his way to Cranford on Sept. 21st for the Union County Democratic Speakers Series, on the personal invitation of Union County Democratic Chairman Jerry Green. Despite losing control of the Democratic Committee in his home town of Plainfield earlier this year, Green retained his countywide chairmanship with a little help from his friends (Lesniak, state Senator Nick Scutari and Elizabeth Mayor Chris Bollwage).
Unseen in all this but likely delighted at the murkiness of the county with the Union bosses pulling in separate directions, is Senate President Steve Sweeney (D-3), whose best shot coming out of low population South Jersey is to nail down Essex County up north then exact divide and conquer tactics (at the very least) in Middlesex, Bergen and Union.