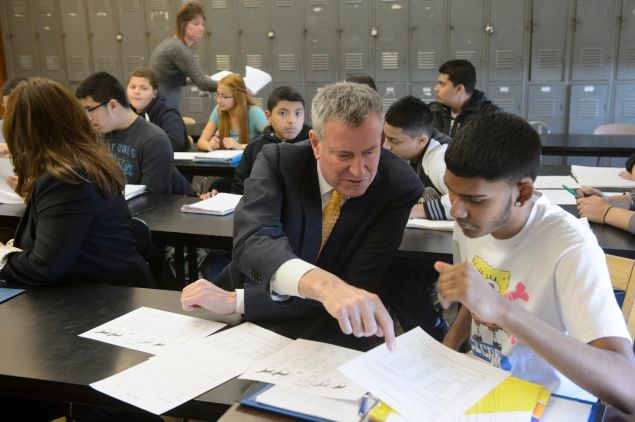 Mayor Bill de Blasio today unveiled a vision to bring algebra, advanced placement courses, computer coding classes, college visits and literacy by the second grade to every public school student in the city—a plan that seems to have already won over a number of political and business players vital to its implementation.
Entitled "Equity and Excellence"—a phrase the mayor repeated in some form at least 14 times in his remarks—the proposal calls for allocating $186 million a year to fund reading specialists for the youngest grades, at least five AP options at all high schools, mandatory algebra class by the ninth grade, college visits for junior high kids, college application support to high schoolers and classes in everything from web design to robotics for kids in every grade, all phased in over the next five to 10 years. Several private organizations have agreed to collectively match the city's $81 million a year investment in the last proposal.
The mayor took time to again boast about about a one-point improvement in test scores in the second year of his administration and the gains at his "community schools" that provide social and medical services along with education. But he acknowledged that huge gaps in achievement, education options and life chances exist between the wealthiest and poorest New Yorkers.
"Think about the world we live in now. Hundreds of thousands of good jobs will be accessible to those with coding and other essential skills," said Mr. de Blasio, noting that just five percent of public school students currently can take classes that teach those skills. "This is not excellence or equity."
It was a point that Kathryn Wylde, president and chief executive officer of the business group Partnership for New York City, echoed after the address.
"As New York seeks to establish itself as a global center of technology and innovation, and obviously lots of people are campaigning for that. But, really, what's going to distinguish ourselves is if we can bring diversity to that work force," she said, vowing to help raise funds toward bringing computer skills to minority students. "That's what employers are excited about, because this positions New York to be at the forefront of bringing technology to everybody."
The mayor's office told reporters it plans to rely heavily on educators already in the system, particularly math teachers, to take on additional duties handling computer science and advanced placement classes. Yet there were no objections from the leaders of the city's biggest teachers union.
"The computer science and the CTE stuff is really exciting to me," said United Federation of Teachers President Michael Mulgrew, even as he admitted that his members will have to receive extensive training to become AP and coding class instructors. "I realize there's a lot of extra work here and work for our school system, and right now my first concern is 'how can we come up with a plan to get this all done?' But this is good, smart work."
Even some of Mr. de Blasio's usual political critics were surprisingly supportive of the proposal.
"I think this was a very important aspirational speech, I think he laid in a lot of specifics about how we're going to educate our children in the 21st Century, so I'm very excited to hear that," said Comptroller Scott Stringer, who has often acted as a foil in city government to Mr. de Blasio, critiquing his launch of universal prekindergarten without all contracts approved and for bypassing his office to establish new wage laws for subsidized developments. "I actually thought a very specific roadmap his education vision. Now the question is how we, how we get there as one city."
The proposal did not, however, win over Mr. de Blasio's most persistent opponents: the charter school movement. Rolling out statistics from its internal studies, pro-charter group Families for Excellent Schools argued that the mayor's outspoken criticism of the privately-run, publicly-funded schools has led to a growing divide between predominantly black and Hispanic districts and majority white and Asian ones.
"Mayor de Blasio's speech today ultimately does little to change the Tale of Two School Systems," said FES CEO Jeremiah Kittredge.
Equity and Excellence calls for traditional schools and charters to communicate and cooperate in sharing best practices for education. Families for Excellent Schools declined to comment on this aspect of the plan.