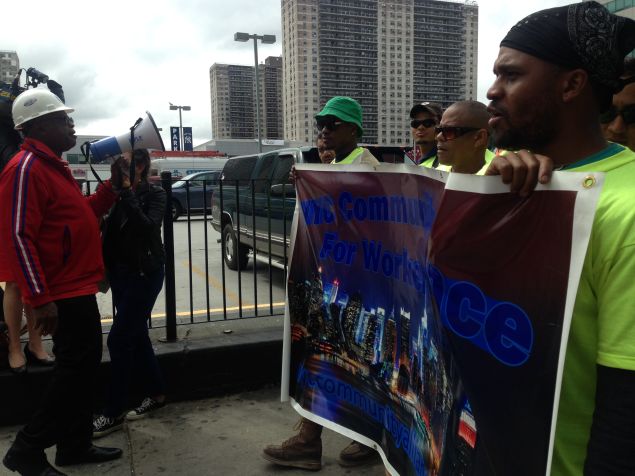 More than 100 unionized construction workers, labor brass and members of community activist groups rallied with 10 workers who claimed unsafe and abusive conditions led them to walk off the job at affordable housing projects—projects receiving city subsidies under Mayor Bill de Blasio's ambitious affordable housing plan.
The rally included Iron Workers and District Council of Painters members as well as liberal minority groups like New York Communities for Change, and kicked off outside the Bronx County Courthouse before marching to two nearby city-subsidized building sites employing the controversial subcontractor U.S. Crane and Rigging. The demonstration marked the latest development in an ongoing conflict between the organized building trades and Mr. de Blasio over the mayor's claims that requiring union wages and benefits would make many below-market housing projects financially unfeasible.
"De Blasio has turned his back on the working people, that's the way we see it," Eddie Jorge, an organizer for the Iron Workers union, told the Observer—arguing that more subsidized projects under former Mayor Michael Bloomberg used union labor than under the current administration.
The workers, most of them not fluent in English, claimed to have worked on several U.S Crane and Rigging jobs on affordable residential projects around the city. Those who spoke with the Observer described round-the-clock shifts without breaks for food or rest, insults from supervisors, insufficient safety equipment, not being fully compensated for hours worked and threats that the company would respond to complaints with termination or suspension.
"You are hungry, you are tired, you work a lot of hours, you don't sleep," worker David Raris told the Observer. "The boss, he says, 'you hungry? Go home.'"
"Sometimes you work like 80 hours in a week, and they pay you, like 20 hours," he said.
U.S. Crane and Rigging—one of roughly a dozen iron-working firms owned by members of the Queens-based Auringer family—has garnered negative attention in the past over both collapsing equipment and allegations of underpayment. The company did not immediately respond to requests for comment.
The first development the protesters hit, Urban Pathways, received a $1.7 million tax credit from the Department of Housing Preservation and Development last year. The second, Trinity Park Avenue Affordable, has received nearly $22.3 million in loans from the city-controlled Housing Development Corporation.
The general contractors on both job sites appear to have a history of violations as well. One, Lemle & Wolff Construction is on the city's "enhanced review" list—meaning its projects are subject to extra scrutiny—for past wage theft while the other, Mega Contracting, has a record of running afoul of various agencies dating back two decades.
Joining the demonstration was Bronx Borough President Ruben Diaz Jr., who argued that development should only go forward with proper safety regulations in place and that a balance between fair wages and sustainable low-cost housing is possible.
"Look, I'm the first one that says we have to continue to develop the borough of the Bronx, and we love economic development, but I will not do that at the expense of the exploitation of the people that I represent," said Mr. Diaz, usually viewed as a pro-business Democrat but also as a rival and critic of the mayor.
The protest occurred against the backdrop of the battle over the controversial 421a tax credit for developers. Against Mr. de Blasio's wishes, Gov. Andrew Cuomo and the State Legislature decided earlier this year that the abatement would only continue if building trades unions and real estate interests could come to an agreement on prevailing wage standards.
Gary LaBarbera, president of the Building and Construction Trades Council of Greater New York, told the Observer those negotiations would begin soon. He said the unions in his coalition were also still trying to convince the mayor and his Department of Housing Preservation and Development to make greater allowances for organized construction workers in his development designs.
"We absolutely believe that there is a path to have affordable housing built with pathways to union construction and you know, we've made a number of proposals," Mr. LaBarbera said, even as he denied the event was a knock against the mayor's reluctance to see a high prevailing wage at affordable housing projects in the city. "Today, what this is really about is the courage of ten workers who are going out on strike on a number of different jobs, who are working for a, really, an unscrupulous contractor."
The conflict with the construction unions has placed the mayor, who usually flaunts his pro-labor credentials, in an awkward and unusually conservative position. HPD said it had received no complaints about the sites in question, and that it routinely checks payrolls and conducts unannounced inspections to ensure no abuses take place.
"We require contractors to obey all labor laws, have instituted strong measures to deal with noncompliance, and use every tool available at our disposal to help ensure that workers are protected," said Elizabeth Rohlfing, the department's assistant commissioner of communications, in a statement sent to the Observer.
Updated to include comment from Ms. Rohlfing.