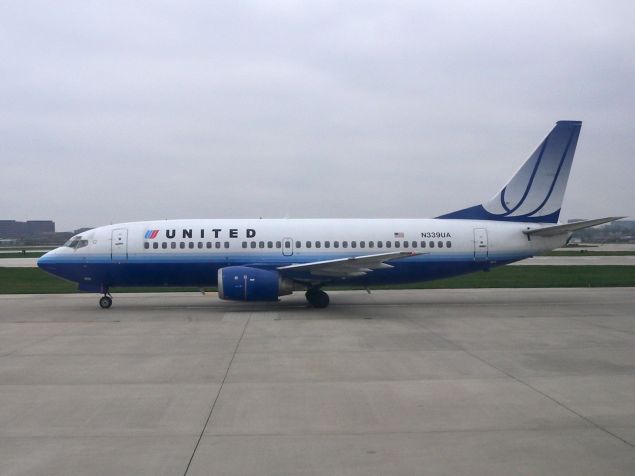 The aviation industry is getting a whole lot cleaner—and it's using farm waste to do it.
Since they were approved for commercial use in July 2011, biofuels have been the target resource among many airlines that aim to cut carbon pollution and reduce the high costs of jet fuel. Now United Airlines will be the country's first domestic airline to fly regular passenger flights on alternative fuel, according to Fast Company.
The airline will run commercial flights from Los Angeles International Airport (LAX) to San Francisco International Airport (SFO) in the fall, fueled by a combination of non-edible oils and agricultural waste. United was also the first to test out a biofuel flight in 2009, using algae.
A spokesman for United Airlines did not return requests for comment.
This past June, United invested $30 million in Fulcrum BioEnergy, the single largest investment in an alternative fuel company by a U.S. airline. United also agreed to take 90 million gallons of jet fuel from Fulcrum each year.
"A lot of airlines are very interested in what we're doing. There are a number of benefits, including low cost,"Richard D. Barraza, vice president of administration at Fulcrum, told the Observer. "You can get our fuel for less than a dollar a gallon."
Later this year Fulcrum is set to start construction on a facility outside of Nevada, where garbage from the Reno and northern Nevada areas will be converted to jet fuel and diesel. The facility is expected to process more than 200,000 tons of waste and convert it to over 10 million gallons of jet fuel, according to Mr. Barraza.
While converting from kerosene jet fuel to sustainable biofuel might benefit a flight's carbon emissions, the question remains whether these alternative resources can power an engine for more than a couple hours. After all, the United flight from LAX to SFO is a short trip—approximately one hour and 25 minutes.
Since 2011, biofuel demonstration flights have mainly been short trips using a variety of sustainable resources, leaving the potential for biofuel engines on longer hauls up in the air. Examples include a Qantas Airbus A330 flight using refined cooking oil that traveled from Sydney to Adelaide, Australia (a regular trip time of two hours and 10 minutes). Similarly, a Porter Airlines Bombardier Q400 flight whose engine contained the flowering plants camelina sativa and brassica carinata (also known as Ethiopian mustard) flew an approximately one hour flight from Toronto to Ottawa.
Not all flights have been short, however: Etihad Airways flew its Boeing 777-300ER from Abu Dhabi to Seattle in January 2012, which takes approximately 14 hours. The delivery flight used a combination of traditional jet fuel and plant-based fuel.
Mr. Barraza is confident that well-produced biofuels can power both quick trips and longer hauls.
"There should be absolutely no issue between short and long flights," Mr. Barraza told the Observer. "With biofuel mixed with petroleum, there will be a drop in fuel, so there should be no impact."