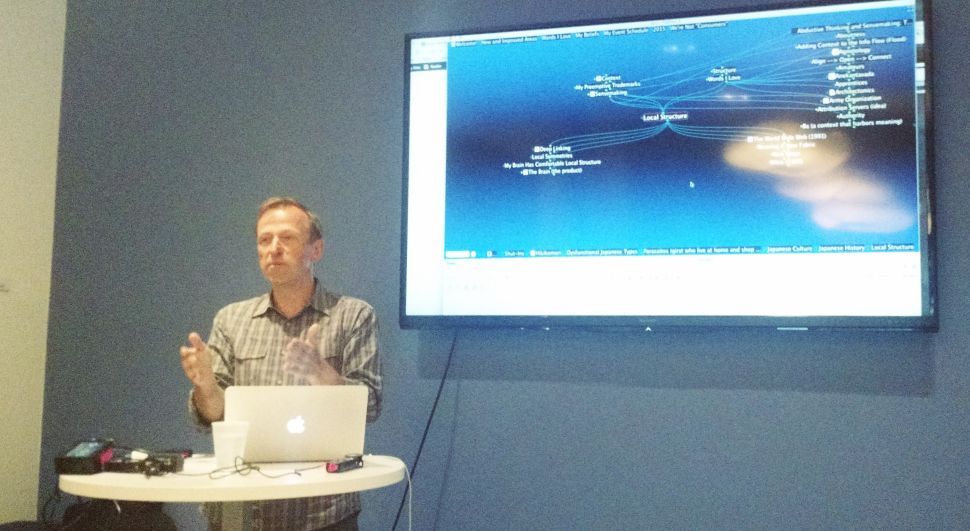 Disciplined use of one piece of mind mapping software can make you smarter. Or at least help you remember more, according to Jerry Michalski, a tech consulant who, for 18 years this December, has been keeping track of thoughts, topics and people that grab him in a piece of local software called The Brain. He took a small group of interested people on a tour through parts of his collection of more than 250,000 thoughts stored in the software during a presentation at Civic Hall in Manhattan Wednesday night.
We consume useful, interesting information all the time, but it's hard to keep track of it. The Brain is a piece of local software that forces you to structure links or notes about that information in a way that connects it to other information. That way, you're more likely to be able to find the information when you need it and perhaps even make important connections between ideas that you might not have made on your own.
Mr. Michalski is now an advisor to the company that built the software, "and they seldom follow my advice," he said. You can tour his brain on a website he set up, Jerry's Brain.
Mr. Michalski said that he thinks The Brain works better than any other kind of mind mapping, link tracking or note-taking software he's seen because of the way it structures the data. The system asks you to make connections between thoughts. There are three kinds: above, below and lateral.
So, for example, if you entered "Kurt Vonnegut" as a thought, you might put his publisher, Random House, above him, and his book, Cat's Cradle, below him. Then you might decide that he has something in common with, say, short story writer Kelly Link, so you make a lateral link between them. That's what I would do.
Here's how Vonnegut looks inside Mr. Michalski's brain:
He explained that if someone calls him up to ask about examples of a certain kind of company, he can usually rattle off a long list of them when he has the software in front of him, but then he added "My unaided recall without this is really good." He ascribes this to the act of making connections between thoughts in the software strengthening the connections in his actual brain.
He demonstrated this by opening up a link to a major VC, which also showed many of the companies he's invested in on the same page. By clicking on any one of them, he could then travel up to the categories each of those companies competed in, quickly revealing all its many competitors.
You're not limited in the number of links in any direction, so you might also put "Sci Fi Authors" or "Favorite Authors" or "Depression Era Successes" above Vonnegut, as well. You could also list his children and causes he supported below him. Or you might think that the causes make more sense as lateral connections. That's your call.
What Mr. Michalski likes about the interface is that every time you click on a thought, it puts that thought at the center of the screen, with thoughts one connection away above, below and to the side. It's enough to show you some of the ways a given thought fits into the bigger picture of your memories, but not so much to overwhelm you. "At every screen full, it makes sense," he said, calling it "local structure."
At the bottom of the screen, it lists your breadcrumbs, the last thoughts you clicked on. This can help you get back on track if you started wandering through your own mind. It also has a search function to help you find your old thoughts.
Mr. Michalski said he primarily uses it for links, but users can also connect files, images, media and make their own text.
Some downsides were evident in the presentation, many of which Mr. Michalski wouldn't argue with. Here's some we saw:
The look. It's software that's almost 20 years old and it looks that way. The company should really bring in a contemporary designer to freshen up the place.
It's local. You can back-up your brain in the cloud, but Mr. Michalski said he'd rather have a very light local client that kept its memories in the cloud continuously, especially if that allowed users to connect and interact with other people's brains.
Brainlessness. The Brain has no brain. Some very simple AI powered linking could be powerful. What if you aren't great at looking at bylines but one day you're touring through your Brain and it shows you that you've saved a dozen articles by the same writer? You might want to follow him or her more closely. Or what if you suddenly discovered that you've saved 15 photo essays about the same city? It might make sense to add that city to your "Vacation Spot" list. Those sorts of insights would be easy and helpful to make.
Price. It has a free version, but for all its features you'll pay $219, which is an insane price for a piece of non-essential software. Microsoft Excel, which some people can't get through a day without, is $109.99.
Double entry. Mr. Michalski said he doesn't have his brain integrated with his calendar or contacts, which means he's double entering people, dates and events. The site says that the Pro version offers those integrations, but Mr. Michalski doesn't use them, which may suggested they aren't well executed.
"Everything we have is flow," Mr. Michalski says, meaning we swim in a sea of what's getting talked about now, organized overwhelmingly in reverse chronological order. "This is a memory aid that we aren't even aware we need."
He has a point. Even Google tends to favor newer content over older stuff, which I find to be a problem when I remember some great piece from years ago that I want to find again. I've been saving links across a confusing array of services for years: Delicious, Diigo, Google Keep. I even often find myself poking around in old tweets and emails looking for something I vaguely remember. It's definitely not the best system, but I'm also pretty skeptical about adopting something that isn't cloud based at this point.
The software is all closed source and private, which also isn't Mr. Michalski's preference. Still, despite his drawbacks, he is glad to have it. He said, "I'm really lucky to have everything I really care about in here for 17 years."