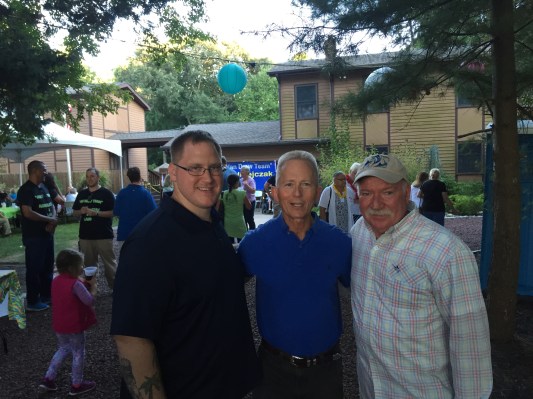 SOUTH SEAVILLE – A crowd of nearly 2,000 people gathered at the home of Senator Jeff Van Drew (D-1) Friday, where Van Drew hosted his annual barbecue alongside Assemblyman Bob Anderzejczak (D-1) and running mate Bruce Land, the other members of the self-described 'Van Drew Team' in this year's state Assembly race.
Deputy Mayor Brian O'Connor said that the event is always a chance for politicians in the first district to meet with constituents and each other away from the glare of party politics at the state level.
"Where we are, at the local level, is the very least partisan," said O'Connor. "As you go higher up the food chain, it certainly becomes much more. This here, we're just here to help our neighbors. As their team, I've never heard them ask anybody you 'well where do you stand' on that spectrum."
After saying that he had been registered as a Republican before being asked to run for Deputy Governor, O'Connor said that his ambivalence toward party affiliation is typical for the rural district and that he quickly changed his party at Van Drew's request.
"Let me run to the courthouse, I'll be right back," he said, laughing.
"We get a bunch of people, it's a way to say thank you to everyone who's helped," said Van Drew. "It's a bipartisan event, there are lots and lots of Republicans here."
On the issues that will define the contest in the first, Van Drew said that he believes voters will see his own record as a businessman when choosing the best candidates for LD1's economic development plans. Servicemen Anderzejczak and Land will be facing off against Assemblyman Sam Fiocchi (R-1) and Cumberland County Freeholder Jim Sauro, who both have extensive business backgrounds.
True to form for a man who has made a political career out of steering a right-of-center course, Van Drew added that tax cuts will be on the agenda after the election.
"We believe in getting rid of the inheritance tax and the estate tax, we believe in a lot of issues that are economically development related. And I'm from the private sector, I've run a payroll, I have employees."
Asked about the accusation consistent accusation from Fiocchi and his running mate Cumberland County Freeholder Jim Sauro that the Anderzejczak-Land ticket lacks spontaneity under Van Drew's guidance, Murphy was nonplussed.
"We stand in front of supermarkets, so I don't know how much more public and unrehearsed you can be, because you have no idea what's coming out of the door."
"He's welcome if he wants to come," said Van Drew's chief of Staff Allison Murphy of Fiocchi, laughing.
She added that most years, old opponents inevitably run into each other at the barbecue, saying "once the election's over, you get over things."