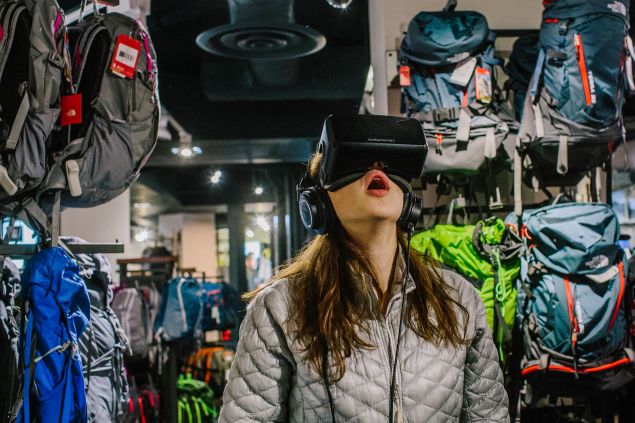 Hold on to your popcorn: Cinematic virtual reality (VR) startup Jaunt has made a promising leap toward the Hollywood Hills. The Palo Alto-based company announced today that the Walt Disney Company, along with Evolution Media Partners and China Media Capital, have invested $65 million in Jaunt, bringing the startup's total funding to over $100 million. So what now?
Launched in 2013, Jaunt has continuously been offering virtual reality products that have captured the attention of production companies, print publications and even international airlines. Jaunt provided virtual reality headsets to Qantas in early 2015, making it the first airline to provide in-flight virtual reality entertainment.
The startup also made headlines with its Google Cardboard Paul McCartney app. Cardboard, Google's $9.99 virtual reality headset, gave viewers (with most Android Phones or an iPhone 6) a 360-degree view of Mr. McCartney's famous 2014 Candlestick Park performance of "Live and Let Die."
Most recently, Jaunt extended its virtual capabilities to Damascus, Syria. In last Wednesday's ABC News report entitled "VR Inside Syria," Jaunt partnered up with the broadcaster to give viewers a virtual reality tour of how Syrian historians are attempting to preserve landmarks and antiquities in conflict zones. Available on Apple and Android devices, the five-minute guided tour takes audiences through some of the city's sites, including the Damascus Citadel and Souk and the National Museum, where historians are cataloging items as well as sending them to a secret location.
"We see VR as the next logical step in the evolution of film and entertainment. Instead of looking at a rectangular screen, you have this canvas all around the viewer," Jaunt CEO and co-founder Jens Christensen told the Observer. "We started off in silent films and black white, then with sound, color, and then we were introduced with better, bigger and more immersive screens. VR is kind of the ultimate of that."
But don't expect to be wearing a VR headset in theaters just yet. Although today's announcement will boost the hopes of film enthusiasts and tech gurus alike, Mr. Christensen said VR still has a long way to go before the release of a VR motion picture.
"An issue today is the headsets themselves. They're kind of big. Most people don't want to wear them for two hours," Mr. Christensen said. "As tech evolves, I would love to one day see a headset that looks like sunglasses. You press a button, they go dark and you're suddenly in a VR experience."
But issues like movie length haven't stopped Oculus Story Studio, which released the VR short film Henry in July 2015. The short transports viewers into the animated world of Henry the hedgehog (voiced by Elijah Wood), with Oculus Rift's headset.
"Empathy for a character is one of the most important fields for us to explore in virtual reality. And with Henry, we wanted to create a character that had special bond with the audience," director Ramiro Lopez Dau said on the company's website. "These characters in VR can feel truly alive, and Henry is a first glimpse of that magic."
Until that glimpse of magic grows to be a two-hour, star-studded film, Mr. Christensen is hopeful that virtual reality will evolve on the big screen and become a normal part of our daily lives, as most technology has already proved itself to be.
"It's all about the technology getting better, lighter, and more convenient," Mr. Christensen said. "The length of the content will follow. There's a whole new language that will develop."