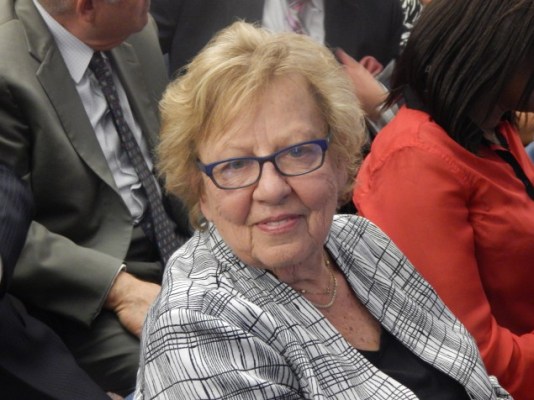 At a meeting of the Legislative Oversight Committee Thursday morning, Senate Majority Leader Loretta Weinberg blasted the Port Authority of New York & New Jersey's former leadership for its inaction and corruption during New Jersey's ongoing transportation crisis and the aftermath of the Bridgegate scandal.
The committee discussed options for reforming the Port Authority, including Weinberg's bill to subject the agency to New York's Freedom of Information Law and New Jersey's Open Public Records Act. Weinberg cited the fact that the agency only decided to consider renovation for the Port Authority Bus Terminal once commuters made public complaints.
Criticizing the group for failing to address the dilapidated terminal and the stalled Gateway Project, Weinberg said that "the two most important capital expenditures and investments for the future of the Port Authority were somehow left out."
"It surely never made it into the capital plan, and certainly wan't a topic of conversation," she said. "I have no trust in the kind of structure that is built into it, and the people who were appointed there as commissioners. They sat there through all of this, and to this day I haven't heard too many public comments about anything that went on or why this bus terminal was allowed to fall into the kind of disrepair that it was allowed to fall into," she said.
"Every single one of them, from commissioners to the executive director, had opportunities to move ahead, to find out what really went on there, and none of them chose to rise to that responsibility," said Weinberg of the Bridgegate investigation.
"I don't think there were any heroes in the drama than took place in September of 2013," she added.
Regional Plan Association President Tom Wright shared Weinberg's distrust of having the governors of New Jersey and New York as closely involved in the Port Authority's operations as they have been in the past.
"More than any other single recommendation, I believe that restoring the position and integrity of a strong CEO who reports to the board of the Port Authority, not to either governor, is the most important single reform that can be undertaken," said Wright.
Wright did say that he disagreed with the terms of Weinberg's bill in that they require the Port Authority to report to the legislature, an arrangement that he argued would be an opportunity for more corruption down the line.
Speakers before the committee also discussed long-term transportation infrastructure projects like extending the PATH train to Newark and constructing a replacement for the Port Authority bus terminal rather than making repairs to the existing structure.