GARFIELD – As the overarching sound of Andrea Bocelli's considerable tenor conquered (apparently) lovesickness with stoicism in the grand hallway, New Jersey's elegantly attired Dominican community and assorted guests packed the Venetian tonight for the New Jersey Dominican Parade Annual Gala.
"You soy Ray Lesniak y yo estoy aqui con mucho gusto," announced the veteran senator and 2017 candidate for governor, bounding out of his sports utility vehicle toward the Italianate manse clinging to the side of River Road.
If this had the feel of a big deal, it's because it is. The largest growing Latino community in the state, the Dominican population increased in every New Jersey county between 2000 and 2010, led by Passaic (+20,479), Bergen (+15,121) and Hudson (+13,465). Dominicans actually more than doubled in 17 counties during the past decade. Paterson gained more Dominican population (+12,095) than any other municipality, followed by Newark, according to U.S. Census data.
Lesniak wasn't the first 2017 competitor here. That distinction belonged to Phil Murphy, the former U.S. Ambassador to Germany, who found a spot near the long line of guests entering the party and proceeded to vigorously back slap and shake hands. "Hi,
Trace," he said to Bergen Freeholder Tracy Zur, nuzzling the incumbent Democrat who's up for another four years in November along with her running mate, Freeholder Steve Tanelli.
"I think we need more transparency and I would favor Loretta's bill with more legislative oversight," Zur moments later told PolitickerNJ, a reference to this morning's hearing wherein Senate Majority Leader Loretta Weinberg (D-37) made a case for her Port Authority of New York and New Jersey reform bill instead of the New York Legislature's bipartisan  bill now on New York Governor Andrew Cuomo's desk.
"In my town it's hand to hand combat, so you either run hard or you go home," said South Bergen's Tanelli, who's s dropped 15 pounds so far this season on the trail.
Bulb flashes sputtered double time in the vicinity of Paterson Mayor Jose "Joey" Torres and his wife Sonia. Having convincingly won reelection last year, Torres now faces the political challenge of eradicating from council chambers those elected officials who opposed him. Munching on pineapple hor dourves, one insider was already avidly talking about next year's Paterson Ward 6 race, which features incumbent Councilman Andre Sayegh against frenemy Al Abdel-Azziz.
Torres backs Abdel-Azziz with an eye to scrubbing his old adversary Sayegh out of political existence.
Then there's next year's Ward 2 race, where Councilman Mohammed Akhtaruzzaman – who backed Sayegh last year over Torres – must run his own obstacle course through a series of Torres-concocted barriers.
"It's going to be a dirty contest," veteran Paterson Democrat Miguel Diaz said of Ward 2.
"Yes, it is, but I'm going to win," countered Akhtaruzzaman, who lost his campaign strategist, Henry Sosa, now aligned with Torres and the opposition.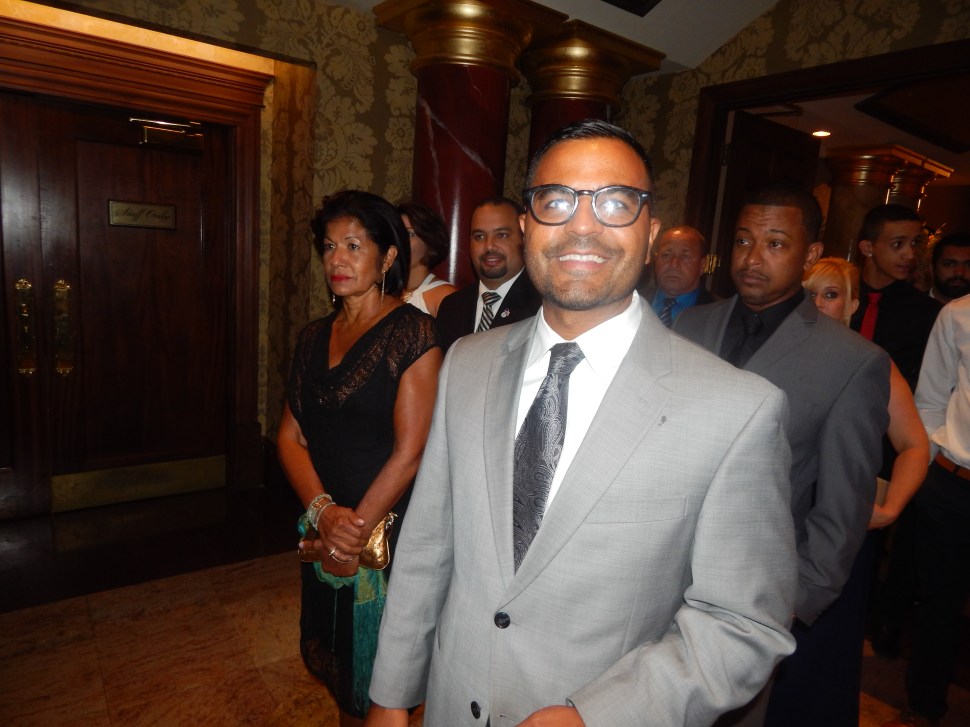 Manny Martinez, a teacher running for a Ward 1 seat, also showed up tonight, as did attorney Fernando Alonso, a Republican who narrowly lost his 2013 senate bid to Senator Bob Gordon (D-38), Bergen County Democratic Committee Chairman Lou Stellato, and Assemblyman Joe Lagana (D-38).
Lagana's in a would-be competitive race this year, in a district shaped in part by the local dynamics of a council contest in Paramus and a mayor's contest in Fair Lawn.