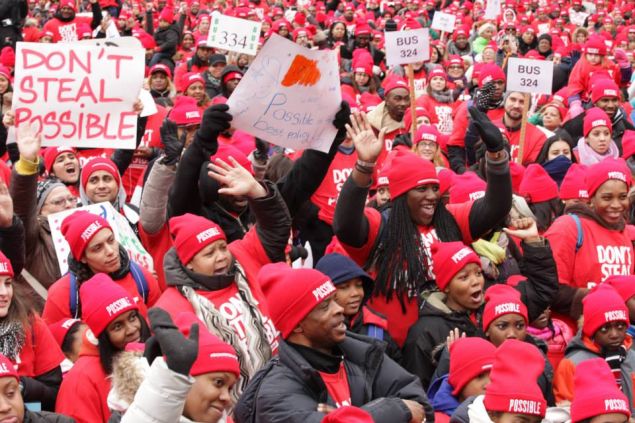 It's a Families feud.
The liberal Working Families Party penned a letter today to Families for Excellent Schools, the powerful pro-charter schools group, demanding they take down a controversial television advertisement and then debate a WFP official about the future of education. In the letter obtained by the Observer, Bill Lipton, WFP's New York State director, said FES' aggressive strategy had "backfired."
"You thought you could run an over-the-top attack ad against Mayor de Blasio and get away with it," Mr. Lipton wrote to Jeremiah Kittredge, the CEO of FES. "But instead, the demand for you to take down the ad continues to grow louder among many New Yorkers: parents, teachers, students, community leaders, and elected officials."
Mr. Lipton wrote that he had a "simple request": "Cancel the ad right away, and engage in a real debate with us to prove that you and your organization, Families for Excellent Schools, care about all public school children, not just the very small number of children who attend privately-funded charter schools."
The letter came in advance of a large rally FES had scheduled for today in Brooklyn. Rain canceled the rally, but FES is planning to marshal thousands of charter school children and a handful of elected officials at a rally on October 7.
FES, now the biggest spender on lobbying in New York State, drew fire from some left-leaning elected officials last week after they launched an ad blasting Mayor Bill de Blasio, once a fierce critic of the privately-run, publicly-financed schools, for allegedly stifling the growth of charters. The ad angered minority allies of the mayor in particular–Mr. de Blasio's team helped organize their reactions to the media–by implying that keeping charters from expanding will only harm nonwhite students in need of education alternatives.
One mayoral ally, liberal activist Bertha Lewis, called the ad "racist to the core."
The WFP, a hybrid of labor unions and progressive activists, is a longtime opponent of charters because they circumvent the teachers' unions. Mr. Lipton wrote that Mr. Kittredge could set the time and place for the debate.
"Unconstructive attack ads do nothing to improve the quality of teaching or learning in our public schools," he wrote. "So we sincerely hope you will join us in a serious discussion on education and an intense exchange of ideas."
FES did not immediately return a request for comment.
View the full letter below:

Dear Jeremiah Kittredge:

Your strategy has backfired. You thought you could run an over-the-top attack ad against Mayor de Blasio and get away with it. But instead, the demand for you to take down the ad continues to grow louder among many New Yorkers: parents, teachers, students, community leaders, and elected officials.

I'm writing to you today with a simple request: cancel the ad right away, and engage in a real debate with us to prove that you and your organization, Families for Excellent Schools, care about all public school children, not just the very small number of children who attend privately-funded charter schools.

A representative of the Working Families Party will be happy to have a substantive debate with you as soon as possible about how to improve public education for all kids.

Name the time and place.

No shouting. No tricks. No games. No empty rhetoric.

Just a thoughtful and energetic debate about the policies and actions that are necessary to prepare all of our children to succeed as they enter adulthood.

Unconstructive attack ads do nothing to improve the quality of teaching or learning in our public schools. So we sincerely hope you will join us in a serious discussion on education and an intense exchange of ideas.

We're ready for a real debate on education – one that will lift up and benefit all public schools.

But the question remains: Are you?

Sincerely,

Bill Lipton
New York State Director
Working Families Party