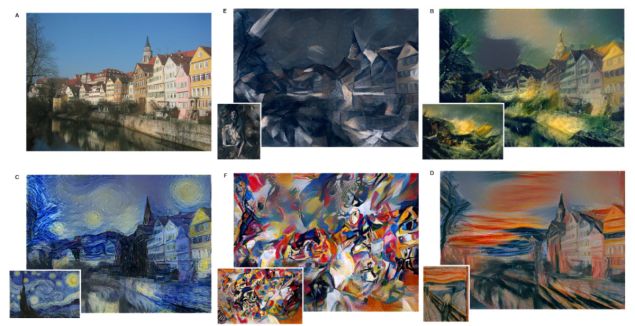 "Pic-to-Picasso" smartphone technology doesn't exist yet, but it's getting close thanks to a group of German scientists. They've been working on an algorithm that can convert any photograph into the style of a masterwork of fine art.
As of now, the process takes about an hour to complete. "Deep neural networks," which process visual information hierarchically, create high quality artistic images that emulate a specific artistic style. The algorithm rebuilds photographs by treating the style of a chosen source image, say van Gogh's Starry Night, as a "texture."
But, according to the group, content needs to be balanced with style for the output image to make any sense. If content is not factored in, the output image won't look anything like the original photograph. The boys tested this theory as such:
"We matched the content representation of a photograph depicting the "Neckarfront" in Tübingen, Germany and the style representations of several well-known artworks taken from different periods of art," reads the group's paper, "A Neural Algorithm of Artistic Style," published by Cornell University.
The results, as you can see, are pretty fantastic.
But this masterpiece analysis is a means to a greater end than just Instagram filters.
The group says that the final goal of the study is to offer "a path forward to an algorithmic understanding of how humans create and perceive artistic imagery."
In the meantime, the group should probably try to set up a meeting with Mark Zuckerberg.