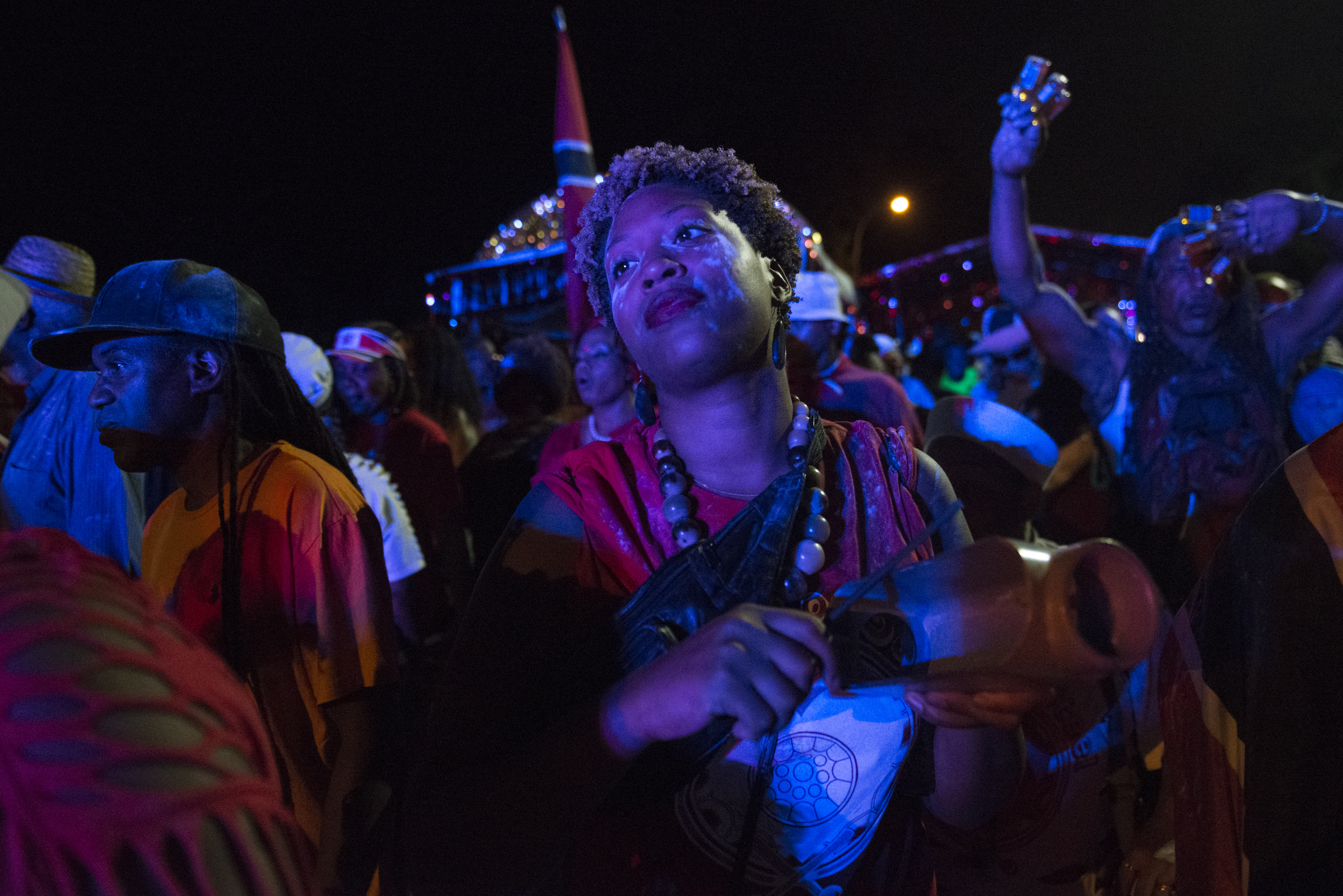 Each year, the West Indian American Day Parade through Central Brooklyn attracts bright costumes, steel drums and elected officials shaking hands with throngs of New Yorkers. But before that parade steps off, in the pre-dawn hours of Labor Day, the J'Ouvert festival also attracts hundreds of thousands of people—and in recent years, trouble.
There is no doubt that the shooting death of an aide to Gov. Andrew Cuomo this year will force changes to the festival—at the very least, it will need a permit, Police Commissioner Bill Bratton has said. But finding a way to bring official order to an often raucous event that, by definition—J'Ouvert means daybreak—occurs outside typical hours and now carries with it the stigma of violence is not likely to be an easy task.
"Right now, nobody wants to claim responsibility for being a leader of an event that they encourage tens of thousands of people to attend," Mr. Bratton said yesterday about J'Ouvert, speaking to reporters after delivering a speech. "Politically, the City Council members, Assembly members from that area also are going to have to take ownership of the event occurring in their neighborhood and some of the associated behavior. It doesn't do that community's image any good. It doesn't do their political image any good."
In central Brooklyn, elected officials told the Observer they are already owning it.
"I'm a bit confused about the implication that the electeds are running from taking responsibility of restructuring [J'Ouvert]. I would say quite the opposite is true," Councilwoman Laurie Cumbo, who represents the area, told the Observer. "But that's just a breakdown of communication of sorts."
Violence surrounding the celebrations—the parade, J'Ouvert, the parties in bars and nightclubs and junkyards capitalizing off the crowds—that take over parts of Flatbush, East New York and Crown Heights every Labor Day Weekend has long been a topic of local headlines. But this year, Carey Gabay, a lawyer with the state's Empire State Development Corporation, was shot in the head by a stay bullet at 3:41 a.m., while heading home from a party celebrating J'Ouvert. Gabay died after a week in a coma. Another man was stabbed to death during the festivities; .
Local officials all seem to agree that something about J'Ouvert has got to change—even if they don't think J'Ouvert is at the heart of the kind of violence that struck down Gabay.
"I agree with the commissioner that there needs to be a clear, defined leadership," Brooklyn Borough President Eric Adams told the Observer. "When you have an event that brings thousands of people, there needs to be a clear body of people who are responsible. And I agree with him that the political leadership plays an important role here." 
Mr. Adams, a former police captain, has called meetings with police, politicians, the J'Ouvert City International group that puts on the event, the West Indian American Day Carnival Association that puts on the parade, and clergy. But the idea of ending J'Ouvert, a tradition rooted in pre-Lenten festivities dating back to the days of slavery, isn't on the table.
"In order to correct the problem, the goal can't be to stop the parade," Mr. Adams said. "It has to be be to stop the violence."
Mr. Adams noted that Gabay was shot in an area struggling with gang violence—where, even without J'Ouvert there might have been an innocent bystander hurt. He argued that the question wasn't how to end violence surrounding J'Ouvert and other Labor Day event, but rather how to end violence after any public event in Brooklyn, with some in the area believing a party doesn't end when the lights go on but rather "after gunshots go off."
"This is not about J'Ouvert," he said. "People are mixing the conversation, and it's really trying to use J'Ouvert as a scapegoat."
Mr. Adams and Ms. Cumbo noted there's much more at play than just J'Ouvert over the holiday weekend.
"We also want to reign in the restaurant owners, the party promoters, all of the other officials that benefit from J'Ouvert and have their own set of activities that are separate and apart from J'Ouvert, and often get lumped in with the festivities that are going on that evening," Ms. Cumbo said.
Still, of all the night-time events happening Labor Day Weekend, J'Ouvert is the most prominent and visible. Some 250,000 people took to the streets to dance and toss powder, paint and oil, dressed in colorful costumes or sometimes as devils—something Mr. Adams said makes it convenient to paint the event as a dangerous one.
"This is about violence, this is not about a parade. And it is not a politically correct position to take, because when you look at the images of the parade, they see it as, 'Oh my God, what type of event is this?'" Mr. Adams said. "But hey, that is a diversity that is in this borough."
But Mr. Adams said there could be changes to how J'Ouvert is run. He offered the example of the New Years' Eve celebration in Times Square, which now requires visitors to be screened before entering the area, and said any solutions that allow for safe celebration should be on the table. Ms. Cumbo, too, said she expected the event would be "dramatically restructured in order for all of the participants to have a safe experience."
"The way J'Ouvert has been functioning and operating without a permit is not working," Ms. Cumbo said. "We're well aware that J'Ouvert cannot keep functioning in the way it has been functioning."
The festival is currently led by J'Ouvert City International, a group that has received tens of thousands of dollars from the City Council, including some from Councilman Jumaane Williams.
"I have no problem with trying to make this event, these events better, just like we've done with many other events we've had problems with across the city," Mr. Williams said. But he also said the city cannot "pretend" dealing with J'Ouvert will effectively deal with the scourge of violence in the community. 
One change to the festivities seems certain: the need for a permit. "I will demand next year a permit," Mr. Bratton said this week. "A permit requested by an organization that is identified, an organization that is politically supported by the political leadership over there."
That might mean an organization other than J'Ouvert City International, which has seen in-fighting among its members. Messages left for its president and vice president were not returned.
Mr. Adams said all the community stakeholders needed to get involved in making the weekend safe.
"We have convinced them that we're all in this together. You can't say, 'That's not my parade, that's not my part of the weekend,'" Mr. Adams said. "No: it's all one weekend. Labor Day Weekend in central Brooklyn."
But when asked about changes to J'Ouvert, Jean Alexander—secretary of the West Indian American Day Carnival Association that puts on the day-time parade—essentially said just what Mr. Adams warned people shouldn't: that J'Ouvert was not their event, not their parade.
"This event occurs before Labor Day Carnival. It is supposed to end, I think 9 o'clock in the morning. Ours begins at 11 a.m. Two separate organizations. Two separate everything. We have permits for every God thing they could tell you to have permits for," she said, before expressing frustration that pre-dawn violence gets lumped in with the association's annual march even though it starts hours later.
Asked whether her association might want to get involved in helping J'Ouvert get a permit, Ms. Alexander said, "That is asking me to go dive into a mine full of—I don't know what." 
But J'Ouvert might look to the parade, once much maligned as violent but now an event that Mr. Bratton said "goes off very well," for an example of how to grow. About 25 years ago, Ms. Alexander said, the parade celebration would go until 10 p.m., with people drinking and using the gathering to "settle their own scores."
"We had a meeting with the police department and we both looked at the different options available and we agreed, it was suggested that we cut off everything that happened after dark. And that's what we did," Ms. Alexander said. "And that has been more than 25 years now."
But Ms. Alexander wasn't quite sure that would be feasible for an event that's meant to happen before the sun rises.
"I don't know how they would do that with J'Ouvert," she said. "The meaning of J'Ouvert is the breaking of dawn."