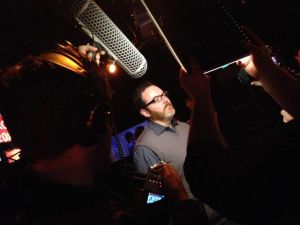 Every Monday evening, anywhere between 80 and 150 thousand people tune in to listen to Mike McHargue, otherwise known as "Science Mike," answer specific questions about a wide range of topics, such as HIV, evolution, war and daily prayer.
They do this by way of his popular podcast, Ask Science Mike.
"Of all the media I'm involved in, podcasting creates the most intimacy with an audience. People scan articles. They don't read books anymore. They skip through television programs, but, contrary to the fast pace of media, podcasters sit and invite you into their ears and their personal space for an extended period of time," Mr. McHargue said regarding why he chooses to take on podcasting as a way to communicate his message as opposed to more traditional approaches, such as writing articles.
Mr. McHargue is a Christian Internet personality who is known for the unique talent of weaving scientific explanations into his message about the Christian faith.
We recently listened to him give a speech at Baruch College in New York City about answering questions with both science and spirituality.
Mr. McHargue told the Observer about how podcasting has helped him reach an audience in a more engaging way than other conventional methods.
"As long as they're listening to that podcast, they're completely focused on your topics. They're not doing multiscreen surfing like people do with other media, so I like the intimacy and the attentiveness that's indicative of podcast listeners," he said.
Fans of the show can submit questions that they want Mr. McHargue to talk about via Twitter, Soundcloud, YouTube or his personal website.
Subjects approached in his episodes include contentious topics, including mental illness, the idea of hell and monogamy, but Mr. McHargue's talks have a lighter side, as well.
He does not choose which questions he wants to address personally, but, instead, his patrons—the people who fund the show through donations—vote on which questions they want Mr. McHargue to focus the conversation on.
"Ask Science Mike is completely audience led, and all I do is answer the questions they ask me to. Occasionally, if there's just been a deluge of questions on a particular topic, I'll go ahead and do an episode on it, but, even then, I'm just responding to the audience," Mr. McHargue said of the structure of the show.
Ask Science Mike is Mr. McHargue's second podcast. His first, The Liturgists, was created with a friend, Michael Gungor, who he joked was a "recovering Christian musician."
"We wanted to create a discussion about science, faith and art that was more open and more authentic and more relevant than anything that was happening in the church. We wanted to create a conversation that we weren't hearing in Christian media," he said.
This cartoonist has turned her new book into a podcast.
Ask Science Mike was a byproduct of The Liturgists. "Basically a lot of the listeners of that show had more science questions than we covered in our science segment so they asked me to start a podcast where all I did was answer science questions. And that's what I do."
Mr. McHargue said that, surprisingly enough, probably 99.5 percent of the feedback he gets after his podcast episodes is positive. During a "really rough month" he'll receive around five or six negative messages out of thousands of emails.
"We talk about controversial things on the show, and I think there's a real longing for people who are still spiritually curious in some way to have agenda free and open conversations. I think that's why the show gets so much goodwill even when people disagree with me."
Mr. McHargue lives in Tallahassee, and, aside from his podcast, he blogs, speaks at events and plans release a book in September 2016.
"The book is going to be about my story of being a Baptist who became an atheist and then kind of returned to God through a mystical experience. My story is going to be the vehicle for delivering a way of viewing science and faith as compatible lenses for looking at the world," he said.
When asked about what he hopes he accomplishes through his projects Mr. McHargue said, "I hope to teach people how to have healthier conversations, specifically about science and faith."