For a city that never sleeps, early keeps getting later around my New York.
I've always found the city most intriguing when it's me, shopkeepers and a few neighbors testing the streets. I do my runs early, usually with sunrise, and keep working out for a long time on weekend mornings. This started with a jog on the beach during a friend's surreally wonderful Caribbean wedding weekend in 2005. The jog, slated for an hour, turned to two, and my thoughts turned to breakfast. Since then, anywhere I am, I've instinctively headed out before sunrise and tracked the smell of espresso roasting and pastries splitting to find my way back.
But on my Lower East Side home turf, lately I come back to shutters at storefronts at 7 a.m. on Sundays when my workout ends. In nearly all the many places in my neighborhood that sell espresso and baked goods (a.k.a. handheld cake), 8 a.m. is the new normal and 7:30 is the new early. Roasting Plant, Brunswick, Irving Farm, 12 Corners—even the surf-themed coffee bar a few blocks away, which you would think would deliver piping doppios to the dudes before their dawn trips to Rockaway. Cafe Grumpy leads the pack at 7:30. What gives?
I think it has something to do with expats. As the Lower East Side's apartment prices became moderate in comparison with other neighborhoods, new bars and art galleries and residents from afar filled the blocks near my postwar brick co-op. Lower Manhattan has, in the early weekend hours, taken the rhythms of a vacation town.
To be sure, most vacation towns lack pale-gray concrete slabs of high school building, across from public housing and down the block from active construction sites. But the way traffic flows into espresso bars seems to suggest that people have been basking in the sun and have relatively little planned before noon on a Sunday. This sidesteps my sense of how a New York day gains shape and force.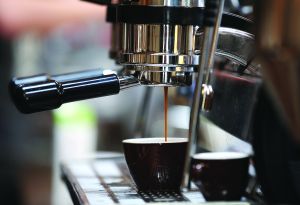 If I greet the neighborhood while it's still quiet enough to hear my footfalls, and see other peoples' movements without a lot of swirl around them, then I can more easily insert myself into the city's flow. Earliness has a feeling of contributing.
On weekdays I try to make this tendency useful: I'm usually the one who fills water glasses, brews the coffee and starts making toast. On weekends, with a pull of espresso and some handheld carbs, and ideally something to read that's not a list or a text, I let myself splice into the city's jumble of rhythms—early enough to hear where I should start playing. Good day, barista! Howdy, baker! And 8 feels kinda late.
By 8, the city has revved up without my help. I have to check twice for traffic as I cross the two-way Essex Street, and trucks are drowning out the portable stereo providing rhythm for ladies' exercises in Seward Park. Doing something this easy and profligate—choosing from a historically untold array of flavor profile and gluten quotient and reclaimed-lumber volume that suits your jam—feels like clogging the urban machinery.
In the 7 a.m. hour—the spare quality of light, the wind over streets that later on will groan with haulers in aging trucks—feels like a reward for being awake. You can see what people are doing, whether it's fidgeting with a shoelace or thumbwhacking a handheld screen, and you can sense that there's enough space and time for any kind of folk to do anything peaceable.
But by 8 a.m. we're sliding toward 9, a time when daylight is taken for granted rather than welcomed like a gift. By 8 a.m. we should commit more productively.
So what's become of time in my square half-mile of Lower East Side between the Williamsburg and Manhattan Bridges? Have I gotten priced out of 7 a.m.?
Well, not really. I can get post-workout coffee anytime at 7-Eleven and at 6:30 at the Doughnut Plant (where the coffee does its job, but really serves to support the bronto-sized fried cakes). I can have my jolt, with floral notes and undercurrents of Drambuie, and not be alone, and still be early. Heck, Starbucks opens at 6:30. But it isn't the same.
With all due respect to delis and 7-Elevens, they deal in quickness. The Doughnut Plant draws tourists, who come to tote away doughnuts in flat boxes. And a Starbucks on Delancey Street emits the burnt-bean aroma and name-name clatter of a Starbucks on Concourse D. In mass-produced places, the stream of images and inputs too closely resembles that on a screen. You feel as though you might, even if you're two blocks from your door, miss your connection.
So I can end the run without the big coffee spend, or I can look elsewhere for my fix. My kids and wife are used to handling weekend breakfast without me anyway. So what's out there?
I've read about a specialty place a little further uptown, on St. Mark's, with a 7 a.m. open on Sunday. The West Village, a 10-minute bike ride away, has at least three. And who knows what's over the bridge? I can find fellow greeters in the early hours- maybe even expats turning into New Yorkers—and still get home and showered before the day slides to 8.