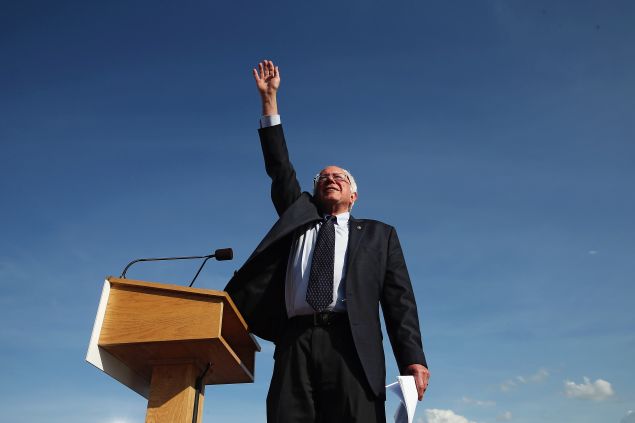 The surge of democratic socialist Senator Bernie Sanders of Vermont in the Democratic primaries will test whether Americans really can identify with an ideology often considered taboo. Less talked about is whether the Sanders campaign will inspire the socialists who have made headlines from the WTO in Seattle to Occupy Wall Street to trade in their agitation for campaign pins. A survey of the landscape yields the challenges for America's left, even when one its own is being considered as a presidential nominee for the Democratic Party.
Democratic Socialists of America: As the group most closely aligned to Mr. Sanders, its members support the campaign as a way to meet newcomers to the idea of socialism, hoping not only that Mr. Sanders puts left-wing ideas into the discourse, but that the campaign could organize people for long-term, grassroots efforts beyond 2016. Disclosure: I'm a member, but inactive other than reading its quarterly Democratic Left.
Socialist Alternative: The group's best known member, Seattle City Council Member Kshama Sawant, guardedly supports Mr. Sanders, and spoke at the same rally that was disrupted by Black Lives Matters protesters. She has called for different socialist groups to rally behind him even if those groups have differences to create a broader left-wing movement.
International Socialist Organization: These Trotskyists/Leninists oppose backing Mr. Sanders since he's running with the Democrats, an unforgivable sin, which they believe will distract from building independent political power outside the two-party system. In forums including the ISO's house organ, the Socialist Worker, the group claims Mr. Sanders may attack the Democratic establishment now, but will ask his supporters to back the eventual nominee, most likely, Hillary Clinton.
Revolutionary Communist Party: Maoists reject the American political system outright, and the only old white man its cadres admire is Bob Avakian, the group's leader, whose followers often quote in Bible chapter and verse format. Don't expect them to do go door knocking.
International Communist League (aka: "The Sparts"): The Sparts don't like Mr. Sanders but support the Islamic State. Take from that what you will.
Communist Party of the United States: After the Cold War, this dinosaur of an organization isn't the boogeyman it once was in the American imagination. CP-USA largely backs the Democratic Party agenda, and it's website says "the Sanders campaign can shift the dialog from the right wing and objectively boost the various initiatives underway around the country for a progressive agenda" and "It is already changing the political debate within…the Democratic Party." Indeed, the party has now adopted a $15/hr. minimum wage as a policy stance.
Socialist Workers Party: According to the party sheet, the Militant, the SWP is more interested in showing up at Mr. Sanders's events to pass out its own literature to lure sympathizers to its cause. One activist told the paper that Mr. Sanders "presents a radical image with the intention of corralling us back into bourgeois politics." Expect SWP to run its own candidates.
What to take from this? The sad reality, of course, is that this is another episode of the left being its own worst enemy, with groups falling for the narcissism of small differences, as portrayed in the famous "People's Front of Judah" bit from Life of Brian or Joan Didion's description in Slouching Towards Bethlehem of CP-USA founder Michael Laski, whose love of an ordered world made his political faction not just small but averse to the chaos necessary for actual social change.
It's that tendency that inspired Ms. Sawant to ask socialists to realize that they have more in common with each other than they have differences, and that a big tent movement would change that hoary image, seeming more like a national movement than a collection of fringe groups. But ISO's criticism hits a nerve: How do you build independent power if you join the establishment party?
The real response is to remember that is candidacy is more about putting ideas that are left of the Democratic Party into a national debate, something Mr. Sanders can do better than Jill Stein can do running for president with the Green Party. There's a lot to lose and not a lot to gain from being absent during a time when socialist ideas are finally being discussed nationally and earnestly. And joining that debate doesn't necessarily mean empowering the Democratic Party. Mr. Sanders, despite gaining in the polls in Iowa, still must battle a Democratic establishment that wants Clinton, whose campaign reported believes it has already one fifth of the party's delegates. If anything, Mr. Sanders's eventual loss could inspire his followers to realize that their ideas are right, but that an organization beyond the Democratic Party is necessary.
After all, choosing tactics isn't a zero-sum game. If groups like ISO believe it is more necessary to organize parents and teachers against the privatization of education or if the RCP wants to be in the streets rallying against police excess, there's nothing wrong with that. But that doesn't mean they have to poo-poo the notion that people outside their ordered worlds are fighting an ideological fight against inequality in the realm of the presidential race.
A diversity of tactics is important in political warfare. The right, historically, has known this well. It's time the far left come around to that, too.