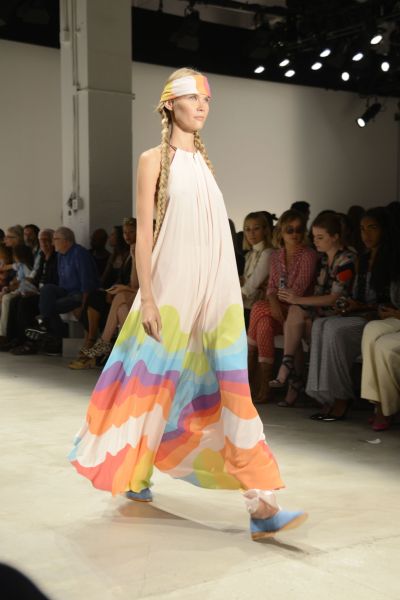 What are those famous Donny and Marie lyrics? "I'm a little bit country, I'm a little bit rock and roll." Yes, I just went there, but that's how I felt watching two of my favorite collections walk the runway over the weekend. As varied as they are, inspiring shows by both Mara Hoffman and Public School conjured up the different sides of my inner self that we all look to fashion to convey. There's my hippie-at-heart side, my earth goddess mama, the kind that comes alive over long weekends upstate, or on road trips through the desert Southwest, where Ms. Hoffman's Willie Nelson-inspired Americana collection will provide the perfect pieces to throw in the backseat. I could just see myself staring out at the vast desert expanse in her linen cloud-print maxi gown, or strumming a guitar in the grass in her leaf linen V-neck jumpsuit.
Ms. Hoffman's shows have been gaining momentum over the years; each season more A-listers like Jennifer Fisher and Langley Fox Hemingway pack her front row as her styling, hair and makeup, and music grow more full-tilt. It's easy to get lost in the earthy, wanderlust aesthetic of Ms. Hoffman's clothing but make no mistake—every major buyer from Bloomingdale's to Net-a-Porter packed her house. While the aesthetic is relaxed, her business is serious, and it won't be long before Ms. Hoffman proves to be a major power player in American fashion.
On the complete opposite end of the sartorial spectrum, Public School tapped into my inner-urban warrior, with its inspired assortment of upscale streetwear for which it's best known. I want to ride the 6 train in a button-down and soft, fluid palazzo pants, or walk the streets of Soho in a silky maxi dress and parachute coat. This season, the brand offered way more evening looks than in shows past. The goal appears to be able to dress clients from hanging on the stoop to hitting up the gala circuit.
Maxwell Osborne and Dao-Yi Chow have no shortage of hype, having already won multiple CFDAs, and their shows are a reflection of their star wattage, what with Ms. Wintour herself in attendance, as well as a range of celebrities and athletes from Ciara to Russell Westbrook. Public School is no longer a one to watch. Everyone seems to be watching already.