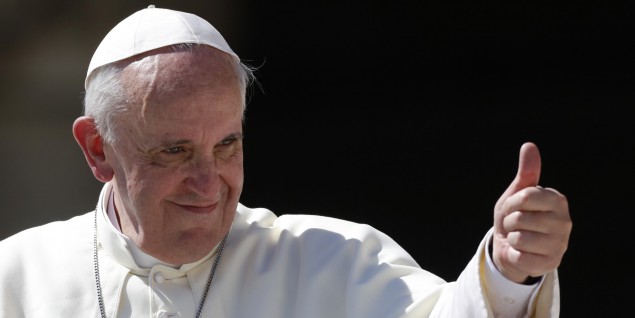 WINNERS
Hillary Clinton
The former secretary of state held a successful fundraiser in the Garden State on Thursday. She was able to raise over $500,000 for her presidential campaign. Support for Clinton has been strong in NJ since she announced her presidential aspirations.
Phil Degnan
Governor Chris Christie announced on Tuesday that the former federal prosecutor was his choice for State Comptroller. Degnan, the executive director of the New Jersey State Commission of Investigation (SCI), is the son of John Degnan, the former Attorney General tapped last year by Christie to chair the Port Authority of New York and New Jersey.
Local 825 PAC
Elected officials and office seekers crowded Wednesday's annual meeting of the IOEU 825's political action committee. This year, the group is focused on fixing Transportation Trust Fund issues. The turnout of over 100 officials and candidates demonstrated their political clout.
Pope Francis
With NJ residents clamoring through tunnels and over bridges this week to see the Pope as he makes stops in New York City and Philadelphia, it is obvious that the leader of the Catholic church has some serious clout in the state and across the nation. On his visit to the U.S., the Pope has met with the President and First Lady, addressed Congress and addressed the UN General Assembly.
Transgender Employees
This week, Jersey City Mayor Steve Fulop announced that transgender municipal employees in Jersey City would be given full health care benefits, even those including gender transition needs. Civil rights group hail the move as a game-changer in the state and hope it will encourage other municipalities to follow suit.
Herb Klein
The former congressman has joined Genova Burns as counsel and member of the Commercial Real Estate and Redevelopment Law Practice Group.
LOSERS
NJ's Middle Class
New data from the U.S. census shows that New Jersey's highest earners (households who earn over $150,000 annually) have more than doubled since 1990. That same data doesn't bode well for the middle class, however. In 1990, about 44.6 percent of workers earned from $25,000 to $74,000 and about 30.4 percent of workers earned from $75,000 to $150,000. In 2014, those numbers dropped to around 34 percent and 29 percent. The data is representative of the middle class squeeze many politicians are campaigning around this season.
Newark Taxpayers
Newark could be facing a nine percent tax increase next year. While the numbers are not final, insiders say the possibility of a hike is real due to budget deficits and uncollected healthcare premiums.
Domenico Lillo, Bayonne Cop
The police officer pleaded guilty on Tuesday to the use of excessive force during an arrest and falsifying reports to try to cover his tracks. The excessive force charge to which Lillo pleaded guilty carries a maximum penalty of 10 years in prison. The charge of falsifying records to impede an investigation carries a maximum penalty of 20 years in prison. The charge of making false reports carries a maximum penalty of one year in prison. Sentencing is scheduled for Jan. 6.
Michael Cunniff, New Jersey National Guard General

On Wednesday, it was reported that Governor Chris Christie told the National Guard leader that he had 90 days to slim down and meet the military's fitness requirements. Now, Cunniff says he is in a "rigorous physical fitness training program" and seeing a nutritionist to help him shed the pounds.
Jon Corzine
The former NJ governor's old Long Island home was recently leveled to make way for a bigger mansion. David Tepper, who Corzine passed over for promotion while they were both at Goldman Sachs, did the razing.