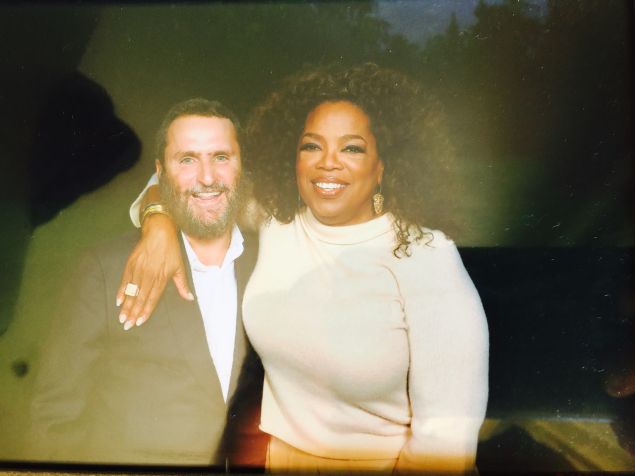 Aafter traveling from Israel to sunny California, I made my way to Santa Barbara, where I finally reached the other "Promised Land," or at least that's the name given to Oprah's beautiful home located there. I understand she has opened it to the public only 3 times. I guess 3 is my lucky number. I worked for Oprah in 2008 hosting a daily radio show on her "Oprah and Friends Radio Network." I also guested many times on her TV show offering marriage, parenting, and relationship advice. She was always warm and friendly to me and when our ninth child was born she got on my radio show and said, "Congratulations, Rabbi Shmuley. Now you have a baseball team."
Oprah invited me and other religious leaders to her home to showcase her new TV series airing on OWN, the Oprah Winfrey Network, beginning in October. It's called Belief and we watched two episodes. They were cinematically breathtaking and the stories of people practicing their faith were deeply moving.
Americans have a schizophrenic relationship with religion. They want it in their churches, synagogues, and mosques. But not in their popular culture.
Let's face it. To a lot of people today religion is either a total bore or seriously bonkers. In the minds of many, it's the cause of the world's terrorism and wars. It excels at spiritual games of one-upmanship, always claiming to have a higher truth than the next guy's religion. Religion is homophobic, wants to control women's bodies, and believes in unsubstantiated myths.
Religion today, when portrayed on primetime TV and in the daily media, is usually depicted as an archaic, illogical system of living that should be at the best shunned and at worst ridiculed. Turn on Ray Donovan and you'll see priests sodomizing boys. Turn on Amazon's new Hand of God and the ministers are embezzling and fornicating.
Modern day TV seems to have completely abandoned the ideas and values of religious observance and replaced them with more secular humanistic type values, with maybe an occasional reference to "spirituality." In fact my own television show Shalom in the Home was seen as a groundbreaking concept precisely because it dealt with universal values being applied to family life in the form of advice from a rabbi on how to incorporate those ideas to improve relationships.
But here comes Oprah with a view of religion on TV that has scarcely ever been seen before. We see the story of Mendel, the son of the Chabad emissary in Budapest, who is about to be bar mitzvahed. He comes across as deep, insightful, mature, and enlightened. And he's all of 13. We watch a professional California skateboarder who converts to Islam and goes to Mecca to the Haj. How the heck did they get permission to film him inside the great mosque in Mecca? Another Oprah miracle.
We watch a Hindu woman from Chicago go with 70 million people – yes, 70 million – to the Ganges river for the annual Maha Kumbh Mela festival.
I know first-hand how hard it is to bring religion to TV. Americans have a schizophrenic relationship with religion. They want it in their churches, synagogues, and mosques. But not in their popular culture. The ministers who get to be on TV are those who pay for it, like Joel Osteen or shows that are grandfathered in, like the 700 Club.
In the second season of hosting Shalom in the Home on TLC, David Zaslav, today the most powerful man in television, took over all the Discovery networks. I went to his New York office to meet him. The executive producer of my show told me, "Shmuley, you're a Rabbi. It's pretty odd to have a religious personality host a TV show. Go in there, but whatever you do, don't bring up religion." Well, I walked in and David, friendly and engaging, asked me straight up, "Do you ever watch Joel Osteen? How about you and he do some kind of religion show together."
Whoa. So this was a network that actually believes that religion could draw a TV audience.
But it took Oprah to bring it to fruition, and in the most beautiful possible way. Belief will electrify you. It will take you along people's personal journeys of faith. How one young woman finds solace from rape in the arms of Jesus. How a young orthodox Jewish Chabad couple discover love through marriage under a wedding canopy in Crown Heights. And how a Priest and Imam in Nigeria became brothers after starting out like Cain and Abel.
At her home, Oprah was relaxed and seemed to have all the time in the world. She took a picture with every person present and invited comments from her guests as to what they thought about the series. Yes, the comments were universally positive. No one's going to tell Oprah to her face that they don't like her series. But, truth be told, the wild praise was earned. And not just because the series is TV at its best. Rather, it's simply amazing that someone as influential as Oprah would spend her own money, and devote unquantifiable resources, to restoring faith to its rightful place as something uplifting, inspiring, redemptive, and transformative.
It's about time.
As I watched the episodes, I have to be honest, my old nemesis Richard Dawkins and the late Christopher Hitchens, who was my friend, popped into my head. The world's two most famous atheists were people I sparred with and debated publicly over faith and in the case of Hitchens I did so on many occasions.
It was an inspiring and promising glimpse into what the world can look like when religions work together towards promoting belief in God and unconditional love for our fellow man.
Would they have a good laugh watching the series? Would it confirm to them that it's those in the bunker who find faith? That it's specifically those who have had trauma who turn to religion? That rivers have magical powers and that going in a circle around a black stone in Saudi Arabia will set you free?
But then I caught myself in my reveries and realized that I have been on the defensive for so long about religion that I have become battle weary.
So I dismissed the image of my atheist antagonists from my head and allowed myself to be carried by Oprah's vision of a world in which religions bring light, respect each other, and are a blessing rather than a burden. This is the religion that attracted me in my youth and convinced me to be a Rabbi.
It was an inspiring and promising glimpse into what the world can look like when religions work together towards promoting belief in God and unconditional love for our fellow man.
Oprah has been a pioneer and trendsetter throughout her career. I pray that Belief is only the beginning of the reemergence of religion and religious values within our daily media discourse and modern day pop culture lifestyle. I encourage you to watch this series, and pray that this groundbreaking television masterpiece will inspire more programming on this topic, and lead our youth and our entire country to discover and increase their search for the divine in their own lives.
Shmuley Boteach served as Rabbi at Oxford University, where he won The London Times Preacher of the Year Award. The International best-selling author of 30 books, he has written such international blockbusters as Kosher Sex and The Michael Jackson Tapes. Rabbi Shmuley will shortly publish The Israel Warrior's Handbook. Follow him on Twitter @RabbiShmuley.