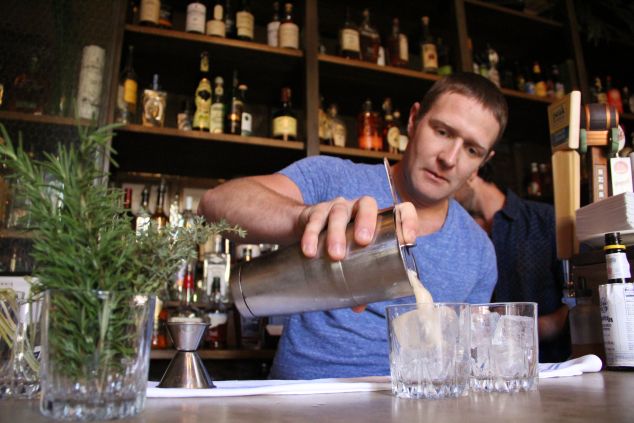 He's a bricoleur of sorts, rummaging through offbeat ingredients for some cocktailspiration. A passionate mad scientist, if you will, but plants are his chemicals and his laboratory is a garden.
Mike Di Tota is the brain behind the cocktail programs at Astoria's Sweet Afton and The Bonnie, the bars turning the neighborhood with the biggest influx of millennials into the city's newest hotspot for drinks. Mixology, though, is a new gig for him. While he spent years in the hospitality business, the tender-in-chief was merely bussing tables for extra cash while he nurtured his green thumb by gardening and studying horticulture.
To say Mr. Di Tota has a passion is weak; he can identify more than a thousand varieties of plants, whether they're in full bloom or mere winter twigs. When he designs cocktails, herbs, spice and everything nice precede while liquor comes last.
"I work more or less backwards," he told the Observer over drinks at The Bonnie. "It's what's added to cocktails beyond the spirits that I focus on."
This technique, along with Mr. Di Tota's affinity for eclectic, fresh ingredients, has earned him the nickname "The Botanical Bartender." He is seen around the bars with gardening shears as often as he is with a cocktail shaker.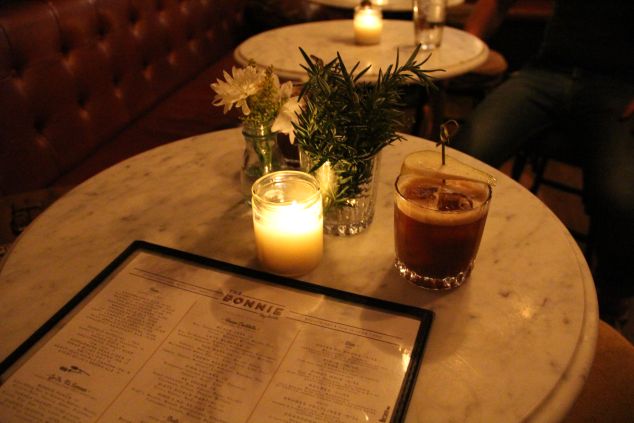 The garden atop Sweet Afton was there when Mr. Di Tota, 35, first delved into professional bartending and joined the team in 2011, but he built The Bonnie's rooftop garden from scratch. There he grows at least 12 herbs at a time, including lemon balm, lavender and verbena. He also grows multiple varieties of thyme and rosemary, which, in addition to garnishing the drinks and being infused into the liquors, sit in tiny terrariums on the candlelit tables and contribute to the bar's sophisticated, botanical vibe.
"There are botanical sketches and flowers with Latin names [of plants] in the bathrooms. It's very subtle. You have a garden, you have herbs in your drinks, and it all comes together," Mike Krawiec, who co-owns the two bars with Ruairi Curtin, told the Observer.
Back in 2011, Mr. Krawiec and Mr. Curtin hired Mr. Di Tota after Mr. Curtin was presented with a selection of intriguing and original seasonal drinks at a dinner party hosted by Mr. Di Tota, as if the host was serving in a restaurant instead of a Queens one-bedroom.
"I would actually make a menu for when people came over," he said. "I wouldn't just say, 'Can I make you a cocktail?' I'd actually have a list of five cocktails planned out."
Around that time, Mr. Di Tota was attending the New York Botanical Garden's School of Professional Horticulture, but while plants fascinated him, class did not. Botany and soil science required "plant walks" that the future maestro found frankly, dull.
"My mind would start to wander. I knew what thyme and rosemary were, but there were certain things growing in that garden where I'd ask my teacher, 'Do you think this could have a culinary use?' " he said. "That's where it started to fuse. I'd be in botany class, bored out of my mind, and I'd be thinking about that plant from the plant walk, thinking, 'How can I put this in a cocktail?' "
He got into "awkward, weird" herbs and started growing them in his backyard to fill both his gardening cravings and the vault of oddball cocktail ingredients he was assembling. The eclectic area that is Astoria provided plenty of inspiration and made it easy for him to experiment.
"I'm very fortunate to live right down the street from Trade Fair Grocery, which has aisles put together by nationalities. I'll just go in and wander down the Ethiopian aisle grabbing things, and I won't think about it until I get back," he said. "It's like Chopped, where you open up the basket and it's like, this is what you have to use."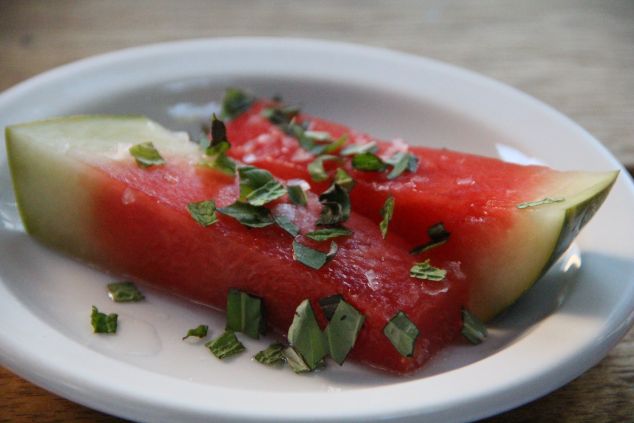 After only one year as the brunch bartender at Sweet Afton, Mr. Di Tota was given complete creative control over the bar. And when Mr. Krawiec and Mr. Curtin opened The Bonnie in October of last year, they asked him to spearhead the cocktail program there.
Although he's now firmly dug into his career as a professional bartender, Mr. Di Tota aims to be as innovative and experimental as ever. He developed the small batch cocktail program for Sweet Afton—for  which he creates a new drink for every weekend—to deliver regulars new options, but also to stay sharp and close to his market.
"That's where it really started to roll. I forced myself to use a new plant, herb or fruit or create new bitters or a new syrup and create a whole new cocktail," he said.
No such program exists at The Bonnie yet, but it's only a matter of time. The bar is less than a year old and the garden only opened this spring. Although the venue has already proven to be a hit, Mr. Di Tota and Mr. Krawiec assure us they're just getting started.
"The Bonnie is an amazing place where you walk in and know you're somewhere special," Mr. Di Tota said. "We want to continually challenge ourselves to make this and ourselves better and to provide better cocktails, better food, better spirits and better wine. We're brand new here, and we haven't even started growing yet."
"No pun intended," Mr. Krawiec added.