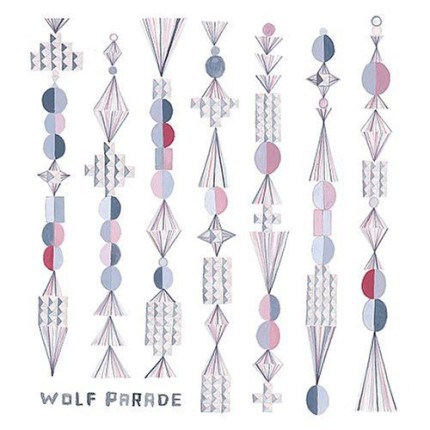 There's a certain ritual that bands are expected to perform around a seminal album anniversary. Sacrament for this ritual is a reissue, of course, complete with bonus tracks and comprehensive liner notes. Next, a massive tour is organized; the band plays said album in its entirety, riding the wave of nostalgia and giving revealing interviews about what went through their minds when they were all so young and naïve.
Wolf Parade did not acquiesce to such bourgeois industry moves, though, and really never have. The Montreal band's breakthrough first LP Apologies to the Queen Mary turns 10 this weekend, with nary a reissue or reunion in sight. It's a challenging but accessible album, cryptic yet anthemic, baroque yet punk rock. The band's two songwriters represented such juxtapositions—keyboardist Spencer Krug as a craftsman of classically influenced compositions, and guitarist Dan Boeckner as a consummate rocker whose tunes were chugging, riff-laden beasts that channel Bruce Springsteen, had The Boss moved across the East River to hang with Richard Hell and play punk music. Theirs was a pairing of shifting contexts that Mr. Boeckner jokingly likened to Fleetwood Mac in 2005 when he told Pitchfork's Brandon Stosuy, "We need about $1.8 million to blow on a cocaine hell vanity record like Tusk. That'll be the next one."
It's a challenging but accessible album, cryptic yet anthemic, baroque yet punk rock.
The combination of such styles was always at the heart of Wolf Parade's truth, a palpable fuck you to genre purists, and proof that there didn't need to be any pretension around creative work. Apologies is full of songs written with the care and craft of high art, but it's rock and roll, too. What better reason to create than l'art pour l'art?
Wolf Parade recorded two EPs and three full lengths before announcing an interminable "indefinite hiatus" in early 2011. A final bow was a hometown show in Vancouver, triumphantly climaxing during the encore when they covered Bob Dylan's "Knocking on Heaven's Door," and the crowd piled onstage in a communal sing-along.
"It's rock music," Mr. Krug told The Globe And Mail right before that final show. "You end up wanting to try new things, and experiment, and branch out, and I do, and Dan does … Wolf Parade is not the place for us to do that, for now."
But 10 years ago Wolf Parade were just a bunch of children, figuring out what kind of music they wanted to make and not going in with any set intentions. With Apologies, Wolf Parade unwittingly wound up shaping the future of a mid-2000s "indie rock" renaissance that they never planned on being any part of. This was bolstered in part by recording the album under the tutelage of Modest Mouse's Isaac Brock, and in part through being unintelligibly lumped into some loose geographic smattering of a Montreal scene that Arcade Fire drew attention to with the success of 2004's Funeral (Although Wolf Parade and Arcade Fire are friends and past tour mates, the comparison is a bit too easy of a cultural link; Wolf Parade were really a band from Vancouver Island.)
Back then "wolf" band names still reigned, soon to be replaced by "crystal" bands and "beach" bands as the years went on. Yet Wolf Parade remain fresh and vital well past any indefinite hiatus—a distinct pack unto themselves, brothers in rock and scavengers all.
Back in 2004 a woman named Maria Carullo caught Modest Mouse on tour for their major label debut, Good News For People Who Love Bad News. And when she saw Wolf Parade open the Boston stop of that tour, it was the beginning of a love long-lasting. Ms. Carullo saw them six times that year and six times in 2005, then started a fan site that she's been running for 10 years since. It's an unpaid labor of love that's given her exclusive access to the dudes and led to her striking up a personal friendship with them over the years. As a surrogate mouthpiece for the band, Ms. Carullo was even the first to report their "indefinite hiatus" in 2011.
And in honor of the Apologies diamond anniversary this weekend, Ms. Carullo is curating a "12 Days of Apologies" project that features daily annotations of each track on the album, from fans and band members, counting down to the anniversary when she will host a celebration of in Brooklyn that will bring together Wolf Parade fans throughout the Northeast.
Mr. Krug and Mr. Boeckner couldn't be quoted in time for this piece, as the anniversary was already nigh. But Ms. Carullo spoke to the Observer about her conversations with the band, what they've told her about making Apologies and why each song conjures memories worth spending time in.
[youtube https://www.youtube.com/watch?v=x_pH1hIRvGE&w=420&h=315]
"You are a Runner and I am My Father's Son" opens proceedings with Arlen Thompson's booming snare hits. "I've got a number on me, I've got a number!" blurts Mr. Krug, recalling the jittery confessional nature of his former roommate/Frog Eyes mastermind Carey Mercer. Mr. Krug used to play in Frog Eyes back on Vancouver Island, too, and those formative years have an audible influence on the rambling oracle character Mr. Krug flaunts strongly on Apologies.
Ms. Carullo remembered Mr. Krug telling her how that tune was written with Mr. Thompson while the rest of the band was out getting food. "He went into the basement, recorded lyrics, came up and recorded it before they got back," she said.
'Nature is constantly just trying to swallow up these little colonies of humanity and just doesn't give a shit about you,' said Mr. Boeckner.
The next track, "Modern World", appeared on Wolf Parade's self-titled EP in 2003, but this album version features a much more acoustic arrangement, which Mr. Boeckner said wouldn't have been possible without the helping hands of Isaac Brock. "It was a torch, driving the savages back from the trees," is a nod to his rural upbringing in the Vancouver Island town of Lake Cowichan, and the first point in the record where the themes of rural life vs. city life are explored.
[youtube https://www.youtube.com/watch?v=6tTgqxkocf8&w=420&h=315]
"People come for vacation now, but for me as a kid I tuned into this aspect of it, a cosmic horror of living in this tiny outpost of humanity surrounded by the woods," Mr. Boeckner told Ms. Carullo. "And not in a nice way, [but] in a way that nature is constantly just trying to swallow up these little colonies of humanity and just doesn't give a shit about you.
"This forest just doesn't care about you. You're insignificant compared to it."
Mr. Krug said that track three, "Grounds for Divorce", referred more to a symbolic separation, the end of any relationship as opposed to a literal severed marriage. Mr. Stosuy from Pitchfork nailed the description of this tune when he wrote, "Honing on one of the album's main themes, the track finds a momentary beauty and romanticism within potentially alienating technology: 'You said you hate the sound of the buses on the ground/ You said you hate the way they scrape their brakes all over town/ I said, 'Pretend it's whales, keeping their voices down.' Spiraling behind Krug's vocals, Boeckner mingles his guitar splashes with textured keys and a distant shout of affirmation."
Then track four, "We Built Another World", shifts back to Mr. Boeckner and his then-girlfriend getting kicked out of a Halloween party for break-dancing, the night he sees his first Montreal snowfall. "It's not gonna be just how we kiss/ Everyone's disguised, just a little bit," he yelps, presumably at her. On one level, the tune reads as a comment on the sovereignty of an intimate relationship—on the other, a commentary on carving out a new community in a new place.
During the nine years Wolf Parade existed, it could certainly be said that the band built themselves another world entirely: "There are a lot of moments on Apologies where you hear Spencer's faint falsetto or Dan does a yelp, and it's a communal feeling," said Ms. Carullo. "You feel like they're all in this together."
'There are a lot of moments on Apologies where you hear Spencer's faint falsetto or Dan does a yelp, and it's a communal feeling,' said Ms. Carullo.
"Fancy Claps" follows next, a fast song written by Mr. Krug with many classical piano turns and a breakdown that almost-but-not-quite borrows the progression from Pachelbel's Canon, while also managing to sound like speed metal. It begins with the ominous morbid lines, "I'll be home, when hair has fallen out," a foreshadow of the themes explored in the next song and the duration of the album. When explaining that the recording reel for the song was lost, Ms. Carullo said that the band had to re-record it live back home, and Tim Kingsbury from Arcade Fire wound up playing guitar on it. "When I think about Montreal I can just imagine them all banging their heads," she mused. During live shows, the song's title would inspire many fancy, delicate claps in rhythm with the breakdown. Such claps alluded to Mr. Krug's recurring cynical thematic embrace of high-society, patronizing an invisible bourgeoisie of which he is all-too aware. Years later he would respond to the shoddy sound quality during a Sunset Rubdown show at Cambridge, Mass., venue The Middle East and jokingly remind the dude working sound that he went to music school.
Ms. Carullo understood the next track, "Same Ghost Every Night", as Mr. Boeckner's way of working through his feelings about losing his mother to Lupus, which she had struggled with throughout his adolescence. "She battled with Lupus since his childhood, and he lived with the constant possibility of her dying for years," she said. "He needed to get it out of him."
"Shine a Light" follows, an upbeat single, but no less weary resolve to address the ghost that haunts Mr. Boeckner a song earlier, and his belief that "some ghosts sink and some get called to the light." While his confession of "waiting for something that will never arrive" processes the pain of interminable empathy, he recalls taking a bus back home and the emphasizes the power of relocating oneself to process personal feelings in vast space. "My mom passing away and that feeling of being [home]  translated into the way I started writing songs and how I wanted to communicate things," he told Ms. Carullo. "I wrote about landscapes and describing geography more than I wrote about personal relationships or love."
[youtube https://www.youtube.com/watch?v=Kh8-r6O43Rw&w=420&h=315]
"Sons and Daughters of Hungry Ghosts" is next, another Krug burner in the style of Frog Eyes, and Mr. Krug had quite the explanation of its origin. "In one particular Buddhist religion there are these neat characters that are tortured," he said. "They symbolize one of the levels of hell. And when they get there, they turn into hungry ghosts.
"These ghosts, they have really tiny throats, so if they try to eat, it chokes them and they die, because they only have these little straws for throats. So 'Sons and Daughters of Hungry Ghosts' is addressing my own generation, I guess. Insatiable thirsts, and hunger for whatever."
If you forced any Wolf Parade fan to pick a favorite Apologies track, "I'll Believe in Anything" might be the winner. Track nine pulsates with a sense of rapturous hope, of sunshine despite darkness, and the power of youth to cut through such darkness. "Give me your eyes, I need sunshine!" decrees Mr. Krug. "Your blood, your bones, your voice and your ghost."
'"Sons and Daughters of Hungry Ghosts" is addressing my own generation, I guess. Insatiable thirsts, and hunger for whatever,' said Mr. Krug.
The song soon becomes a study of a child who hurt his partner in a relationship and doesn't know how to handle it. He's working with a shared knowledge that change can come through a conscious refusal of old ideas, old worlds and old words. "I'll take you where nobody knows you and nobody gives a damn anyway," promises Mr. Krug at the end of the verse, wide-eyed and optimistic for a new life, a fresh start in a new place. Taken on its own, "Anything" is a thunderous, pulsating standout track. In the context of this song cycle, though, it's a reinforcement of the point at which another world, another reality, again becomes necessary for liberation and sanity. The song is a reminder of the anonymity we can find when living in a crowded city, of how such anonymity can be both liberating and alienating at the same time.
[youtube https://www.youtube.com/watch?v=7G1eLTV89dM&w=420&h=315]
"I used to really beat around the bush a lot with vague poeticism," Mr. Krug told Ms. Carullo. "And even though I definitely do that in this song too, maybe not so much as compared to the rest of the record. The lyrics were sincere, I felt really bad at the time when I wrote that song. I felt bad for hurting my partner's feelings, and that song came out. There's a truth to it."
"It's a Curse" comes next, and more painful and revealing autobiography from Mr. Boeckner comes with it. He realizes that there is nothing left for him back home. "We walked five whole minutes to the dark edge of town/ took a long look at nothing and turned back around," he sings. In conversation with Ms. Carullo, Mr. Boeckner went into further detail about the town. "It's a little different now, the world has changed and there's no industry here and the redneck component is a lot smaller," he said. "But at the time when I was growing up there was this backdrop of family tragedy, but there's also the environment you're in. If you liked punk rock music, the environment was hostile to you. Because of the people who lived there and the environment itself, the natural world."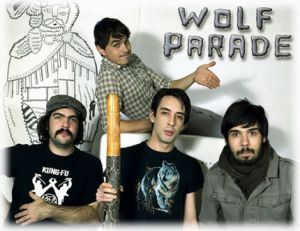 Then the finality of distance and the end of family gatherings come to the fore in Mr. Krug's epic, elegiac "Dinner Bells". "There'll be no more winter, there'll be no more spring and there'll be no more dinner bells left for you to ring," he sings. At over seven minutes, it's by far the longest song on Apologies, and in the context of the songs that come before, it's a funeral dirge, gentle, meditative and full of resolve. Even when Mr. Boeckner's swelling dissonant guitar leads attempt to penetrate Mr. Krug's procession, the dirge continues on.
That the album ends instead with "This Heart's on Fire" becomes an act of triumph for Mr. Boeckner, who still talks about his mother ("I am my mother's hen, and left the body in bed all day, we don't know what to do") but has begun to look forward to the future. "It's getting better all the time," he repeats again and again, while the song builds to a final closure and he yells, with a pack of brothers behind him, "This heart's on fire, this heart's on fire!" Backed by Mr. Krug's keyboard arpeggios, Arlen Thompson's nearly heavy metal drumming, and Hadji Bakara's textured electronics, the swell is felt just as strongly with repeated listens.
'At the time when I was growing up there was this backdrop of family tragedy, but there's also the environment you're in. If you liked punk rock music, the environment was hostile to you,' said Mr. Boeckner.
It's possible that Wolf Parade stopped playing when they did because they were friends first, because they wanted to maintain those bonds they'd spent so long cementing, first and foremost. "They knew the live shows were something enigmatic and electric, and they wanted to keep that impression up," said Ms. Carullo. "Maybe they were trying to protect that in a way, keep it from becoming something that they couldn't control."
Mr. Krug and Mr. Boeckner remain creatively fertile with other projects—Mr. Krug's Sunset Rubdown winded down as he focused on Moonface, while Mr. Boeckner would move from the electro-pop project with his wife called Handsome Furs (Ms. Carullo would actually become their tour manager for two years as a result of running the fan site) to his "supergroup" Divine Fits with Brit Daniel of Spoon, and later to Operators. Yet, despite such rich output, the hungry ghost of Wolf Parade does not rest.
The month after Wolf Parade went on hiatus, Mr. Boeckner would sing on the Handsome Furs track "Memories of the Future" that "nostalgia never meant much to me." With his decision to let the songs of Apologies speak for themselves all these years later, you're inclined to believe him. Some artists take painful memories and reprocess them for the benefit of others, while others conjure memories only to set them free. Mr. Krug and Mr. Boeckner may have originally written the songs on Apologies with therapeutic, self-focused intentions—to process heaviness they had no frame for possibly understanding at that time, in that place. Maybe it's a testament to the universal power of their vulnerabilities, then, that these songs reverberate infinitely throughout the spheres, to strangers they will never meet.
"We're still disorganized and childish, and this is over 10 years later," Mr. Krug told Ms. Carullo. "I can't believe [Isaac Brock] got a record out of us at all. He did a good job with what he had to work with. It's just that we were children."