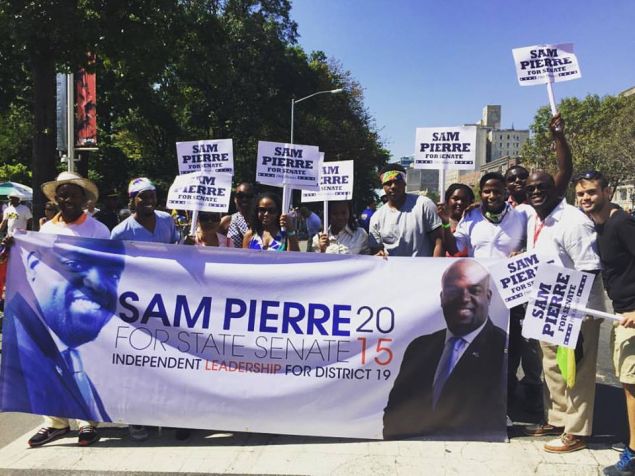 The campaign of Samuel Pierre—the independent Democrat running to replace disgraced ex-State Senator John Sampson in Brooklyn—took a hit this afternoon when the Working Families Party decided against lending him their line on the ballot.
The labor-backed third party's decision came just a week and a half after the the Brooklyn WFP chapter had recommended supporting Mr. Pierre in his uphill battle against the establishment-backed candidate for the seat, Assemblywoman Roxanne Persaud. In a statement to the press, the WFP said that its leadership had failed to come down decisively on either candidate's side.
"After intense deliberation, no candidate received the level of support necessary to secure our ballot line," said political director Britney Whaley. "WFP will be not be endorsing a candidate in the upcoming special election."
The party's resolution to sit out the race came after the New York Post called Mr. Pierre a "scam artist" over his guilty plea to a misdemeanor for taking illegal gifts from a friend while working as an aide to former Congressman Ed Towns. Mr. Pierre's cousin, Brooklyn Assemblywoman Rodneyse Bichotte, retaliated by accusing the Brooklyn Democratic organization of spreading disinformation and attempting to smear her relative.
Mr. Pierre vowed to carry on his campaign, which would have faced difficult odds even on the WFP line in the heavily Democratic district.
"I appreciate the opportunity to meet with the Working Families Party and their affiliates, and I sincerely appreciate the support of the Brooklyn chapter of the Working Families Party," he told the Observer in a phone interview. "I look forward to seeking their nomination again next year."
Mr. Sampson, a longtime member of Mr. Seddio's Thomas Jefferson Democratic Club and a county loyalist, was found guilty in July of lying to federal agents and of threatening to "take out" witnesses who might testify against him in a corruption probe.