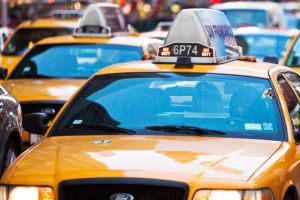 New Yorkers can now put down their arms and hail a yellow cab from a touch on their smartphones.
Arro is the latest ride-hailing app to launch this week, this time for yellow and green cabs, as traditional taxis continue to fight against the Uber (UBER) thrive.
Similar to the Uber model, users can locate cabs on a real-time map with one of the nearest confirmed drivers receiving their name and location. Passengers can pay on their smartphones via their pre-placed card info, and those who catch a ride the old-fashioned way can still pay through Arro by entering the cab's code.
The heart of the operation comes with Arro's partnership with Creative Mobile Technologies, a Long Island City based company that provides the payment system and video screens for about half of New York City taxi's.
While Uber is used by drivers on their smartphones, Arro is installed through CMT's systems and works automatically, so passengers still pay with the meter.
Nearly 7,000 yellow taxis, and almost 1,700 green taxis, that have CMT equipment have already taken to using Arro.
The other half of city taxis are provided with equipment from VeriFone, a California based company. But Michael Woloz, a spokesperson for Arro, said in an email to the Observer they're in the works and are hopeful to be compatible with VeriFone systems by the end of the year.
As Crain's reported, the taxi industry has long clashed with the city's Taxi and Limousine Commission rules and regulations that have suppressed e-hail opportunities; the Observer characterized the Taxi industry as being in "total collapse." But according to the TLC's press office, Arro is an authorized participant in their pilot program for e-hails and has applied for an e-hail app license.
"One of the benefits of our maintaining an open door to innovation is that the tech community remains constantly challenged to find new and better ways to offer passengers more options," said TLC Chair Meera Joshi in a statement.
Arro isn't the first app to link with city taxi's, as CMT also provides the smartphone payment RideLinQ, but none of them reached the popularity of Uber.
Mr. Woloz says that RideLinQ, which doesn't provide e-hail options, was never meant to compete with Uber, and comparing it with Arro is like apples to oranges.
"Previous attempts to penetrate the yellow taxi market relied on the driver's willingness to download the app on their own personal smartphone, mount it to the dash and learn how and when to use it," said Mr. Woloz.
"With Arro, it's as seamless to the driver as engaging the meter—something very routine and familiar."
So far there have been 2,500 Arro users since the app launched on Wednesday, and the taxi industry is surely anxious for more.