FRIDAY OCTOBER 2
Opening: Laurie Anderson, Habeas Corpus at the Park Avenue Armory
The late Lou Reed's better half will premiere a new installation-cum-performance piece that seamlessly blends film, sculpture, music and video on the topic of a young Guantanamo Bay detainee—heavy stuff. The drill hall will be open to the public, who can bask in an original soundscape designed by Mr. Reed which includes guitar and amp feedback mixed with audio surveillance and nature sounds. The space will be punctuated by performances during the day and will culminate with a concert and dance party! Sounds like this musical and performing pioneer has all her bases covered.
Park Avenue Armory, 643 Park Avenue, New York, Installation: Friday-Sunday, October 2-4, 12-7 p.m. $15. Performances: Friday-Sunday October 2-4, 8 p.m. Tickets: $45
Opening: Only By Night at Planthouse
Night gets lonely sometimes right? Edgar Allen Poe clearly thought so. His poem "Dreamland" inspired this group show chock full of talented artists–some young, some old. There will be painting, printmaking, drawing and photography represented here–media that evocatively pick up both the lurid glow and the empty asceticism of the deep, dark night. Matthew Day Jackson, Juliet Jacobson, Kamrooz Aram and Glen Baldridge are just a few of the stars that will shine out of the heavenly firmament of Only By Night, so why not come by and gaze?
Planthouse, 107 West 28th Street, New York, 6-8 p.m.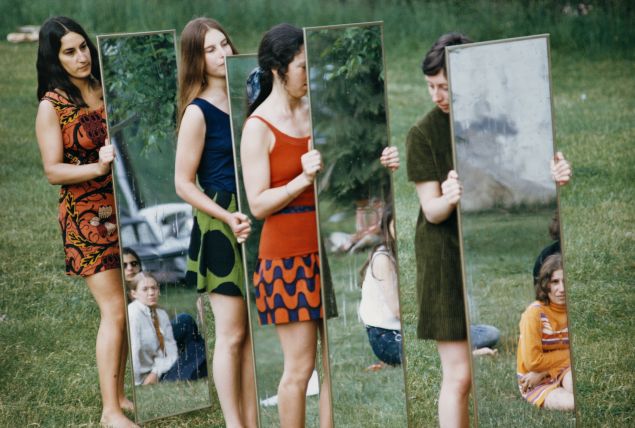 Talk: We (Not I): How to be a wo(man) at Artists Space
Ok, let's get down to the nitty-gritty. How have gender archetypes been transformed, critiqued and subverted in art over the last 50 years? Don't you want to know?? Fab painter Judith Bernstein, killer video artist Dara Friedman and  living multimedia legend Joan Jonas will suss this out and they don't need permission from the patriarchy to do so! Moderated by London-based curator Kathy Noble, this panel discussion should be one of the highlights of the four-day program We (Not I), a series of discursive meetings, presentations, and events that address questions around the role of "we" in contemporary art practice. Bring your brains (if applicable).
Artists Space, 55 Walker Street, New York, 7 p.m.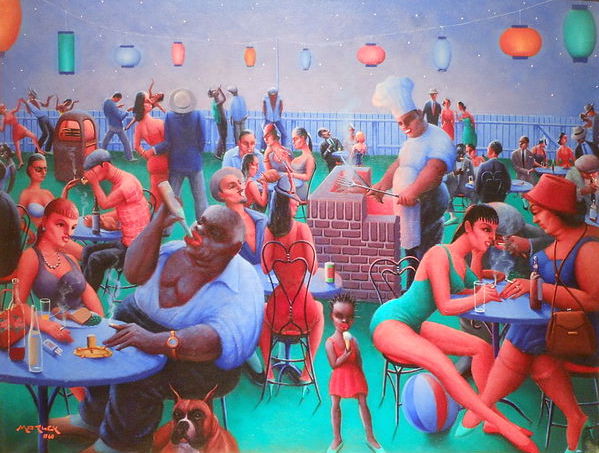 Opening: Archibald Motley: Jazz Age modernist at the Whitney
Archibald Motley was one of the most important figures associated with the Harlem Renaissance and possibly one of the best painters you've never heard of. An African-American painter born in New Orleans, Motley's depictions of Jazz Age Paris, Mexico and his hometown of Chicago are vivid; explosions of color and energetic shapes practically spill out of these Deco masterpieces. This is the first full survey of Motley's work; it was organized by the Nasher Museum at Duke University and curated by Professor Richard J. Powell and definitely qualifies as a must see.
The Whitney Museum of American Art, 99 Gansevoort Street, New York, 10:30 a.m.-10 p.m.
SATURDAY OCTOBER 3
Talk: Sarah Sze in conversation with Russell Ferguson at Tanya Bonakdar Gallery
Everyone's favorite "more is more" installation artist has toned it down this time, but brings sound and light into play with fantastic results. Here she will talk to Hammer curator Russell Ferguson about her new exhibition, her impressive U.S. representation from the 55th Venice Biennale, her inclusion in the 56th Venice Biennale and probably some other stuff like water on Mars or the Mets making the playoffs.
Tanya Bonakdar Gallery, 521 West 21st Street, New York, 11 a.m.
Performance: Psychic TV at Pioneer Works
If you like gender-bending Industrial music, then you're in luck: Psychic TV is the band Throbbing Gristle's former lead singer Genesis P-Orridge. The band is particularly known for its intense and visceral live performances and for a creative lineage that includes cultural luminaries such as William S. Burroughs, Derek Jarman and Timothy Leary, among others. So go get a late brunch, grab a Times—scratch that—an Observer, then take the ferry over and trip your brains out. Haribo, Shilpa Ray, and WETWARE will also perform.
Pioneer Works, 159 Pioneer Street, Brooklyn, 6:00 p.m.
Opening: The Lorax Poems at Good Work Gallery
He speaks for the trees, dammit! You gotta respect that. Well, Good Work Gallery and Zach Smith clearly do, as they're offering this handsome-sounding group show that "navigates the space between science and poetry." Cool artists that we've noticed in the past, including Michael Assiff and Mikkel Carl, show up here to drop a few "inconvenient truths," but hey, should art do that occasionally? Plus, you really should check out Ridgewood, or as our Real Estate team calls it, East East East Williamsburg (EEEW).
Good Work Gallery, 1100 Broadway, Brooklyn/Queens, 6 – 9 p.m.
Opening: Ian Cooper and Takeshi Murata at Halsey McKay Gallery
You know how you're always asking me about hot young artists that will definitely become stars in the near future? Well, here are two candidates. Mr. Murata's Photoshop-drawn silk-screen works digitize Roy Lichtenstein's process, while bringing it to a logical, abstract conclusion. Cooper's fabricated multimedia sculptures flip between kooky and corporate. Most importantly, both of these guys make beautiful things, so if you're stranded out east and about to be crushed by Hurricane Joaquin, seeing this show would make for a nice last meditative moment.
Halsey McKay Gallery, 79 Newtown Lane, East Hampton, 6-8 p.m.
SUNDAY OCTOBER 4
Art Walk: The 2nd Annual Lower East Side (L.E.S.) Art Drive at Ludlow Studios
That empty space over your LA-Z-BOY sure could use filling, but you only have $1,000 in your bank account! That's ok! Come down to the Lower East Side because many artworks can be had for around half that price at the Art-A-Thon.  You can even use a new navigation app called ARTLOCAL to find different participating galleries and that perfect painting for the 300 square feet that you call "home." Even better news: Your purchase will benefit The Bowery Mission, which has been helping the city's homeless oh, only since the 19th century! The kick-off event at Ludlow Studios will include music by DJ Treats, poetry by The Nuyorican Poets Café and portraits by fashion designer-turned-photographer Brian Reyes… oh and there will be free coffee at the surfer haven Lost Weekend, so you can save your other $500 for Billy Joel tix. PIANO MAN!
Ludlow Studios, 40 Ludlow Street, New York, 12-3 p.m.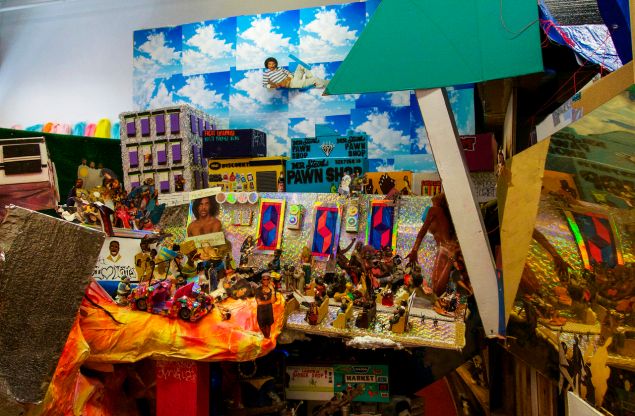 Opening: Lauren Halsey's Kingdom Splurge at the Studio Museum
The Studio Museum in Harlem's 2014-2015 artist-in-residence Lauren Halsey's multi-sensory table is coming to 125th Street. Ms. Halsey will engage with the public, presenting readings, music, pictures and objects that extend from her ongoing "Kingdom Splurge" project. Amidst the vibrant, vendor/pedestrian culture of this main thoroughfare of Harlem, Ms. Halsey's table will also be the setting for visits from "special guests" from the neighborhood. Ms. Halsey is seeking nothing short of liberation through fantasy architecture and the experimental development of space in gardens, lawns, vacant lots, churches, liquor stores, parking lots. The least you can do is show up and be part of the fantasy.
Studio Museum, 144 West 125th Street, New York, 4-6 p.m.